How Many People to Invite to Your Wedding, According to Data
Posted on
Shortly after getting engaged, there's a good chance you'll wonder, "How many people should I invite to my wedding?" It's a question that plagues every single couple planning their nuptials, and it's an important decision to make before you can dive into the fun details, like color palettes and cake flavors. Creating your guest list is one of the first tasks to complete on your wedding checklist, particularly because the amount of people you invite will impact nearly every subsequent planning detail. Of course, it's not as simple as picking a random number and rolling with it. Guests cost money, and venues only hold a certain number of people. When combined with input from family and friends, deciding how many people to invite to your wedding can start to feel like a sticky situation.
If you're dreading the thought of finalizing your wedding headcount, don't fret—we have quite a few hacks to help you determine the magic number. Below, read up on our tips for creating your guest list, including helpful data on the number of guests who actually attend a wedding after being invited. And if you need even more guidance about how many guests to invite, we're sharing seven questions to ask yourself when deciding who makes the final cut.
How Many People Should You Invite to Your Wedding?
Whether you're envisioning a lavish estate soirée or an intimate ceremony at city hall, you'll need to choose how many friends and family to invite to your wedding day. The biggest determining factor, of course, is your wedding budget. The funds you have available for your big day will directly impact the number of guests you can afford to host. Start by evaluating your wedding budget (along with any financial contribution from family members) to get a general understanding of how that number matches up with the prices of venues you're eyeing and their guest capacity.
Another place to turn to for help, though, is data. According to The Knot Real Weddings Study, the average wedding guest list size in 2022 was 117 people. Of course, this number can be influenced by a number of factors, such as your region, the kind of venue you want, your budget and your overall vision for the big day. (If you only want an intimate backyard party, for instance, your guest list count could be much lower.) But if you're really not sure how many people to invite to your wedding, use this number as a starting point for your guest list conversations.
How to Determine How Many People to Invite to Your Wedding
There are several factors that go into reaching a final number for your guest count. We've talked about the impact of your wedding budget, but venue capacity, plus-ones and your wedding day vision are all other things to consider. For example, if you have your heart set on getting married at a small, intimate venue, the space might not be able to accommodate a large number of people, so you'll need to come to terms with the fact that not everyone will be invited.
In an ideal world, everyone would be invited to your wedding, but it's totally okay (and normal) if that's simply not doable for you. When deciding how many people to invite to your wedding, it's up to you to figure out what you're willing to sacrifice. For some couples, that could mean cutting back on decor and details in order to maximize budget and invite more people. For others, having more financial wiggle room for personal touches and wedding splurges is a priority, even if it means keeping the guest list tight-knit.
What Percentage of Invited Guests Attend a Wedding?
Another hack to figure out how many people to invite to your wedding is to consider the average wedding attendance rate. According to various reports, roughly 15% of invited guests will respond "no" to your wedding invitation. So, if you invite 100 guests to your wedding, for example, only 85 people will actually attend. The caveat is that this isn't a foolproof method, but you might consider upping your target invite list by about 10% knowing that some will decline the invitation. In the event that nearly all of your invitees RSVP "yes," it's important to ensure you can still support that number of guests. But if some don't accept the invitation, consider it a silver lining that may help to slightly lower your financial load.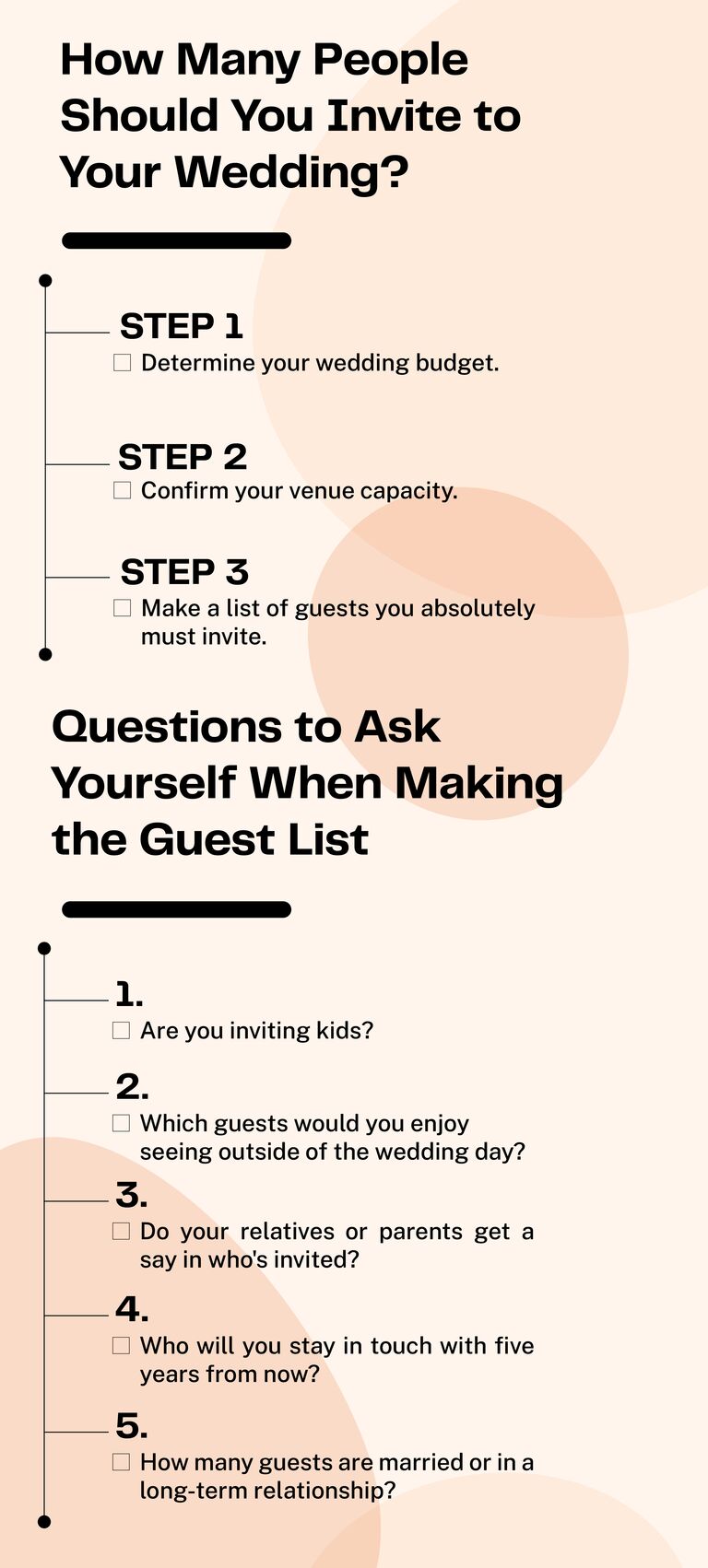 Questions to Ask Yourself When Making Your Wedding Guest List
Still having a hard time deciding how many people to invite to your wedding? There are a few questions to ask yourself in the process. No two couples are the same, which means your guest list count is highly subjective, but you can use these thought-starters to help you make the final call.
1. Does your intended guest list size fit your budget?
In the early wedding planning stages, we encourage you to create a fantasy guest list with every single person you'd like to invite. Then, come back down to earth and ask yourself: How many people should I actually invite to my wedding? The number will be determined by how many people the venue can hold and what your budget will allow. The larger the guest list, the more money you'll have to spend on items like catering, invitations and event rentals. (Check out the average spend for each vendor category with this wedding budget breakdown.)
Most venues have headcount minimums and maximums—in other words, they need a certain number of guests to host your event, but that number can't exceed their limits for safety or noise reasons. This goes hand-in-hand with your budget. Can you realistically afford to host the number of people you envision? If you need help staying on track, The Knot's Wedding Budget Planner will help you keep a running list of your expenses.
2. Can you separate invitees into multiple lists?
Guests will be nixed—it's unavoidable. To ease tough decisions, separate the guests who must attend, like your favorite aunt or your partner's godfather, from those who are less of a priority. Those who absolutely have to be invited make up your "A-list." Anyone not essential (such as a distant friend from college or a coworker you never speak to outside of work) should be added to the "B-list." These are people who you'd enjoy having at your wedding but would also be okay celebrating without. It may sound harsh at first to rank your guests by importance, but once you see the total number of people you need to invite, you can figure out a realistic number of additional guests.
Consider inviting approximately 10% more guests than your end goal number, since between 10% and 20% of those invited are likely to decline. Send the first batch of invitations out slightly earlier (for example, 10 weeks before the wedding instead of eight) and bump up the RSVP dates. If more people from your "must invite" list decline than you originally anticipated, you can include people from the B-list as long as it's still within a reasonable timeframe. Anything less than six weeks before the wedding will give them the impression that they were on the "maybe" list. And remember that if you've already sent a save-the-date to someone, it counts as an unofficial wedding invitation that you shouldn't revoke.
3. Which guests should be invited with plus-ones?
When it comes to plus-one etiquette, there are a few important rules to keep in mind. Some guests should automatically be invited with a plus-one, even if you're not as close with the other person. This includes everyone in your wedding party, married guests, engaged guests and those in serious, long-term relationships (at least a year or more). You might also want to make special exceptions for plus-ones, such as your childhood BFF who won't know anyone else at the wedding. Include all of the plus-ones in your total guest count when you're deciding how many people to invite to your wedding.
4. Will you be in touch with this person in five years?
Look at every guest on your invite list. Who are they and why are they being invited to your wedding? Will you still be in touch with them on a regular basis in five years? If the answer is no or not sure, you might consider leaving them off the guest list, especially if you're forced to make cuts. (If it comes down to it, here's how to politely tell someone they aren't invited to your wedding.)
This question can be tricky if your parents or in-laws are contributing financially to your big day. There's a common saying that goes, "If you pay, you get a say." Whether or not you follow this tradition is up to you and your partner, but know that if loved ones are footing a portion of the bill, they may want some influence on the guest list. Be respectful of your parents and future in-laws and realize they're as excited about the wedding as you are. They want to share their happiness with good friends, so try and honor their wishes—or at least some of them. Here's one idea: If they're contributing to the bill, give each set of parents a certain number of people they can invite.
5. Do you feel comfortable having your coworkers attend?
You may be considering inviting a few colleagues to your big day, especially if you have close friends at work. Deciding whether or not to invite coworkers to your wedding depends on how big your office or department is. If you work in a group of six, it may be seen as inappropriate to leave out one person and invite everyone else. But if you have a huge team and collaborate with dozens of people on a regular basis, it gets tricky when it comes down to who gets an invite and who doesn't.
If you're good friends outside of work on a personal level, you may be more likely to extend an invitation. As for bosses, superiors and others you aren't as close with, don't feel pressured to extend an invite just because you feel obligated. Reflect on your individual relationship with each coworker (and how much they actually know or care about your partner) to determine if it's necessary to have them at your wedding.
6. Do you and your partner want kids in attendance?
When planning an adults-only wedding, you'll need to establish guidelines early on and only invite guests over a certain age. For instance, you may choose to keep anyone under 18 off the list. If you can't decide whether or not kids are appropriate, consider the time and overall vibe of your event. Weddings in the morning or afternoon tend to skew more casual, so it might be more appropriate for youngsters to attend if you'd like. An evening event may be more likely to be a child-free affair. If guests make a fuss and say they won't be able to come to your wedding without their toddlers or infants, express your regrets but tell them it would be unfair to others you've said no to.
7. Who absolutely needs to be there, and who doesn't?
Perhaps you've answered all of these questions, but you still have 300 names and a venue that only holds 175 people. While you and your partner might feel bad about cutting the guest list, remind yourselves that it's a normal part of wedding planning—not a personal attack on those who aren't invited. As long as you try to handle the situation with empathy, people will understand.
Focus on people who are relevant to your life now, and who will be relevant five years from now. Know that you don't have to invite couples you're not close with anymore, and you certainly don't have to extend an invitation to someone just because you went to their wedding. At the end of the day, your wedding is all about you and your S.O., and you should only invite the people you absolutely can't imagine celebrating without.