Give Your Wedding Timeline a Glow Up With This Expert-Backed Template
Posted on
By: Hannah Nowack -TheKnot
We stan a well-planned wedding day schedule.
We all want a wedding day with all the vibes and none of the stress. This wedding timeline template is high-key the answer to your most-pressing wedding itinerary questions. Every wedding is different and comes with a unique set of challenges and decision to make—so making a wedding itinerary can feel daunting. Don't fret, we've got ya'.
Planning a robust wedding day timeline may be the most important thing you can do to minimize stress throughout the weekend. A clear wedding timeline will eliminate confusion and scheduling conflicts, and it'll keep everyone on the same page, from your bridesmaids to your glam team to your caterers. Breaking down every moment will keep everything in check—from the start time for getting ready to the wedding party introduction at the reception—and will also be helpful when planning vendor deliveries, as well as setup and breakdown times. You can even use a timeline to make a wedding itinerary for your guests to put in their welcome bags. Finalize your wedding day timeline about a month before the date. This will give you enough time to share the details with your pros—then, confirm the timing again about a week out from your wedding day.
Working with a professional wedding planner is the most surefire way to guarantee your wedding timeline fits all your needs. We connected with three wedding planning experts to get their first-hand insight on crafting the perfect wedding day timeline so you can slay instead of stress. Lottie Fowler is the owner and lead planner of Texas-based Grit & Gold Event Co. and boasts more than 10 years of wedding planning experience. We also spoke with Abby Frye, lead planner with Peninsula Events in Charleston, South Carolina. And to round out our expert panel, we connected with celebrity wedding planner Lisa Lafferty, CEO of Lisa Lafferty Events in Beverly Hills, California.
If you really wanna be the G.O.A.T., make sure to have extra copies of your wedding day schedule on hand for any VIPs or wedding party members who might need a little extra wedding timeline day-of direction. Without further adieu, here's the ultimate wedding day timeline template.
In this story:
How Long Are Weddings?
Weddings commonly last five to six hours from start to finish. According to Frye, at their company's wedding venues, nuptial celebrations are "generally 5 to 6 hours total including the ceremony. The ceremony is generally up to 30 minutes, leaving reception time approximately five hours." Lafferty concurs: "I always recommend that a wedding shouldn't be any longer than 6-hours from start to finish. A six-hour commitment from your friends and family is already very generous. You want to make sure your guests don't get stale by being there too long."
Five to six hours is the average amount of time that many planners see for modern Western weddings in the United States. However, culture and religion can greatly impact the length of a wedding. Not only are Indian weddings generally multiple days in length, but the main wedding day can also last for longer than six hours. Additionally, secular wedding ceremonies are typically about 30 minutes long, but a full Catholic mass may take closer to an hour.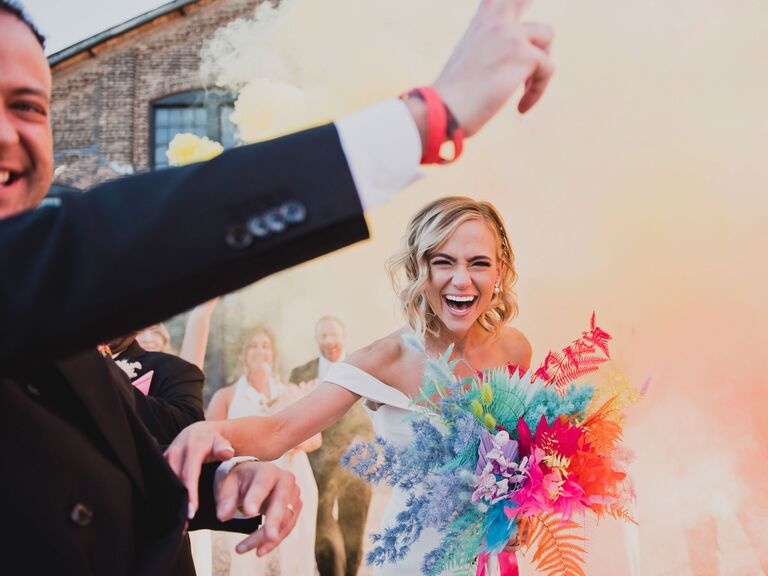 Wedding Timeline Template
Before you dive into crafting your own wedding timeline, it's helpful to look at a wedding schedule example that can be used as a template to customize. We've put together an ideal wedding day timeline to serve as your ultimate guide, no matter what day of the week you want to say "I do."
The wedding schedule below is based on a hypothetical event where you get ready off-site and then the 5 p.m. ceremony takes place at the same venue, though in a different space (so there isn't a ceremony-to-reception "flip"), as the wedding reception. While that's one of the most standard wedding schedule scenarios, it is certainly not the only way to schedule your wedding day. Based on your unique needs and wedding vision, your wedding planner will be able to help you tweak the sample wedding timeline below to suit your big-day plans.
As you get further along in the planning process, you will need to plan out all the minutiae of your wedding reception. This wedding reception timeline guide is the perfect resource for you. When paired with the wedding timeline template below, your perfect day will be off to the races.
8:00 a.m. Wake Up
Start with you time—you deserve it. Before the day's flurry of activities begin, it's important to take time for yourself on the wedding day.
9:00 a.m. Wedding Planner Arrives
A wedding planner is the glue that'll help hold together everything on the wedding day. This wedding professional is critical so you want to plan on an early arrival for them.
9:00 a.m. Rental Load-In Begins
A wedding is like a tasty club sandwich—it involves a lot of layers. As such, vendor load-in will be staggered with the rental companies being the first to arrive. According to Frye, "most outside rental companies (tents, tables, chairs, service ware, etc.) should arrive first thing in the morning."
Lafferty goes on to share that "vendor load-in times vary depending on the size and intricacy of the wedding and the overall needs. Some vendors load-in days before the wedding for larger installations and others load-in hours before the wedding. A healthy load-in time would be 8-10 hours before the wedding. For smaller delivery drops and musical entertainment, no less than two-hours prior to the wedding invitation time is ideal."
9:30 a.m. Wedding Party Breakfast
After a little time to yourself, kick off your wedding day by giving yourself plenty of time to get ready with your wedding party. Throw on festive getting-ready robes, blast a getting-ready playlist, and enjoy the glam process. A larger group means you'll want to block off more time to prep.
10:30 a.m. Floral and Additional Decor Load-In Begins
After the rental companies have had time to get rolling, the floral design team and any additional decor companies should arrive. It is also around this time that any action needed in relation to day-of stationery should begging (for example, if the escort card wall needs to be constructed and organized).
11:00 a.m. Hair and Makeup Team Arrives
The exact time that the beauty team arrives will depend on how many people are having services done. Lafferty and her team always allow at least three hours for beauty services. And Frye notes that you should always "allow plenty of time for hair and makeup." But it is wise to plan for 30 minutes of setup before the first appointments begin.
11:30 a.m. Hair and Makeup Begins
As a rule of thumb, each person will need 30 minutes per service. So if you have four bridesmaids plus two mothers all getting both hair and makeup done with a team of two hair stylists and two makeup artists you need to allow at least two hours for all services. Make sure everyone having services done knows which stylist they're paired with and when they're scheduled for service.
12:30 p.m. Lunch Delivery
Whatever you do, don't forget to plan ahead for a lunch delivery to enjoy while getting ready. If you've booked a full-service wedding planning team they may even be able to pick up lunch for you, but you should have an order placed and ready before the day arrives. A large spread of assorted sandwiches, fruit, veggies and dips (like hummus) is a good idea. Avoid greasy foods like chips and burgers that may leave people feeling bloated.
1:00 p.m. Photographer Arrives
Many photographers offer standard packages of between 8-10 hours of service. If your wedding will end at 11:00pm, as this wedding schedule example does, and your photographer's base package is eight hours you can inquire about adding on an extra hour of service.
As you're deciding on the ideal number of hours take some time to think about what images are important to you. Is the getaway a must-have or could the photographer leave partway through dancing? Do you have a lot of detail images that they'll need to capture early in the day?
Typically, the wedding photography team will split up when they arrive if the to-be-weds are getting ready separately. One photographer will go with one to-be-wed and their pals while the second shooter will go to the secondary getting-ready location to photographer the other to-be-wed and their wedding party members.
1:00 p.m. – 2:00 p.m. Stationery and Detail Photos
According to Frye, "photographers generally capture the important get ready moments with the bridal party late morning or early afternoon."
1:30 p.m. Personal Flowers Delivered
Personal flowers need to be delivered ahead of time for two reasons—practicality and photography. First, you'll want the photographer to snap some photos of the flowers before they're handed off to their respective owners. Additionally, some personal flowers need to be put on during the dressing process. Boutonnières, in particular, need to be delivered to the getting-ready area ahead of when any groomsmen or other boutonnière-wearing VIPs plan to get dressed. Bridesmaid and other wedding party bouquets, and even nosegays for parents or grandparents, don't necessarily need to come to the getting-ready space. Talk with your planner about if they want to hand out all bouquets during getting-ready time or if the florist should hand them out right before photos.
2:15 p.m. Wedding Party and VIPs Get Dressed
All VIPs, family members and wedding party attendants should be fully dressed and ready before the couple gets dressed. This includes putting on shoes and jewelry. At this time boutonnières should be pinned on suits and corsages can be places on anyone receiving one.
2:30 p.m. Couple Gets Dressed
If you're wearing a traditional wedding dress, you'll want to give yourself enough time to get dressed and accessorize. The last thing you want is to feel rushed while slipping into your wedding outfit.
2:50 p.m. Travel to Venue
If you're getting ready at your ceremony venue, this isn't a necessary time block. If you will be travelling to the ceremony space, though, give yourself ample time to avoid travel mishaps.
3:10 p.m. First Look and Couple Portraits
Now's the time for your photographer to capture you in your wedding day look. More time with your pro means plenty of chances to get every single glam shot you want.
"It's actually shocking how quick a first look happens," says Fowler. "The entire process takes 15 minutes at most. The remaining time is to capture the entire wedding party together. This also helps calm the nerves for the couple."
3:30 p.m. Caterer Load-In
The caterer will likely request load-in around four to five hours before dinner is set to be served. This time can vary depending on what food is being served at cocktail hour, how big the guest list is, and how complicated the menu is.
3:40 p.m. Immediate Family and Officiant Arrive
While some family portraits can happen after the wedding ceremony, it's a great idea to try to get as many portraits out of the way before the ceremony as possible. As such, you should ask your core group of VIPs, plus the officiant, to arrive half an hour before they're needed for photos (that arrival will likely be about an hour and a half before the ceremony).
3:50 p.m. Wedding Party Portraits
"Allow time for pre-ceremony bridal party and select family photos so not all formal photography needs to take place post-ceremony," advises Frye. "This allows the couple to participate in the cocktail hour and greet their guests and reunite with loved ones."
4:10 p.m. Immediate Family Portraits
When it comes to family portraits, it's best to prepare a generous amount of time. "Give your photographer and planner a rundown of family dynamics before the wedding," Fowler advises. Doing so will help everyone stay focused during this time. With only a short block to capture a variety of groups together, it's necessary to remain on task and move quickly. "Keep this photo time no longer than 45 minutes to one hour. If you don't catch the 'perfect' photo at this time, don't stress. You have the rest of the evening for more organic photos to take place." We're partial to splitting up the hour of family portraits in half with close family before the ceremony and extended family after the ceremony.
4:30 p.m. Prep for Ceremony
It's time for a necessary lull in the festivities. Guests will start arriving soon so the couple and wedding party members should decamp to a holding area. This is a good time to drink some water, eat a small snack and use the restroom before the main event. About 10 minutes before the ceremony everyone should start to lineup in order to await processional cues.
4:30 p.m. Ceremony Prelude Music Begins
Having music play as guests arrive will set the mood, and it'll alleviate any awkward pauses or confusing moments. You can have a gift and guest book table set for guests to visit as they arrive. We also love the idea of offering attendees a pre-ceremony drink to help them stay cool and get the party started.
5:00 p.m. Ceremony
This time block will vary most among couples. A secular wedding ceremony can take just 15-20 minutes, while a religious ceremony may take closer to an hour (if not more).
5:00 p.m. Band Arrives
The time that your band arrives will depend on whether or not they're planing during dinner. According to Frye, "it is customary for entertainment to allow adequate set up time which is typically 3-4 hours prior" to performing. Often couples will have just one or two musicians perform during dinner and then the entire band will come on for a 3-hour (or so) dancing set.
This is also when a photo booth company should arrive and any other reception-only entertainment that needs to set up. Since you'll be wrapped up with actually getting married, this is a key reason that having a planner around to help with these other moving parts is incredibly helpful.
5:15 p.m. Band Meal Served
Often vendors like photographers, planners and videographers will eat during the main guest dinner. However, at that time the band will be making last-minute preparations to perform so they will likely require their dinner to be served earlier than other vendors.
5:10 p.m. Ceremony Starts
To preempt any last-minute hiccups, you can plan to have the ceremony start slightly after the ceremony start time written on the invitation. But don't let on to guests that you're planning on this—you still want everyone to arrive on time (or early!).
5:40 p.m. Cocktail Hour Commences
So you're officially married, let's party. While you take family portraits, guests will fill their wedding schedule with cocktails, light bites and music. Typically the photographer will have their second shooter capture guest candids during cocktail hour while the main shooter handles the remaining family photos.
Cocktail hour is one of the most important time blocks to focus on, so be sure to touch base with all relevant vendors to create a seamless transition between the ceremony and reception. "Set the mood," says Fowler. "There is nothing more awkward than bartenders not ready to serve and music not playing upon even the earliest of guest arrival." Ask your planner or day-of point person to greet guests, usher gifts and direct them to the bar, guest book and seating arrangement display.
5:40 p.m. – 6:00 p.m. Extended Family Portraits
It is critical that anyone who is on the shot list for these photos knows beforehand that they need to stick around for photos. You don't want to squander this time chasing down family members who made a beeline for the bar instead of waiting behind for family photos. Delegate someone, either a member of the planning team or a vocal and direct bestie, to call out names and assist the photographer in wrangling everyone so you can speed through the various groupings. Once family photos are complete the couple can join cocktail hour for a little while.
6:00 p.m. Sound Check
Testing, testing…1, 2, 6:00. The DJ, emcee and/or band will need time to check that all audio equipment is working properly before guests enter the reception space.
6:10 p.m. Reception Room Detail Photos
After plenty of cocktail hour photos have been captured the photography and videography teams can head into the reception space to photograph everything. There is a tight window for these reception room photos. It can't happen too early because final preparations are still being made. Plus, candles can't be lit and water glasses can't be filled until right before the reception (two actions that should take place before the room is photographed). But you also want the pros to have enough time to adequately capture all the details you planned.
6:30 p.m. – 6:40 p.m. Quiet Moment Alone for Couple
You won't regret scheduling this moment into your wedding itinerary. Ask your catering team to make up plates of food for you and to get you drinks from the bar. Take a breath and just enjoy being married. At the end of the day, the wedding is about just you two, but this will be one of the few times during the celebration that you can be alone as a couple. This is also when a wedding veil can be removed, if one of the partners wore one for the ceremony.
6:40 p.m. Guests Invited in for Dinner
"At the tail end of the cocktail hour, someone can thank guests for arriving and then welcome them to the dinner area," says Frye. Typically, this is a tandem effort between the venue staff, catering staff and event planning staff to go around inviting guests into the reception area.
6:45 – 7:15 p.m. Pre-Dinner Reception Programming
In our reception timeline guide we dive into everything that needs to happen during this time. You'll likely have an introduction, first dance and welcome toast during this time.
7:20 p.m. Dinner is Served
There's no such thing as too detailed when it come to the wedding day timeline.
According to Lafferty, you can even include "a time slot for clearing plates by your hospitality/catering team. There are a lot of small functions that need to be accounted for to assure the wedding is running smoothly and on schedule."
7:30 p.m. Vendor Meals
Except for the band, who should've eaten earlier, and the catering staff, whose schedule will be handled by the catering captain, all other full-day onsite vendors should be fed at this time. If there are vendors, like a wedding painter, who is only coming for a few hours they may not require a vendor meal. However, photographers, videographers and planners will all need a vendor meal. Typically vendor teams will eat in shifts—one photographer will eat while their teammate stays in the reception area and then they swap.
8:30 p.m. Dancing
Let's boogie. After dinner is cleared it is time to crank up the music and let loose for the last two-and-a-half hours of the reception. At some point during this time you can also plan to cut the cake and have late-night snacks served.
11:00 p.m. Wedding Grand Exit to Conclude Reception
Cue your wedding exit song and leave your reception with a grand departure. Give your guests sparklers to wave, arrange a fireworks display or deck out your getaway car with extravagant decorations. This is your time to enjoy every last moment of your wedding day.
At this time an after-party may commence. According to Lafferty, "it is completely common to have a longer wedding day lasting over 6-hours with extended festivities such as an afterparty. I am all for a good dance party! Once all the formal wedding activities are finished, it's then up to the guests to either participate after hours or retreat."
11:15 p.m. – 12:15 a.m. Vendor Load-Out
As soon as the guests are loaded onto the end-of-the-night transportation back to the hotel, clean-up can get underway. There's nothing vendors dislike more than lingering guests impeding their ability to clean up and get home. The venue likely also has a hard stop time laid out in the contract, and any time past that will be charged at a premium so it's critical that this phase happen quickly and efficiently.
Posted with permission by theknot.com. Original article posted here.