30 Fall Wedding Ideas Every Autumn-Obsessed Couple Needs to See
Posted on
Blog written by: Wedding Wire
By: Samantha Iacia
Featured image by: Wallpaper Abyss
In case your social calendar and Instagram feed weren't already dead giveaways, fall is officially *the* time of year to get married (September and October hold the top two spots on our list of most popular wedding months). If you're in the process of choosing your wedding date, these fall wedding ideas might just convince you that fall is the perfect season for you. While we love spring, summer, and winter weddings, there's something special about fall as a season in general. Maybe it's the thought of cozy fireside nights, leaves crunching under our feet, and pumpkin spice everything for three months straight, but we would have to argue that fall is a pretty magical time of year! Embrace the season by using these ideas and wedding themes for fall to bring your autumnal vision to life.
Here are all of the fall wedding ideas and details to know before you plan.
What is a fall wedding?
The fall wedding season ranges from mid-September to late November. Fall weddings are typically classified by their decor, which often includes seasonally inspired details, such as pumpkins, sunflowers, candles, burlap, and wooden accents.
What are the best places for a fall wedding?
Most venue types are suitable for fall weddings, but outdoor venues can be breathtakingly beautiful. If you're getting married in a region where the leaves change color in the fall, look for venues with scenic views and lots of foliage. Some of the best places in the country for fall weddings include New England, Michigan, Colorado, Missouri (specifically the Ozarks), the Pacific Northwest, and the Mid-Atlantic region. Some of our favorite fall wedding venue types include:
Vineyards and wineries: Fall is already the unofficial season of wine tastings and winery hopping, so why not fully embrace it by getting married at your favorite vineyard? It doesn't hurt that most vineyards and wineries are located in the countryside surrounded by beautiful scenery.
Barns: If you're dreaming of a rustic wedding theme, there's no better place to get married than a barn or farm venue. Many barn wedding venues offer all-inclusive packages and add-on services, like decor rentals, which will make your planning process that much easier.
Ski and mountain resorts: Winter may be their busy season, but many ski and mountain resorts are equally gorgeous in the fall—just imagine getting married while surrounded by endless views of rolling hills covered in vibrant orange, yellow, and red foliage.
When hosting an outdoor wedding, you'll need to consider the weather—rain, cold temperatures, hurricanes, and even snow could be a factor depending on your wedding location. Consider renting space heaters and enclosed tents to keep your guests toasty and dry at an outdoor fall wedding. On the East Coast, the Atlantic hurricane season runs from June 1 through November 30, which could impact your big day if the venue is in the path of a storm. Always have an inclement weather wedding plan if you're getting married outdoors, or opt for an indoor venue altogether if the possibility of bad weather stresses you out too much.
What are the best fall wedding colors?
Traditional fall wedding colors include burgundy, dark purple, mustard yellow, emerald green, navy blue, and orange, of course. One thing we love most about fall wedding color palettes is that they're an opportunity to play around with darker, richer hues that wouldn't necessarily be ideal for spring or summer weddings. Think about the colors that you naturally see during the fall months and build your color palette around those for an impeccably stylish, seasonally appropriate wedding.
If you don't want to see a single trace of orange or yellow at your fall wedding, that's okay too. Jewel tones are a glamorous and elegant alternative. Play up a glam-themed wedding with luxe details, like rose gold decor, velvet, and sequins. A neutral color palette, such as ivory and gray, will also create a welcoming and cozy setting for your fall wedding. Pair neutral colors with natural elements, like birchwood, fresh greenery, faux fur, and pinecones to create a woodland-inspired wedding theme (cottagecore, anyone?).
How do I decorate my fall wedding?
Fall is the perfect time to use seasonal elements to your advantage. Pumpkins, wheat stalks, gourds, hay bales, dried leaves, and maize or corn bundles are all popular options for fall wedding decor. These details will bring a rustic theme to your celebration, and they align with some of the most popular fall wedding venues, such as barns and other outdoor locations.
A wine-themed wedding is another popular wedding theme for fall. Think cork signage, a dark red and purple color palette, gourmet cheese appetizers, and most importantly, plenty of your favorite wine to go around.
We can't talk about wedding themes for fall without mentioning Halloween. If you're getting hitched on or around October 31, there are plenty of ways to incorporate a bit of spookiness and mischief into your wedding decor. The trick is choosing your Halloween-themed pieces carefully and pairing them with non-themed ideas to balance everything out—in other words, less is often more whenever you're going with a very specific theme. Choose black or orange as your primary wedding color (choosing both can quickly veer into Halloween wedding-gone-wrong territory), then add subtle hints of the other color. Check out this Halloween wedding or this gothic-chic inspirational shoot to get started.
Lastly, fall weddings are a great time to experiment with unique lighting options, especially after daylight savings time ends in November. Take advantage of darkness falling earlier in the day by using candle decorations, bistro lights, luminaries, lanterns, or marquee letters to set the mood.
What flowers are best for fall weddings?
The flowers at your fall wedding should mirror the earthy and romantic undertones of the season. Choosing blooms that are available in warmer colors (dark pink, burgundy, purple, orange, green, yellow) will add ambience to any fall wedding theme. By choosing flowers that are naturally in bloom during the fall, you'll be able to save money and get the flowers more easily, since florists won't have to go to great lengths to source them. Be sure to consult with your wedding florist to figure out exactly which flowers are in your budget and available for your fall wedding date. Some of the most popular fall wedding flowers include:
Dahlias
Sunflowers
Chrysanthemums
Calla lilies
Ranunculus
Roses
Filler botanicals, such as goldenrod, curly willow, eucalyptus, baby's breath, amaranthus, pampas grass, succulents, and dusty miller are all excellent additions to your fall wedding bouquet or other floral arrangements. You can also incorporate unexpected objects into your fall wedding reception centerpieces, such as dried moss, miniature pumpkins, berries, and deer antlers (faux versions can easily be found at craft and home decorating stores).
What do you wear to a fall wedding?
Fall is inherently rustic—hayrides, pumpkin patches, corn mazes…you get the drift—so it's no surprise that rustic wedding attire is a popular choice for this season. This laid-back dress code is a natural fit for couples getting hitched at a barn or farm. If you're wearing a gown at an outdoor wedding, look for styles with slimmer, flowy silhouettes and lightweight fabrics, such as crepe or chiffon. You won't want to be wearing a heavy ball gown or skintight dress that makes it difficult to walk around outside (and is more likely to get stains all over the hem!).
Rustic wedding attire for grooms runs the gamut from tweed suits and bow ties, to vests with denim pants and cowboy boots. Always choose your attire based on the style of your venue—this rule goes for wedding guest attire, too. What you wear to a wedding at a formal country club should be different than what you would wear at an off-the-grid location in the mountains.
Depending on your wedding date and location, fall temperatures can be pretty chilly, and sometimes they're downright freezing. Consider this a fun opportunity to experiment with accessories to keep everyone warm and stylish. Brides, you can surprise your 'maids with matching plaid flannel button-down shirts to wear while you're getting ready, or provide denim jackets to wear in cooler temperatures. For more traditional dress codes, we like cashmere wedding shawls and faux fur wraps.
What kind of food should you serve at a fall wedding?
The type of food you serve at your fall wedding will depend on your budget, personal taste, and caterer, but it never hurts to start thinking about your wedding menu sooner rather than later. Savory dishes and comfort foods are ideal for fall weddings—some of our favorite options include roasted pork or chicken, grilled vegetables, mashed potatoes, pot pies, and hearty soups. If you're going for a more casual approach, consider homemade macaroni and cheese topped with breadcrumbs, or a barbecue-themed meal.
When it comes to dessert, we'll never say no to the traditional wedding cake, but we have to admit that fall weddings are a great opportunity to surprise everyone with seasonal treats. Pies, caramel apples, pumpkin rolls, and apple cider donuts are just a few fall-themed desserts that are guaranteed to entice your guests. If you do opt for a wedding cake, there are so many rustic cakes, black wedding cakes, and fall-themed cakes to choose from.
Finally, don't forget about your beverages. Keep your guests warm after dark with a hot cocoa or apple cider station—you can even serve spiked versions for the 21-and-older crowd.
Our Favorite Fall Wedding Ideas
If you're ready to start planning your fall wedding, it's time to gather inspiration and bookmark your favorite ideas. From floral arrangements to decor, attire, stationery, wedding favors, and more, here are the ideas and wedding themes for fall that we're loving right now.
Vow books
Decorative wedding vow books will make your personalized vows that much more special. Little black books with white calligraphy fit the theme for a fall wedding.
Muted orange wedding bouquet
Orange is one of our favorite trending wedding colors of the moment, and this color also happens to be one of the best fall wedding hues. Dried flowers and accents, like palm leaves and grasses, are another trending fall wedding idea you can include in your bouquet.
Floral fall wedding invitations
Decorate your fall wedding invitation suite with floral motifs in rich burgundy, fuchsia, and green tones for a moody-meets-romantic vibe.
Pampas grass ceremony backdrop
Whether you're exchanging your vows indoors or outdoors, this statement-making pampas grass backdrop is one of the best fall wedding ideas if you love boho style. Ask your florist or wedding planner about repurposing it for your reception to get double-duty out of the arrangement.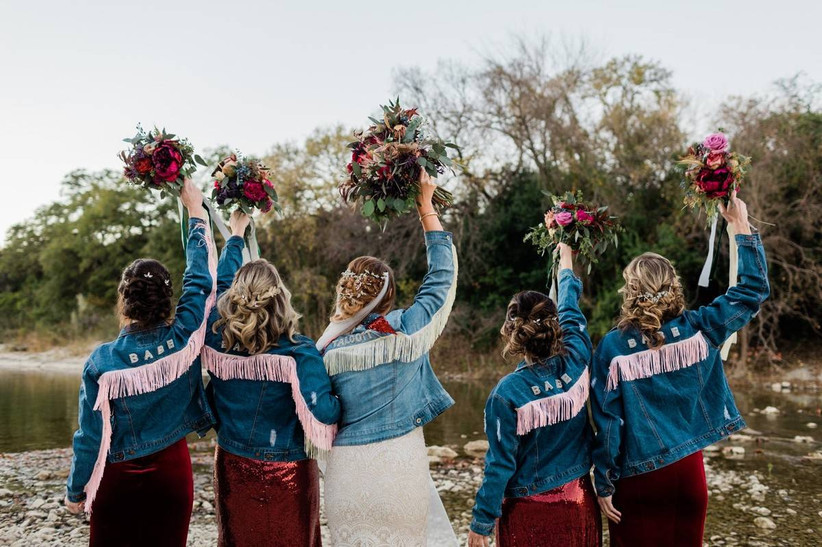 Denim bridesmdaids jacket
Not only do denim jackets look super cute in wedding photos, but they come in handy if there's a chilly breeze or colder weather on your big day. Check out sites like Etsy and the WeddingWire Shop for personalized jacket options.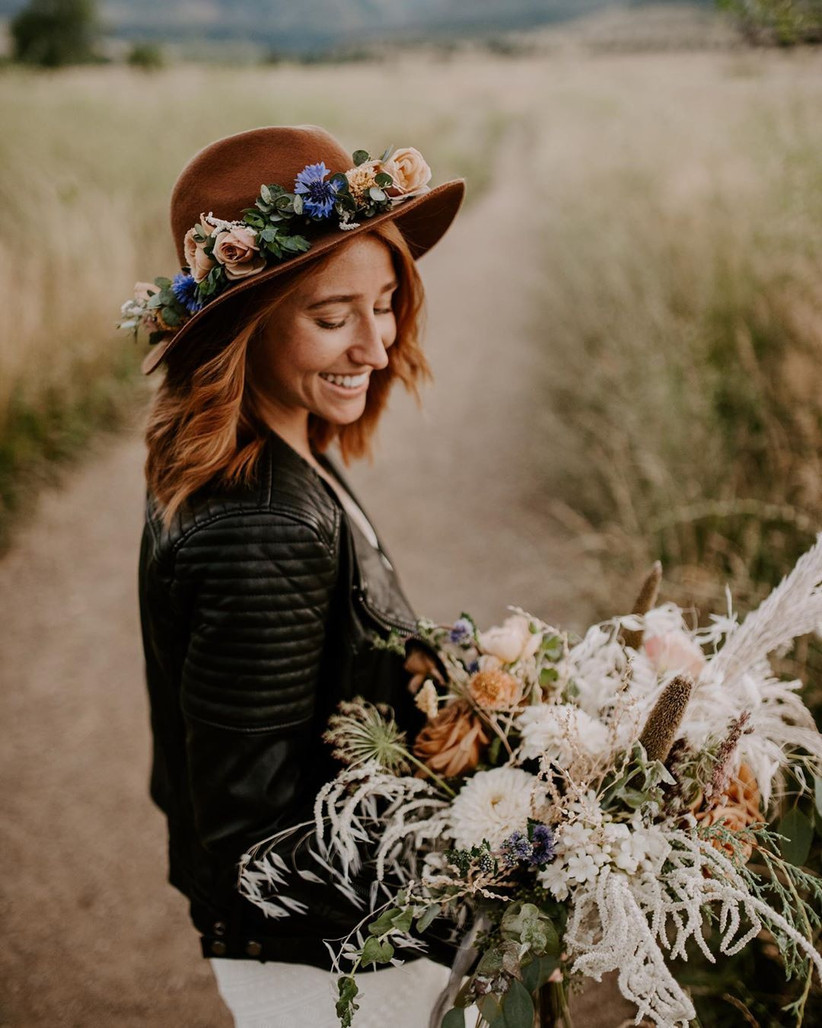 Bridal hat
If you're feeling extra-trendy or want to add a bit of edge to your bridal look, accessorize with a stylish hat. Floppy felt hats and fedoras are a few options for fall—decorate your hat with fresh flowers to make it feel totally unique.
Dark purple tuxedo
Groom's fashion has come a long way in recent years, and colorful suits and tuxedos are now the name of the game. For a fall wedding, try dark purple, burgundy, emerald green, or velvet styles. Worried about looking too informal? Have your ensemble professionally tailored and keep your accessories classic to balance trend with tradition.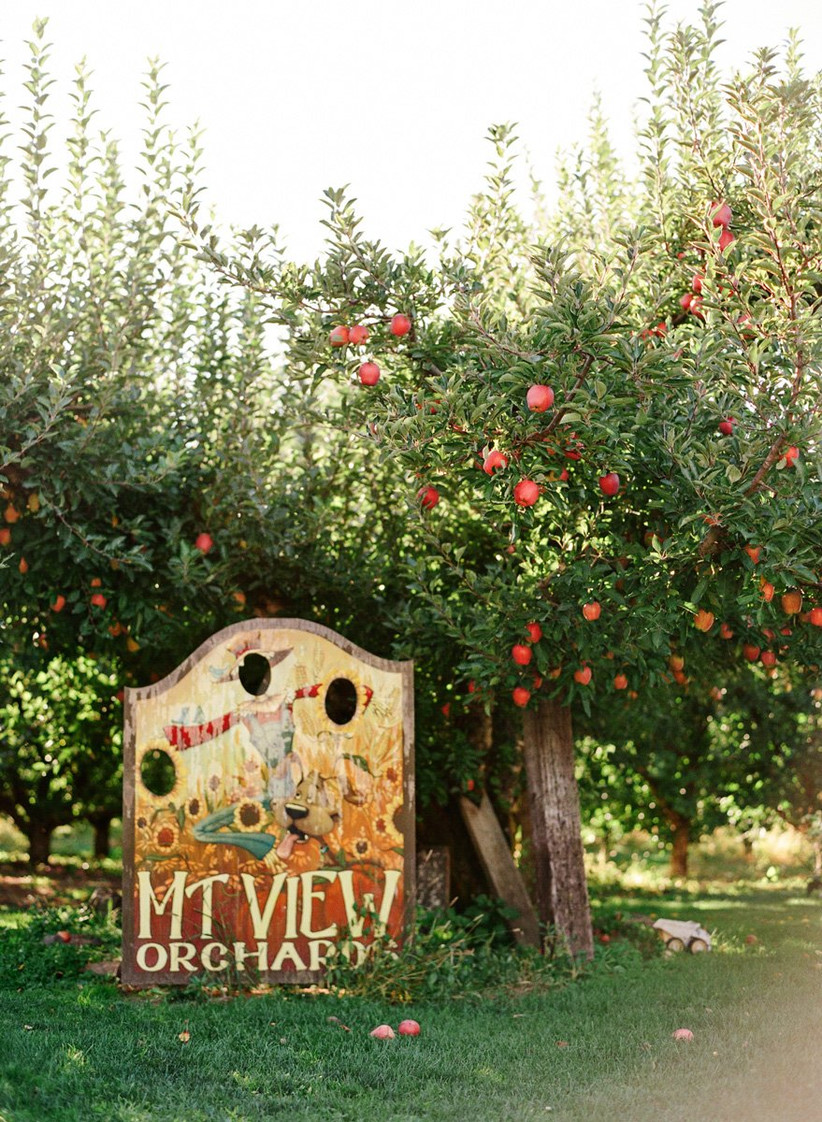 Orchard wedding venue
An apple orchard sets the scene for a gorgeous outdoor fall wedding. If you're having a small, intimate wedding, host your ceremony or reception dinner among the trees (as long as your venue allows it!) to create a memorable experience for guests.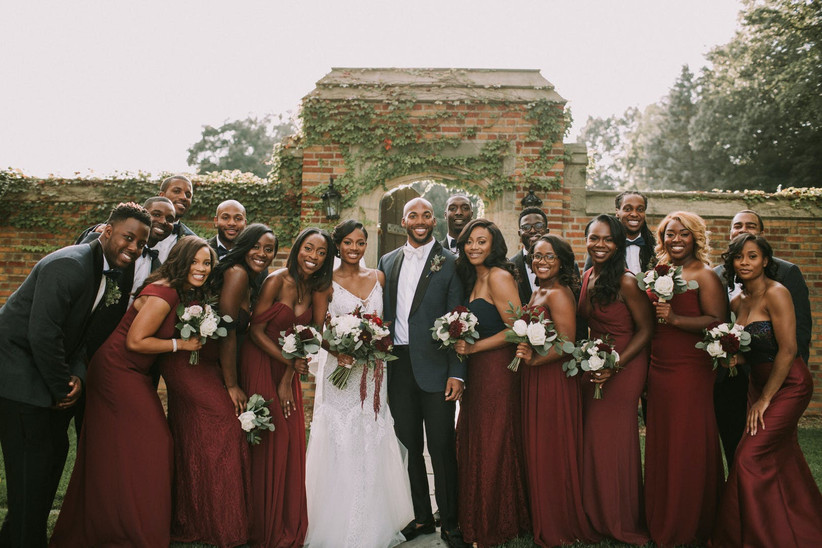 Burgundy bridesmaid dresses
Burgundy is one of the most popular bridesmaid dress colors for fall weddings, and the great news is that it's universally flattering for all skin tones. Don't be afraid to combine burgundy dresses in different fabrics and silhouettes to create a mix-and-match bridal party.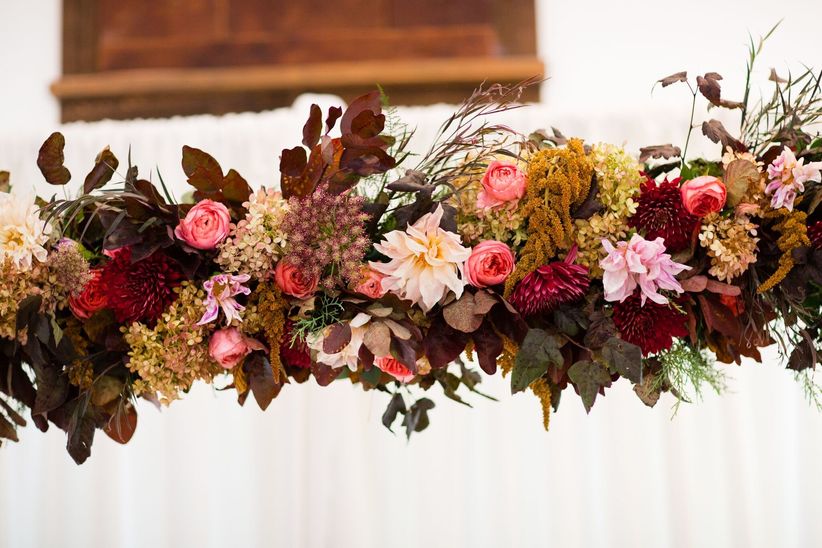 Dahlia flower arrangement
Cafe au lait dahlias (the oversized pale pink and yellow flowers) are a staple for many fall wedding arrangements—and they're so gorgeous that it's not hard to see why. Pair them with darker flowers, such as burgundy dahlias, red ranunculus, gold amaranthus, and purple astrantia, for a beautiful contrast.
Sunflower ceremony arch
If we had to choose one type of flower to resemble the fall season, it would be a sunflower. Depending on your location, sunflowers start blooming around the end of July and continue through October, making them an ideal floral choice for late summer and early fall weddings. They're large enough to make a statement on their own, but you can pair them with greenery and other flowers in pink, yellow, and orange hues for a cheerful fall assortment.
Blanket wedding favors
Outdoor weddings can be unexpectedly chilly, especially the farther north you are in the country, so we recommend providing your guests with ways to warm up. A basket of fleece or flannel blankets will keep everyone comfortable and provide them with a thoughtful wedding favor they'll definitely use again.
Chalkboard seating chart
We're loving this modern, oversized chalkboard seating chart. You can easily decorate your signage with greenery garlands as a quick way to spruce it up and make it blend in with the rest of your wedding decor.
Acrylic wedding escort cards
You've seen acrylic escort cards, but have you ever seen them displayed in such a unique way? To replicate this fall wedding idea, head to a thrift shop and look for a framed floral painting—or any subject that fits your specific theme. You and/or your wedding calligrapher can use tiny pieces of tacky wax on each escort card to keep them in place within the frame.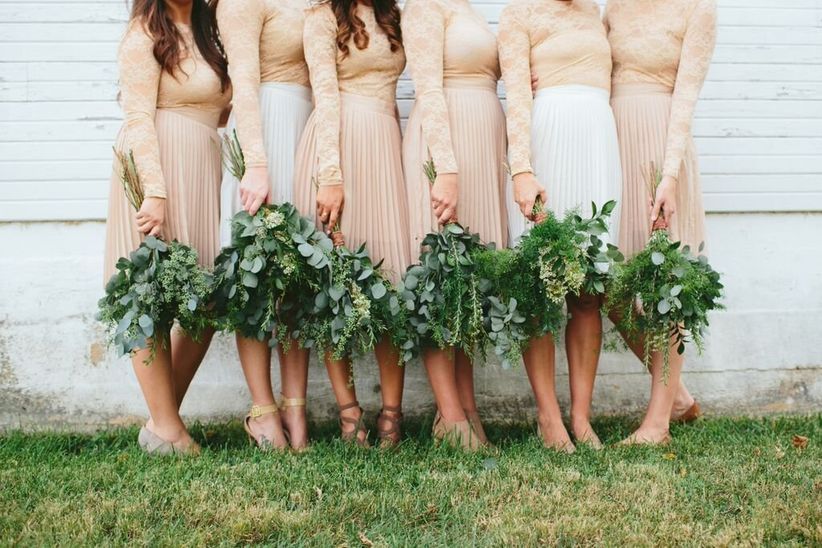 Greenery bridesmaid bouquets
Another popular wedding theme for fall is an earthy, eco-friendly aesthetic. For this, you can skip the floral bridesmaid bouquets in favor of greenery, which looks just as lovely.
Gold flatware
Don't forget about the little details of your wedding decor, such as your table flatware. If you have room in your budget, consider splurging on gold or cooper flatware (you should be able to rent it from most wedding decor vendors) to add an opulent touch to your place settings.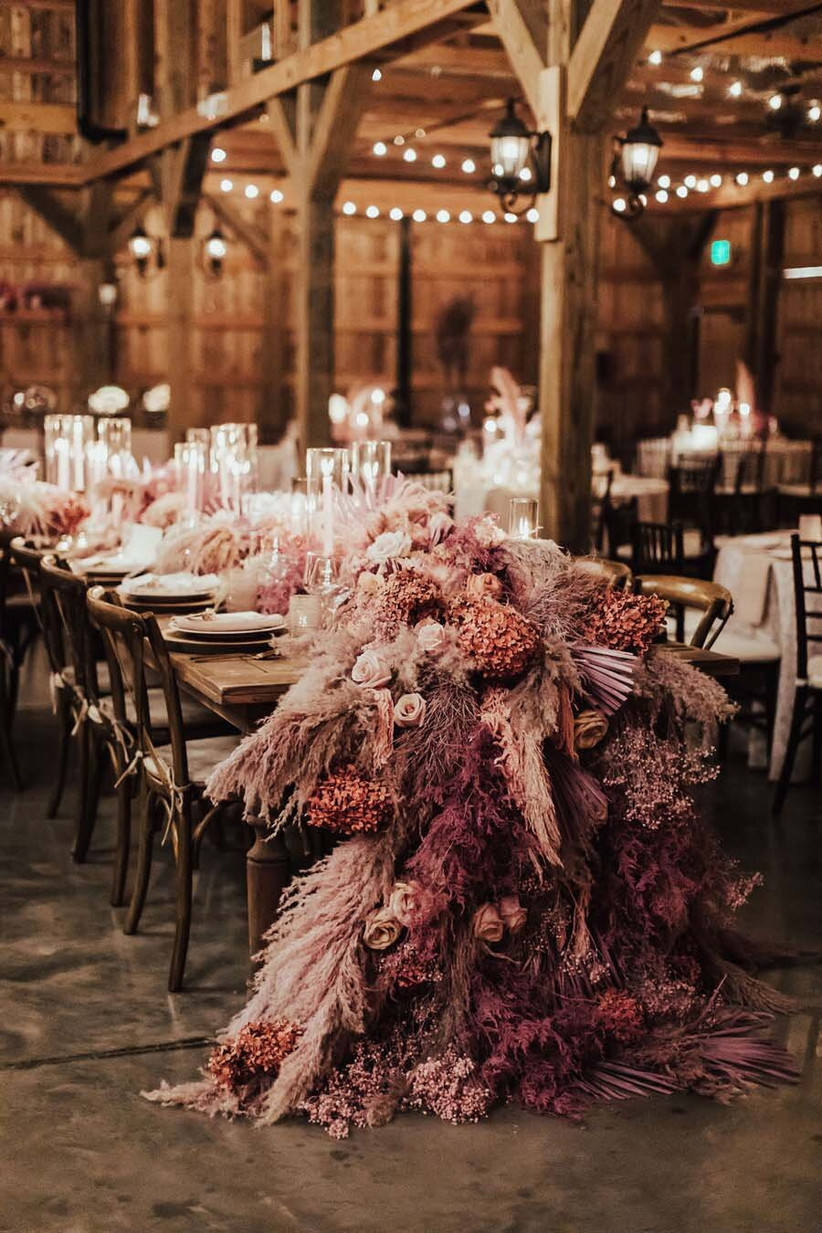 Pampas grass table runner
If you really want to wow your guests, decorate your sweetheart table or your head table with an oversized (and pink) pampas grass table runner that cascades down to the floor. The combination of light and dark pinks is so pretty for a fall wedding theme.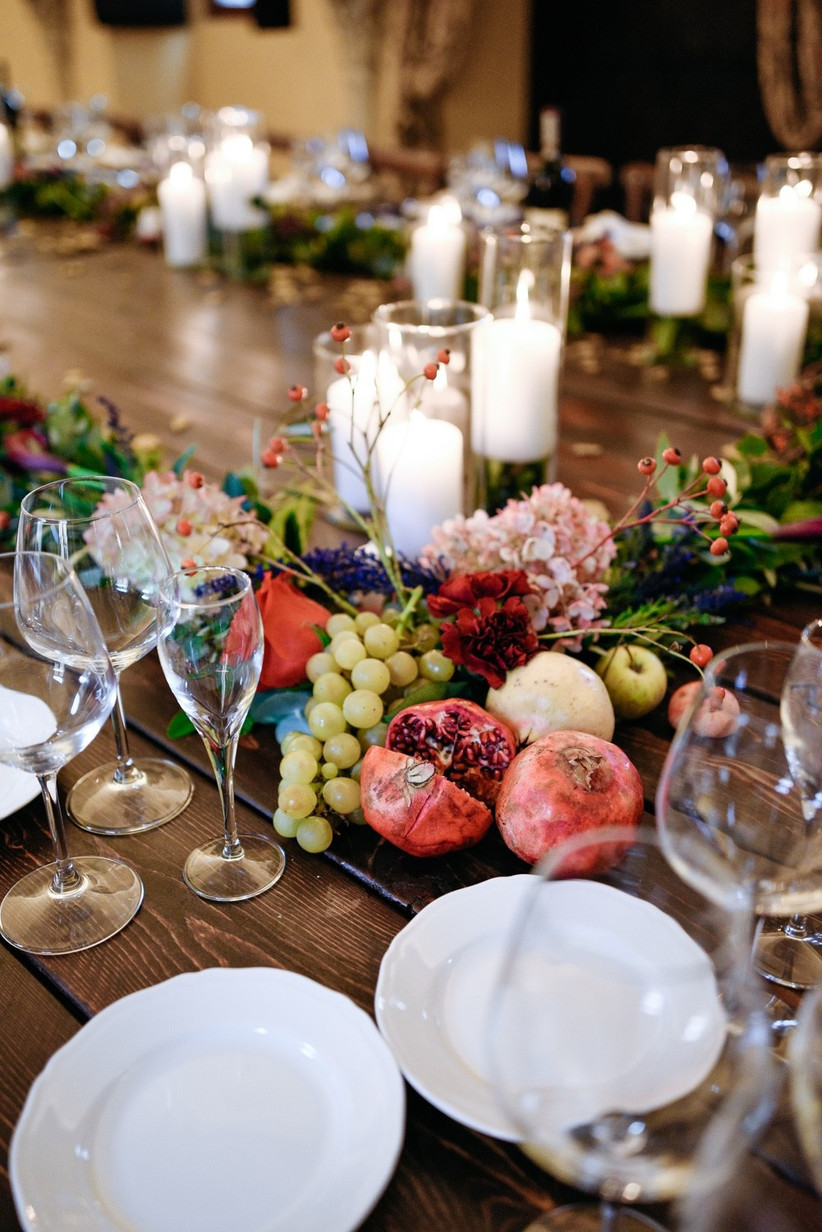 Fresh fruit centerpieces
Along with flowers, incorporate fresh, seasonal fruits (apples, grapes, figs, pomegranates, pears) into your fall wedding centerpieces for a completely unique arrangement.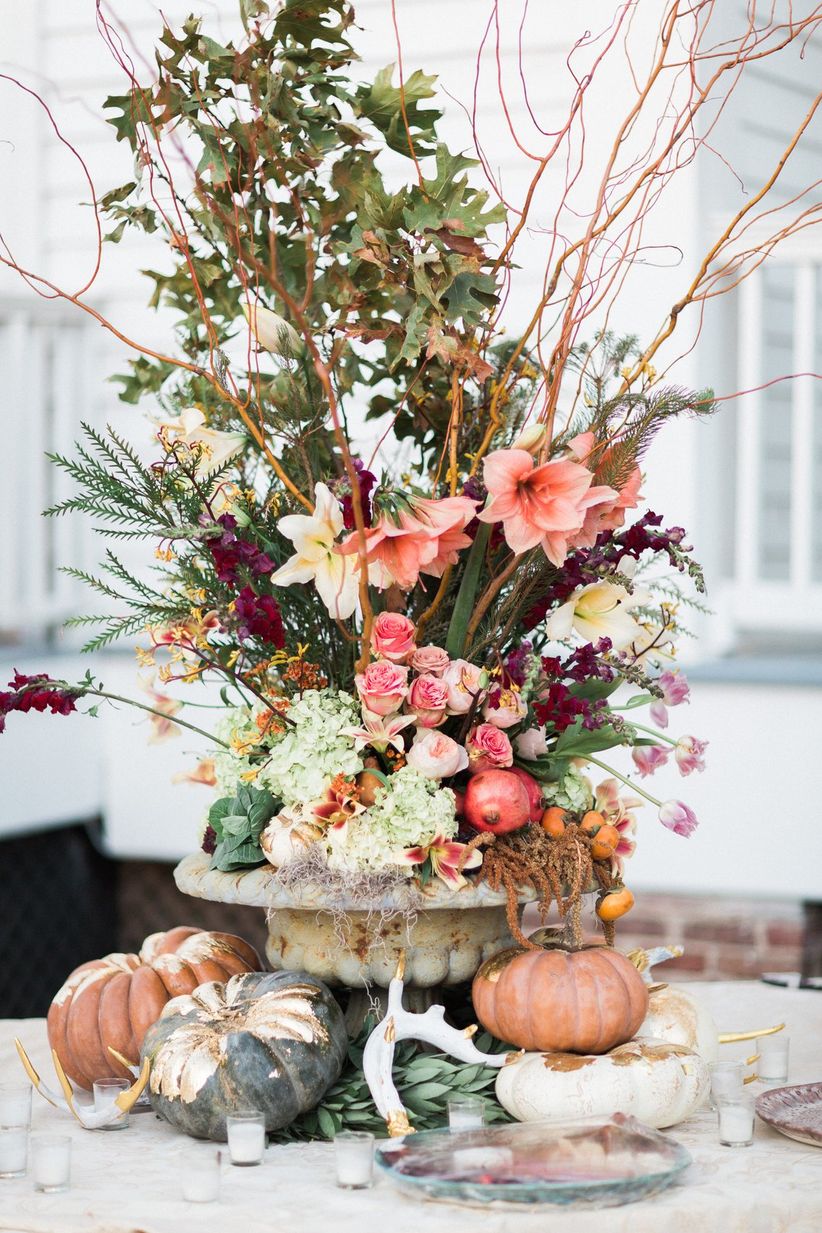 Painted pumpkin centerpieces
Pumpkins are an obvious choice when it comes to fall wedding ideas, but they don't always work with every theme or color palette. You can quickly solve the issue with some paint and a little gold leaf to turn them into chic tabletop accents.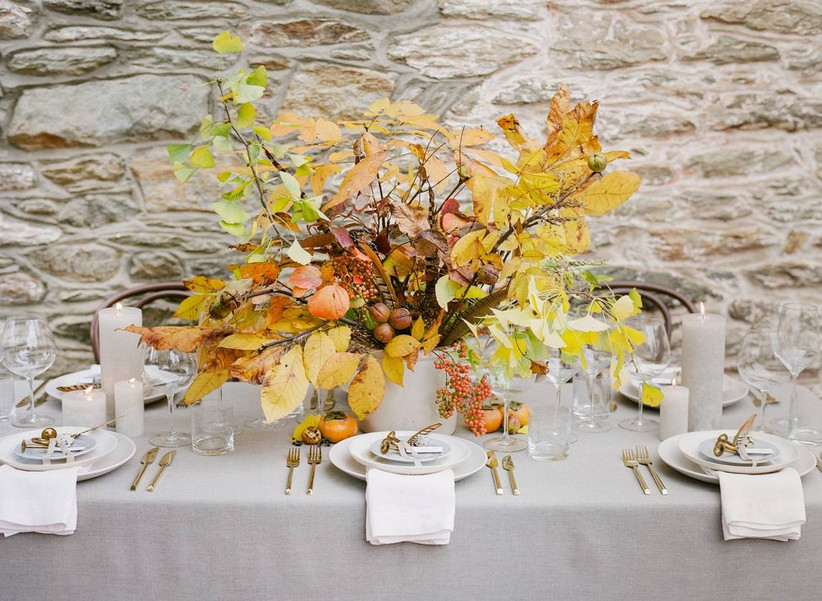 Fall foliage centerpieces
One of the best things about the fall season in general is the abundance of colorful foliage, and it can actually make a stunning addition to your wedding flower arrangements. Your florist can source or forage branches, berries, and vines that will instantly give your wedding decor that autumn aesthetic.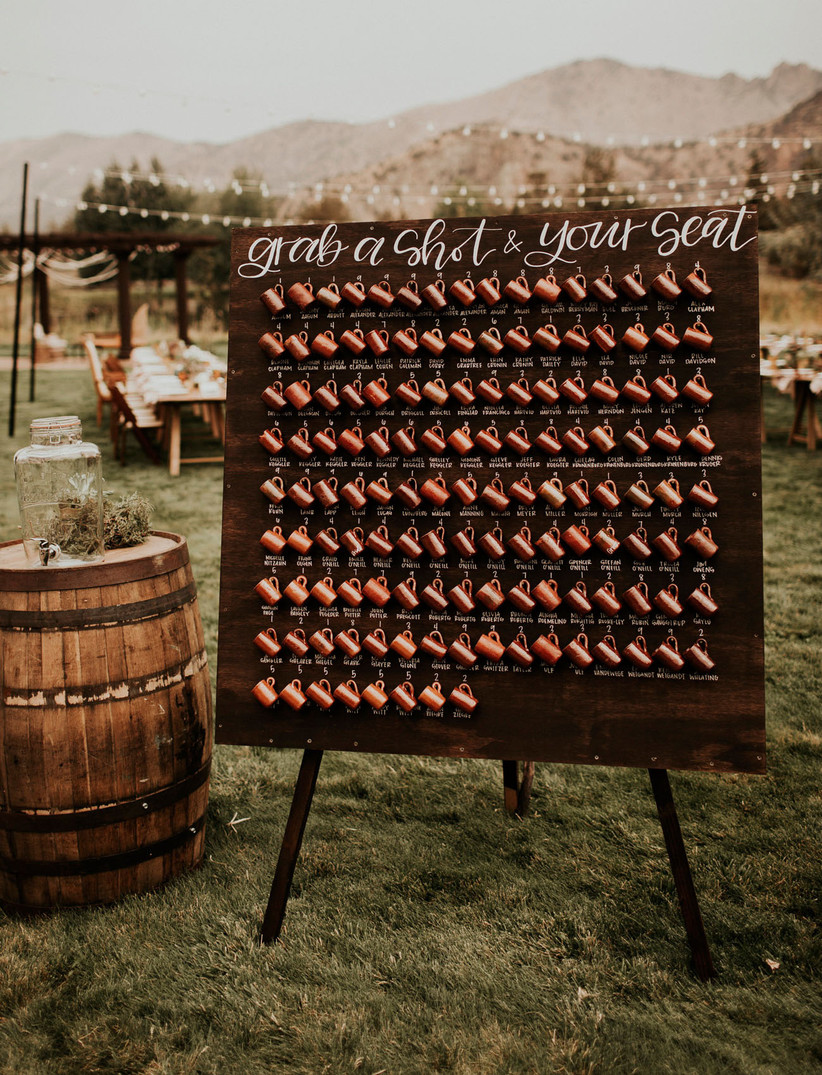 Shot glass escort cards
Edible and drinkable wedding escort cards are more popular than ever, and you can give this trend a fall-appropriate spin by using mini copper mugs as shot glasses. Even for guests who choose not to imbibe, it's a super-cute fall wedding idea!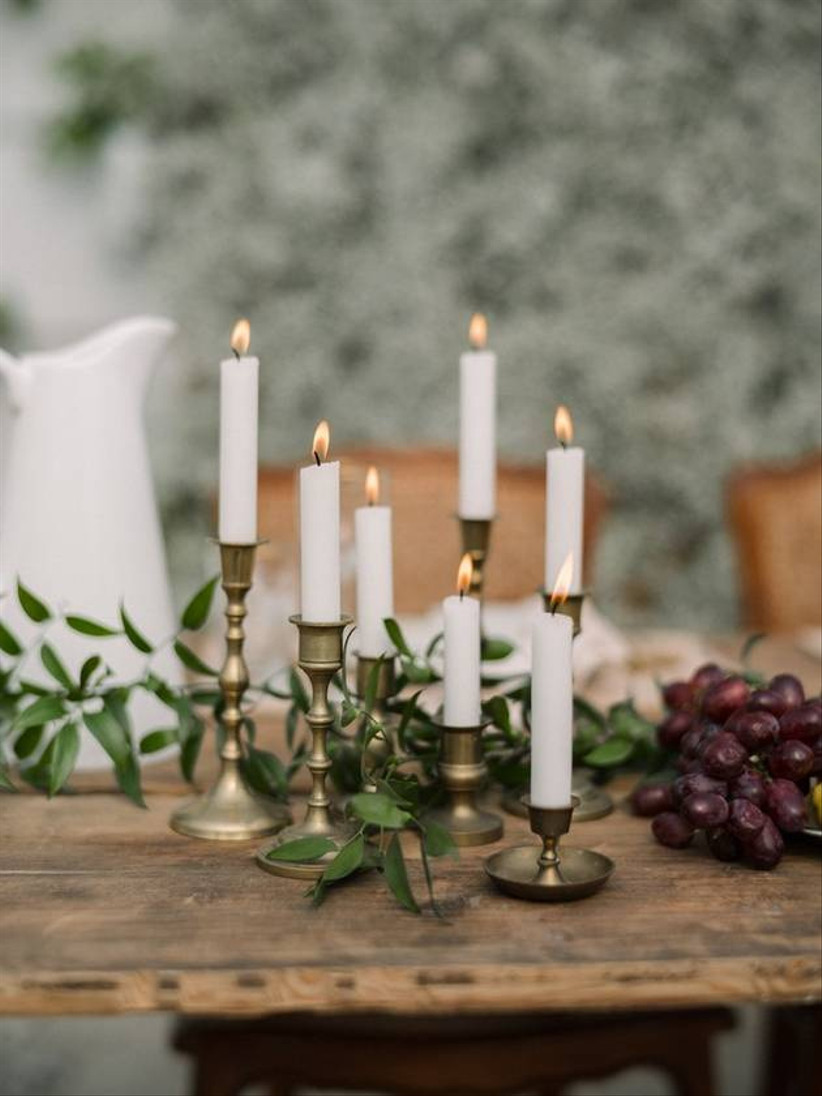 Taper candles
Pumpkin spice-scented or not, the fall season is all about using candles to create a cozy ambience. Simple white taper candles in bronze candlesticks will instantly give your wedding decor a sophisticated feel.
Wine barrel wedding guest book
Looking for creative wedding guest book ideas? Try this repurposed wine barrel top, which you can hang on your wall as a keepsake after the wedding is over.
Miniature slider appetizers
Serve bite-sized sliders with miniature flights of beer or cider for an appetizer that your beer-loving guests will absolutely adore.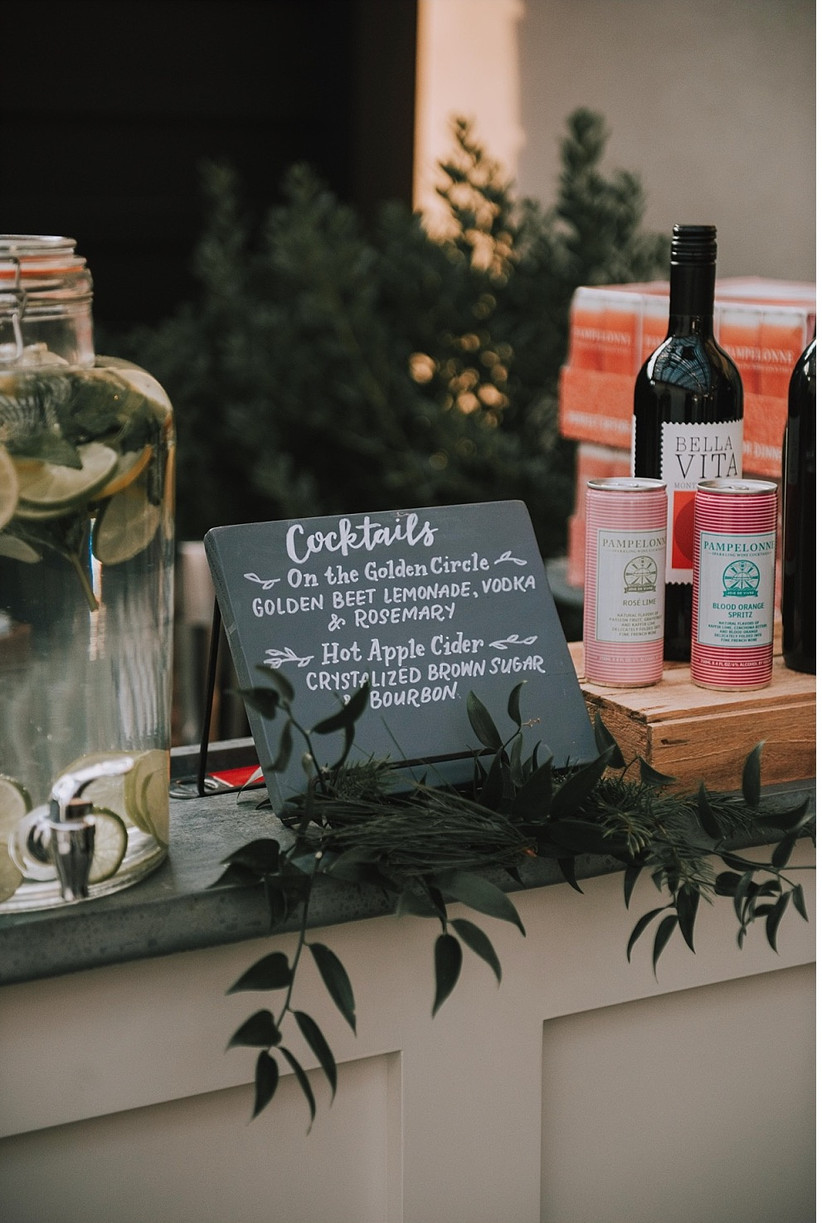 Spiked hot drinks
Use your wedding theme for fall to inspire your signature cocktails, too. Drinks like hot toddies and hot apple cider with bourbon will hit the spot on cold nights.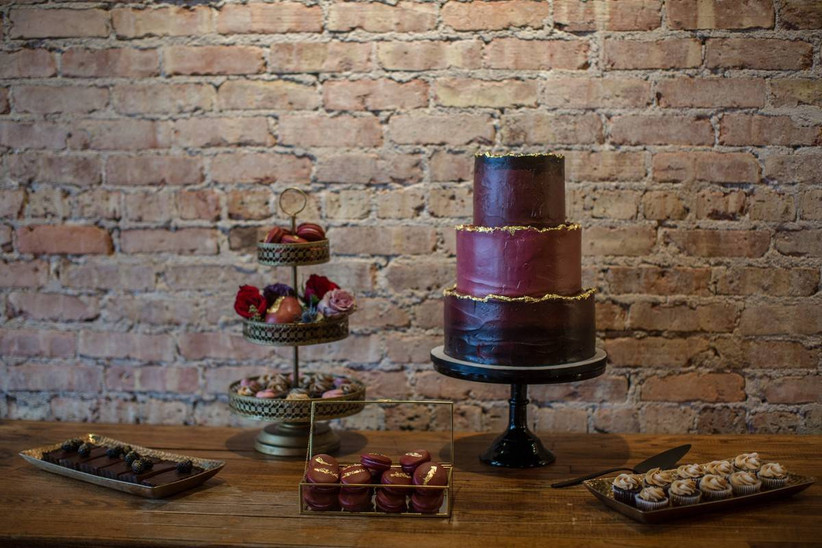 Purple wedding cake
Your cake is another way to showcase your fall wedding theme. A dramatic purple and gold wedding cake is decadent and unique if a traditional white cake isn't your style.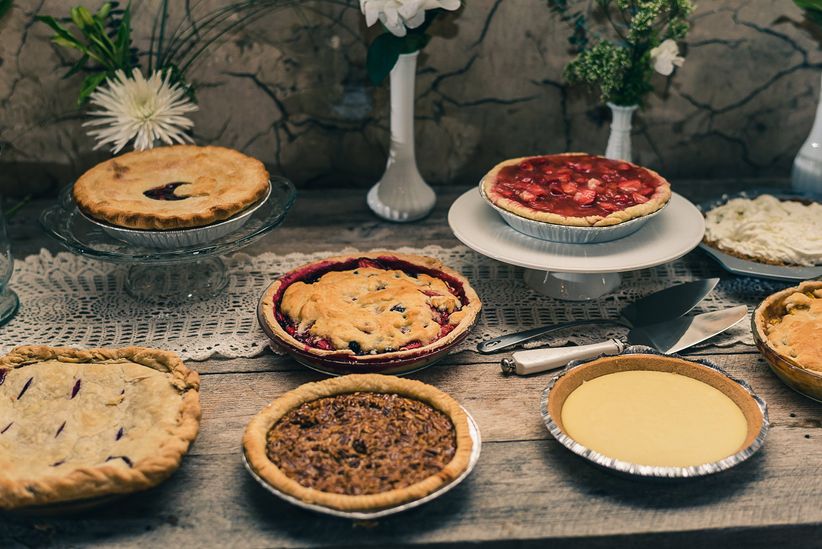 Homemade pies
Whether you're using a beloved family recipe or ordering from a local bakery, pies are one of the best things about fall weddings. As an alternative wedding favor idea, you can send guests home with individually boxed slices of your favorite pie.