11 Tips to Help You Plan a Multicultural Wedding
Posted on
Blog written by: WeddingWire
By: Anne Chertoff
Featured image by: Justine Milton Photography
It's very common these days for an engaged couple to come from different backgrounds: cultural, religious or geographical. As brides and grooms look to personalize their wedding ceremony and reception with details that reflect who they are as a couple, such as naming tables after places they've vacationed together, they're also looking to include a nod to their family backgrounds. But how do you seamlessly blend cultural, religious and geographic traditions into a wedding?
Here are 11 tips to help you plan your multicultural wedding.
Research your backgrounds.
One of the first places you should turn to learn about wedding traditions is your family. Parents and grandparents can be a great resource. They can share with you what traditions they may have had at their own wedding, as well as customs you may not be familiar with. After talking to them, use Google and Pinterest to search for ideas and look for books, websites, and blogs that may speak directly to your background.
Edit the possibilities.
After you've researched traditions, make a list of the ones you think you want to include in your multicultural wedding ceremony and/or reception. You can also create a Pinterest board of your favorite ideas if you have images of them. You don't have to include all of them, just the ones that feel right based on tradition and personal preference.
Hire a wedding planner with experience.
There are wedding planners who specialize in weddings that celebrate specific cultures and backgrounds. He or she will be knowledgeable on the various ceremony traditions, music and dances, menu items and other details you may want to include. They'll also have a list or resources and vendors who can assist in creating the look and feel you want for your multicultural wedding.
Hire an officiant who will perform an interfaith ceremony.
Some officiants may not have experience with, or be open to, leading a ceremony that combines multiple faiths. Simply ask the officiant you want to hire if they will and if not, ask friends, relatives and search WeddingWire's vendor database to find someone who can perform an interfaith ceremony. You may also have the option to bring in officiants from both backgrounds who will collaborate ahead of time and execute the ceremony together, seamlessly blending both religious customs.
Book an accommodating house of worship.
The same guideline for officiants applies to booking a house of worship for your ceremony. Some will allow an interfaith service to take place in their chapel, while others won't. Be clear when you're booking a church or temple what you're envisioning for your wedding ceremony and find out if they'll allow it.
Explain the traditions to your guests.
Many couples choose to have a wedding program to list who the different members of the wedding party are, but it's also a great place to list the different elements of the ceremony. You can elaborate on the parts of the ceremony you think your guests may be unfamiliar with. If you're not sure how to write out each description, your officiant should be able to assist you.
Highlight music and special dances.
If there are particular songs or dances you want to include in the ceremony and/or reception make sure your band or DJ is familiar with them. You can also book a band or entertainment that specializes in a specific genre, such as klezmer music, bagpipers or a belly dancer. or dances, if it's a group dance many people may already know it, such as a Hora or Kalamatianós, but if it's a dance for two, you may want to take dance lessons to learn the steps. You can also have the bridal party pair up and take lessons too!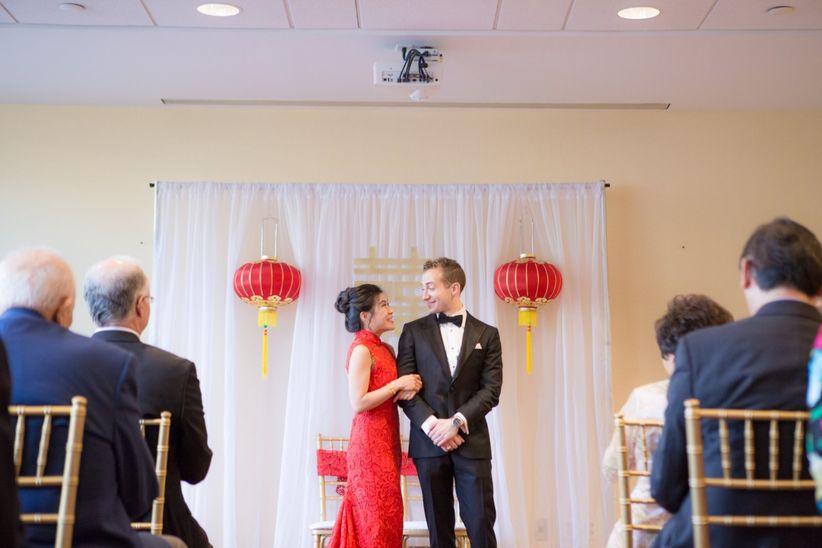 Create a fusion menu.
Whether you're passing hors d'oeurves, setting up a buffet, or serving a seated meal, create a menu that brings in the flavors of each of your backgrounds. Explain to your caterer what your favorite dishes, spices and recipes are and let them conceptualize a menu, which will include a variety of both cultures and/or regions. And a fusion menu isn't limited to cocktail hour and dinner. Your bar menu and wedding cake and dessert menu can also be inspired by your backgrounds.
Wear cultural fashions.
Couples who want to honor their heritage can get a second wedding-day look that includes "traditional" dress. Chinese brides can wear a red dress, Indian brides an elaborate saree, or Korean brides and grooms a traditional hanbok. If you do decide to wear two looks for your wedding let your photographer know and set aside time to be photographed in the cultural dress too. If you're concerned about modesty and coverage for a religious service, many designers are offering wedding dresses with higher necklines and sleeves, as well as convertible looks that let you easily change from a modest look for the ceremony to a more revealing one for the reception.
Consider a second wedding ceremony.
If there are more than just one or two traditions you want to include in your wedding ceremony consider having two ceremonies. You can have them held on the same day, or have a second one held at another time and place. For example, if the bride's family is from India you can plan an Indian wedding ceremony and celebration near where her family is, whether it's another state or country.
Personalize customs with your style preferences.
Whichever customs you choose to include, be sure that those details still reflect your personal style choices. Your culture or background doesn't have to be the theme of your wedding, but the elements you include should complement the wedding's overall look and feel. If, for example, you want to have a chuppah as a nod to a Jewish ceremony tradition, pick a chuppah design that complements the rest of the wedding's style, whether that's modern and minimal or romantic with florals.