Your Wedding Weekend In Washington, DC
Posted on
By: Maya Hettleman
Featured Image By: Alicia Lacey Photography
For us at IMPACT Collective, DC is our home-field. There is no place that we love more or know better than Washington, DC. For our couples, we know that your wedding is more than a special day — it's a special weekend of celebrating with your closest friends and family. We understand that it can be hard to give your out-of-town guests the full DC experience in just a few days, but we narrowed it down to a few spots that you can't miss.
Must-See Attractions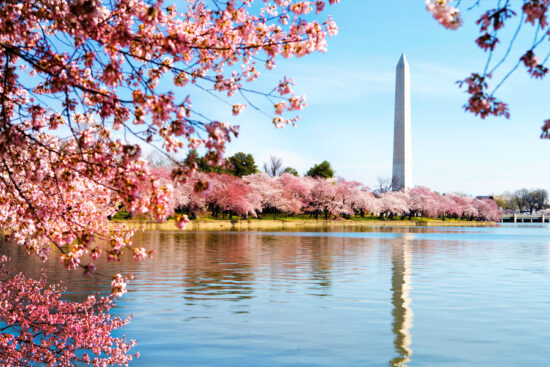 DC is certainly known for its landmarks. From spending the afternoon on the National Mall with the Washington Monument and the Lincoln Memorial, or walking around the Tidal Basin to see the Jefferson Memorial – the monuments are a huge draw. There is also a beautiful art scene in DC with spots like the National Portrait Gallery, the Renwick Museum, and modern art installations like ARTECHOUSE. No matter what you're interested in, there are plenty of different options for every visitor.
Delicious Restaurants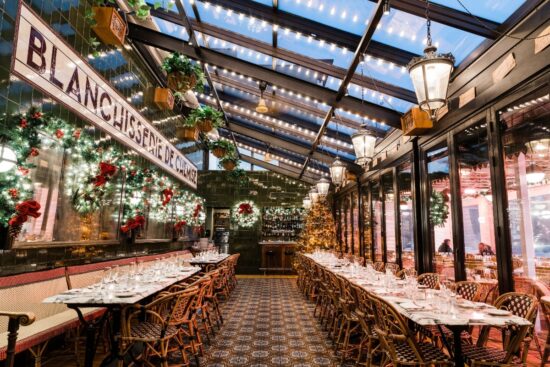 DC's best-kept secret is that it is a city for foodies. The restaurant scene in the District ranges from hip, up-and-coming fusion places to more elegant fine dining establishments. There is no going wrong when planning a meal to welcome your guests to the city. A local favorite is the Parisian Brasserie, Le Diplomate. From their menu to the atmosphere of the restaurant your meal will give you a DC dining experience your guests won't be able to find anywhere else. Additionally, one of the most exciting new DC locations for dinner and drinks is Dacha Beer Garden. Their signature German menu will satisfy all your guests and with locations in Shaw and the Navy Yard. Both are an experience that is unmatched for any welcome or rehearsal dinner to jumpstart your guests' amazing DC weekend.
Ideal Welcome Party Locations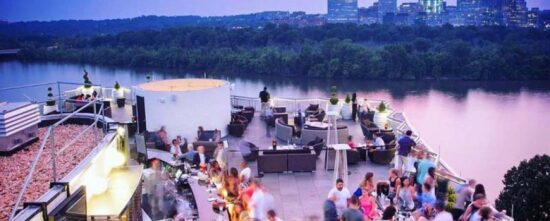 Once all of your guests have arrived in town, the most exciting thing to do is all get together and finally see each other! Currently, the most popular way to gather is by heading to a rooftop bar for drinks, dinner, and celebrating. The rooftop bar at the Watergate Hotel is a favorite spot for many in the District because of its amazing service, menu, and 360° view overlooking the entire DC skyline. A second option for a perfect night is Terrazza, the rooftop bar at the Officina at The Wharf. Their seasonal drinks and Italian menu are perfectly complemented by the architecture that was inspired by aperitivo patios in Rome. Their view of the waterfront is unmatched and sure to provide a beautiful setting to celebrate the beginning of an amazing weekend with your friends and family.
Continuing The Big Night – The After Party
There is nothing more iconic than celebrating your wedding day with your dress on and a slice of pizza in hand. As far as pizza places go, there isn't a more iconic pizza joint in DC than Jumbo Slice, in Adams Morgan. In this neighborhood, you'll be able to grab a quick bite to eat and then continue the celebration at DC bar staples like Roofer's Union and Bar Charley. If you're not done dancing the night away, the party can always continue at Madam's Organ, a bar known for their live blues music and soul food menu.
Brunch The Next Day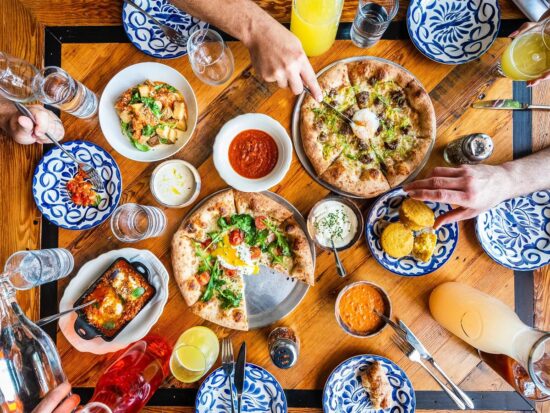 Bottomless brunch in Washington, DC is a Sunday staple for any local and the perfect way to end your wedding weekend. If you're looking for a brunch to satisfy the masses, look no further than Duke's Grocery in Dupont Circle for classic favorites with an English twist. For a local's brunch experience, Mission located in the Navy Yard is the perfect spot. Their menu features their Latin cuisine while still incorporating well-known brunch favorites like Eggs Benedict. For a brunch with a view, All-Purpose Pizzeria brings the perfect blend of breakfast favorites and lunch specialties to their Capitol Riverfront location.
As locals ourselves, the team at IMPACT Collective knows how to celebrate with the very best in the District. With guests coming into your city, it's always exciting to show off all there is to offer here from the sites you'll see to the places you'll eat. Hopefully, these suggestions will make planning your wedding weekend as easy and exciting as it can be. If you'd like to have the help of a planner, click here to set up a consultation with us and learn about all the services we offer.