How to Include Your Pets in Your Wedding Day
Posted on
By: Sarah Hauk
Featured image by: NZ Bride
As a proud pet parent myself, I completely understand the desire to have your cherished furry friend on your big day. At IMPACT Collective, we recommend that all of our couples plan to have at least one way to unwind and take a step back from the strain of the big day. With all the chaos and stress of wedding preparation, you might even need some quality time with your pet to destress. Keep reading to learn more about our favorite ways to incorporate pets into the wedding day festivities!
Dress Them Up in Wedding Attire for Pictures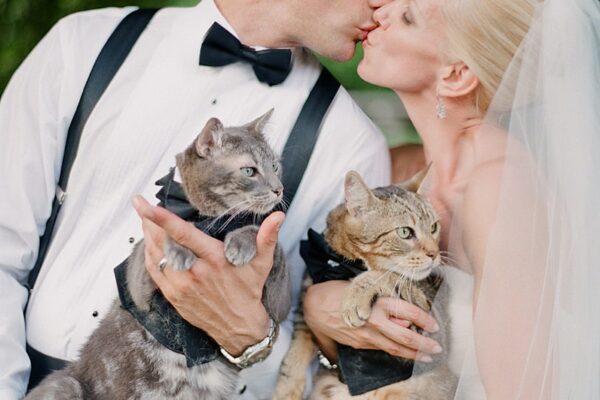 If you thought your pet just could not get any cuter, you were so wrong. Pet formal wear is without a doubt one of the most unforgettable ways to get your pets in the wedding spirit. Though they may not love wearing it, the pictures will definitely be worth the momentary struggle. If your pet particularly doesn't like it, they can just wear it for pictures and sport their birthday suit for the rest of the day.
Use Them as a Ring Bearer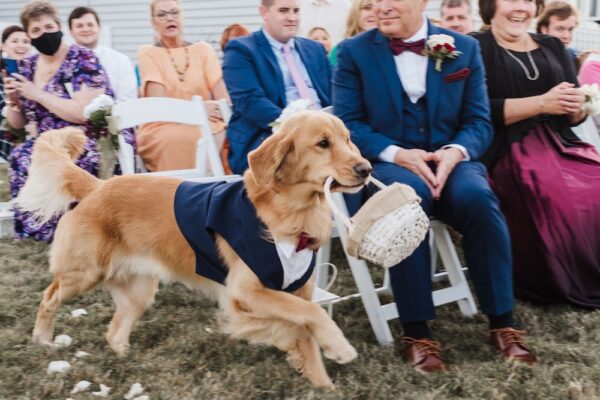 If your pet is capable and trained enough to have a more active role in your wedding day, then they can do the honors of bearing the rings. Your guests will be so delighted to see your precious pet bounding down the aisle with such an important task. If you do try this option, please ensure they can do it without damage or loss of the cargo, and make sure they're rewarded with plenty of attention and treats!
Illustrate Them in Your Wedding Signage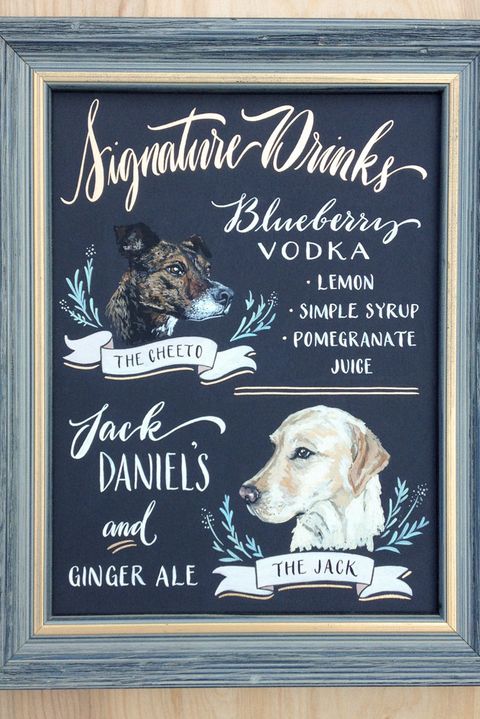 Understandably, some venues don't allow pets. Even if your venue won't allow them to be there physically, you can still include them in your big day! Wedding signage is a great way to do this. You have a lot of options for how and where to place their likeness. This signature drink sign is so elegant and heartwarming, and we love that each prized pup has their own designated drink. If you already have your heart set on a drink menu, you can include them on place setting cards, stationery, or other signage throughout the venue. 
Include Them in Your Bridal Party
This option is for the pets that love action and attention; the ones that literally never leave your side. Your pet can make for an exceptional mascot for your bridal or groom party! The degree to which you want to include them is entirely up to you. At the minimum, they will make for unforgettable group pictures like the one we've included here.
Considering how essential our pets are to us, it's no wonder why so many want to experience their wedding day with their loving companions (venue permitting, of course). Not only can they be a great accessory, but also a reliable source of comfort if things get a little stressful throughout the day. We love all of these options, and you can always choose to do more than one. If none of these fit with your vision for the big day, there are so many other possibilities too! Tag us on social media @impact_collective if you try any of these! If you are interested in our services, please schedule a phone consultation with us here.