5 One-Of-A-Kind Engagement Party Ideas
Posted on
By: Sarah Hauk
Featured Image by: Married in Palm Beach
Engagement parties are the most celebrated occasion for honoring your engagement with friends and family. Since they're not required, many couples opt not to have an engagement party. But with months of wedding planning ahead of you, it can be really nice to start off the process with a bang! At IMPACT Collective, we strongly encourage our couples to take some time to celebrate their engagement before the weight of wedding planning sets in. Our top 5 party themes cover a wide range of celebration styles. From elegant and upscale relaxed and casual, we have something for every couple. Read below to find the party theme that's best for you and your spouse-to-be!
Vineyard Hopping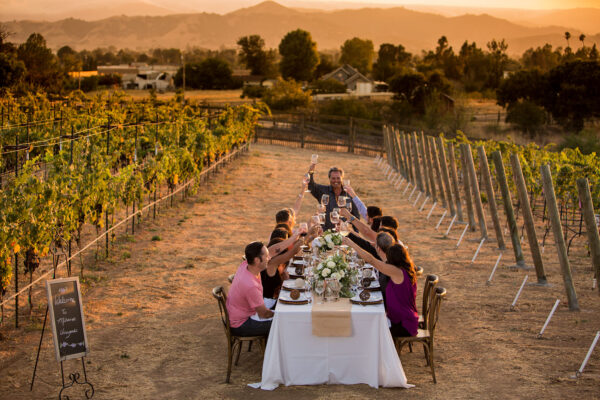 This option has everything you could want out of a party: gorgeous scenery, good food and wine, and great friends! If you spent a decent amount of your 20's bar-hopping, then this party idea is the perfect upscale version of your reminiscent younger years. Most of the planning required of you with this option is making reservations at the vineyard and arranging transportation (which will be a necessary expense if you plan on consuming alcohol). So, if you want something classy with minimal planning, then vineyard hopping is for you!
Glamping
Glamorous camping, also known as glamping, is a fun way to get all of your friends away from their busy lives to reconnect with nature in an upscale setting. Our venue, Whitehall, has hosted a few glamping sessions, and we've loved being a part of it. This picture from one of the glamping events in 2019 shows how unique glamping can be. There's no doubt that a camping trip with your friends would be a great time, but the inconvenience of bugs and minimal plumbing of a standard camping trip could put a damper on your festivities. This option allows you to enjoy all the good things nature has to offer with additional comfort. Though it certainly requires more planning efforts than vineyard hopping, your guests will never forget this incredible experience. 
Murder Mystery
This is one of the most unique ideas we've ever heard of, and it's definitely the most involved option on this list. If you're going to commit to this theme, you absolutely have to do it the right way and make the time for party planning. You'll need decorations, food & drinks, and most importantly, a thought-out story-line for the mystery. When the ambience and plot of the mystery all comes together, it'll be unlike any other party your guests have been to. 
Set Sail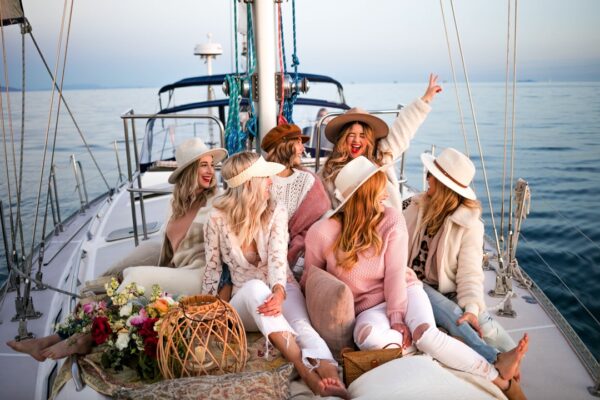 If you love being on the water but don't want the discomfort of a sandy beach, sailing can be an exciting party for you and your friends. You don't actually have to use a sailboat. You can charter a yacht or even rent a booze cruise; whichever option best suits you and your guest list! You can pack picnic lunches, beverages, games, and decorations for an aesthetic touch. A bottle of dramamine may also be a good thing to bring if your guests are prone to motion sickness. Setting out on a boat for the day is an awesome way to remove yourselves from the stress of life for a few hours. There's nothing better than floating along without a care in the world for a few hours. 
Group Picnic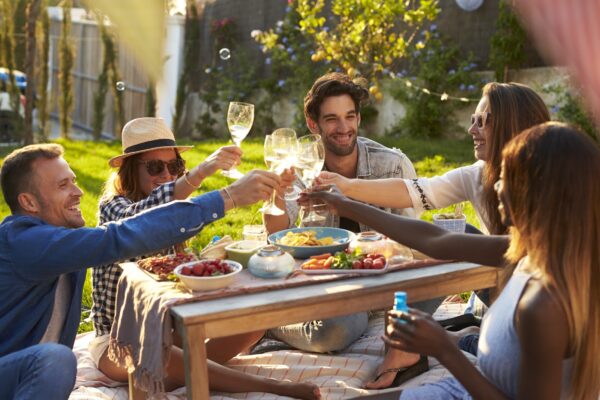 This final party theme is the most relaxed and laid-back option. It requires less planning than our other ideas, and it can save you a lot of money. You can scale it up by bringing decorations and delicious catered food. If you want something more low-key, you can utilize public parks and have a potluck with your guests. No matter which way you decide to take your party, they will have so much fun celebrating on a gorgeous day.
No matter how you decide to celebrate your engagement, the only true requirement is the presence of loved friends and family members – everything else is just an added bonus! All of these party themes give you the opportunity to celebrate your love and commitment, and who wouldn't want to be a part of that? If you try out any of these ideas, tag us on social media @impact_collective and let us know what your guests liked the most about your party! If you are interested in our services, please schedule a phone consultation with us here.