10 Swoon-Worthy Winter Wedding Destinations
Posted on
Written by: Beth Ann Mayer – The Knot 
Image by: Heather J Photography 
From snowy wonderlands to tropical island getaways, these spots are seriously stunning.
Summer and fall may be peak wedding season, but there's reason to consider winter the most wonderful time of year to tie the knot. Why, you might ask? Because winter wedding destinations provide some of the most gorgeous backdrops in existence.
Some couples say "I do" in a winter wonderland complete with snow-capped mountains and plenty of spots for a cup of hot cocoa. Other couples choose to escape the cold, treating their wedding guests to a tropical getaway somewhere warm and perfectly sunny.
Whether you're opting for a large fete in the mountains or an intimate elopement in the Caribbean, there are some things you'll want to keep in mind. Here's what to know about how and where to have a winter destination wedding.
How to Choose a Winter Wedding Destination
First, you'll need to decide whether you want a warm or cold locale. After that, Payton Bernstine, owner and lead consultant for Promise Event Planners, says it's time to do a ton of research. You'll want to see if other events are happening during your wedding weekend (like the annual X Games in Aspen), as these events can cause hotels to book up, frustrating your guests.
Bernstine also suggests building out an itinerary with a few fun activities you and your guests can experience together, such as snorkeling or cross-country skiing. Include these optional activities on your wedding website and on your welcome-bag itinerary. Finally, if you're opting for a cold area, try to find a spot where you can spend the whole weekend without driving (such as a mountain resort) so that heavy snow isn't a problem.
Winter Wonderland Wedding Destinations
These five cold-weather locales offer some serious seasonal charm. Though the temperatures outside may be frightful, couples who tough it out will come away with stunning wedding photos. Inside, venues often boast beautiful vistas of snowy mountains from large windows. Plus, many mix luxe decor, like jeweled chandeliers and high ceilings, with rustic elements like exposed beams for a one-of-a-kind backdrop. Take a look.
1. Jukkasjärvi, Sweden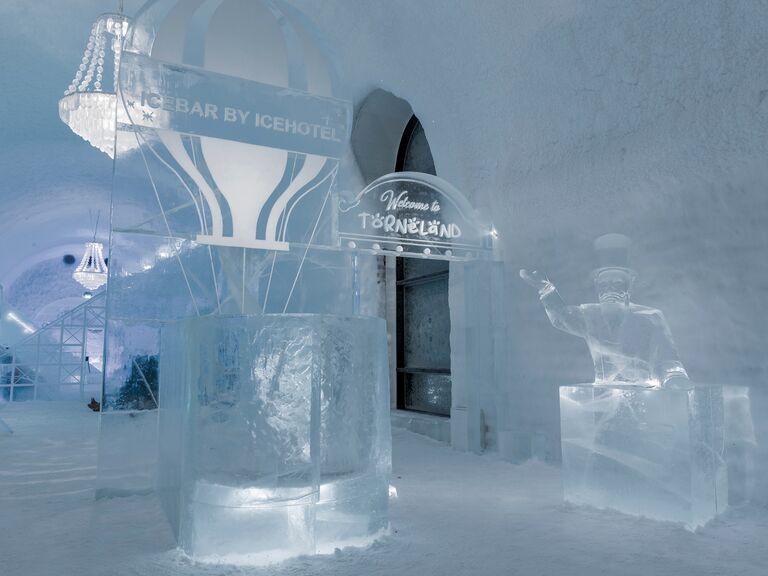 This small Swedish town has fewer than 600 citizens, and visitors can walk from one end to the other. But although the town is small in size, it's gained a big name for itself for one popular attraction: ICEHOTEL. Each year, ICEHOTEL builds a ceremony hall with ice taken from the Thorne River, creating one of the most unique winter wedding venues you'll find. Guests can stay in one of the spaces carved from ice or in one of the adjoining chalets.
2. Lake Placid, New York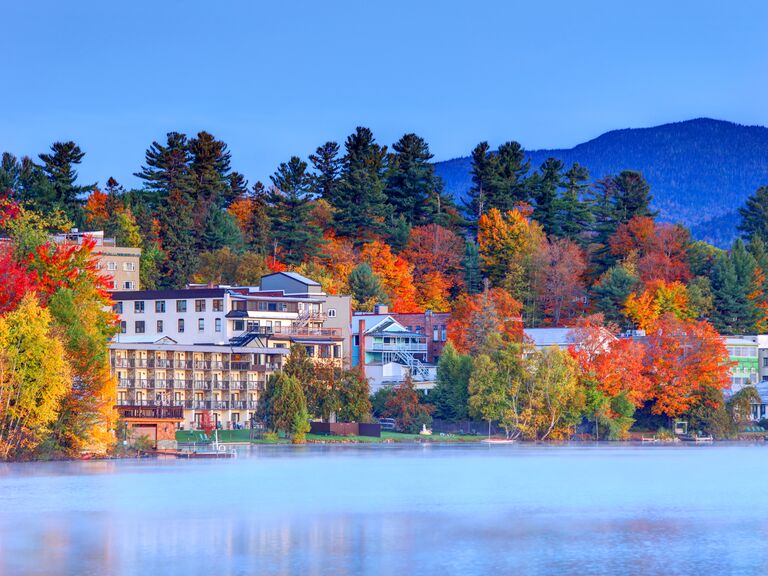 Located five hours from New York City, Lake Placid feels like a world away from the concrete jungle. The village, which is situated on Lake Placid and in New York's Adirondack Mountains, is a truly picturesque wedding location. Hotel Saranac's dazzling chandeliers and arched windows create an elegant setting, while Whiteface Lodge is perfectly cozy and rustic. During your big weekend, your wedding party and guests can spend their spare time touring the Olympic Village, which hosted the 1980 Winter Games.
3. Stowe, Vermont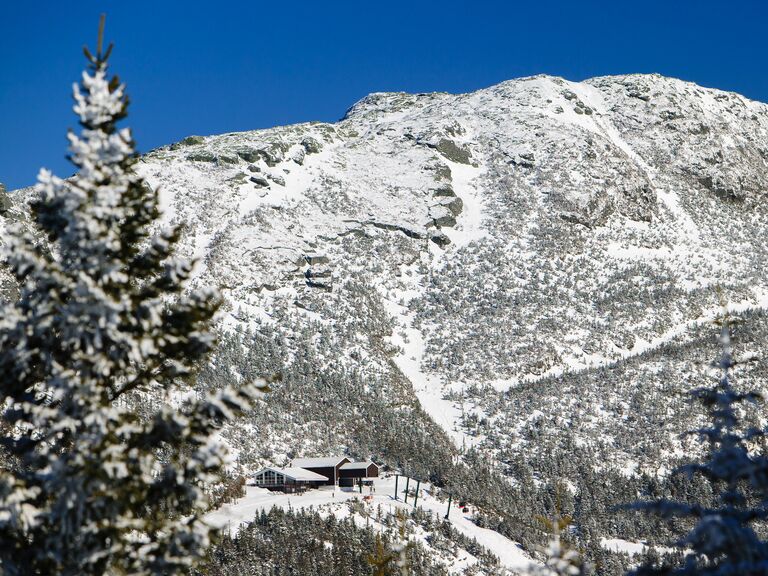 Located in the shadow of Mount Mansfield, Vermont's highest peak, Stowe's notable ski scene and New England charm make it ideal for a special day with all the seasonal trimmings. The Lodge at Spruce Peak allows couples to host outdoor ceremonies—even in the snow. It has multiple event spaces, but the private terrace overlooking Mount Mansfield is a favorite. The Trapp Family Lodge (yes, founded by that Trapp Family) is nestled on 2,500 acres of land and boasts stunning mountain views.
4. Park City, Utah
Park City is known as one of the best places to ski in the world. Snow-bunny couples will appreciate the area's cozy-yet-luxe accommodations, fresh air and majestic mountains. Deer Valley Resort is considered one of the best spots in North America to ski. Getting married there is like saying "I do" in a winter wonderland complete with snowy peaks and valleys serving as natural decor. Stein Eriksen Lodge Deer Valley is a luxury ski resort with panoramic mountain views, stone fireplaces and the ability to host both large and small weddings.
5. Aspen, Colorado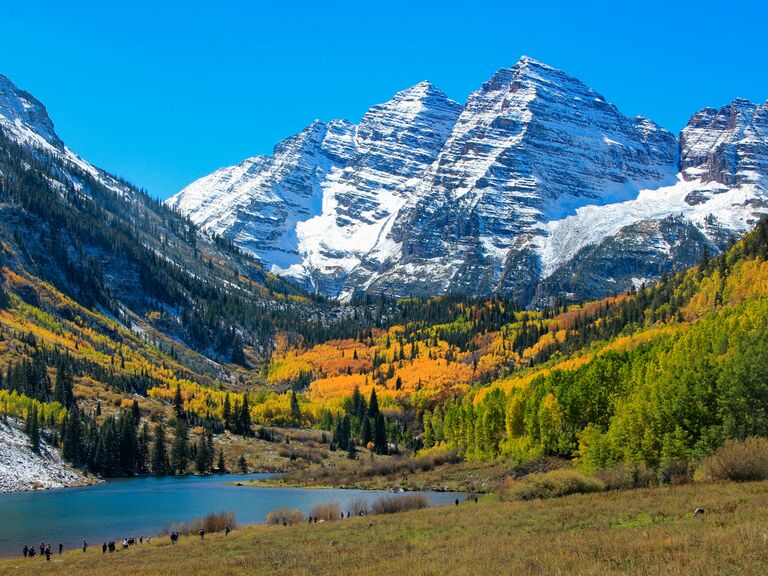 This ski town is a magnet for vacationers and destination weddings during the winter months. It's not hard to see why. The snow-capped peaks create natural photo backdrops, while the luxury resorts allow couples and their guests to celebrate, play and relax without having to drive anywhere. Couples can take a chairlift to their mountaintop ceremony at The Little Nell or settle into the natural-light-filled Wheeler Room at Hotel Jerome for a reception with their nearest and dearest.
Warm Winter Wedding Destinations
For some, winter is the most wonderful time of year—to get out of the cold. If you fit that bill, rest assured you can have your winter wedding and lay out on the beach all weekend, too. Warm locales give couples the opportunity to have comfortable outdoor ceremonies, trading snow for white-sand beaches in the process. Many of these locations are home to luxury resorts, ensuring couples and guests don't have to hustle from a hotel to a chapel to a reception space. Consider these five warm-weather destinations.
1. Jamaica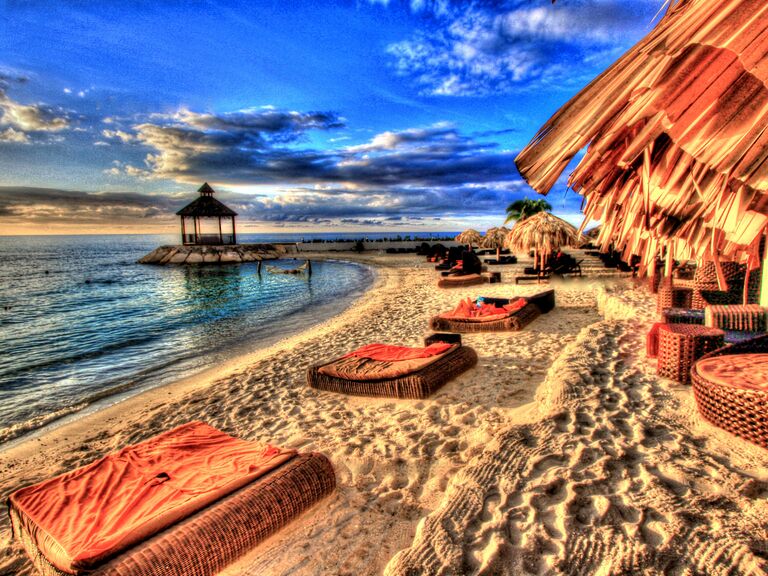 Jamaica boasts sandy shores, warm weather, sparkling waterfront views and jerk chicken worth hopping on a flight to eat. The all-inclusive resorts offer couples a chance to have a fuss-free wedding planning experience. Jewel Dunn's River has elopement packages for two as well as options for larger parties. Couples love the views of the Caribbean Sea, easy access to the ocean and pools with waterfalls.
2. Oahu, Hawaii
Often known for its big waves and "Aloha" spirit, Hawaii is also home to a lush landscape with tropical plants and plenty of greenery all year long. It's perfect for couples who want to escape the cold without the hassle of international travel. Oahu, which is home to the capital city of Honolulu, doesn't have the same touristy vibe as Maui, creating a more intimate wedding experience. Situated on the North Shore, Turtle Bay Resort has numerous oceanside venues for a toes-in-the-sand experience. Waimea Valley's ceremony locations include waterfalls and a lush meadow.
3. Savannah, Georgia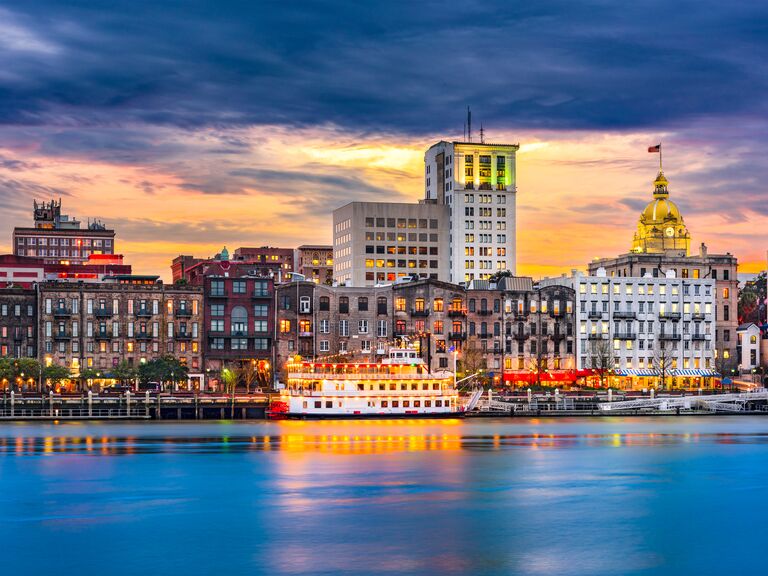 This historic city is brimming with Southern charm. The centuries-old oak trees shed their leaves during the winter months, but the Spanish moss remains, adding an extra element of texture to photos. The Victorian-era homes exude timeless elegance, while the easy trip to the beach makes your wedding weekend a true getaway. The Mackey House is minutes from historic downtown Savannah, but its tropical garden and glimmering lake create a tranquil oasis. Ships of the Sea Maritime Museum seamlessly blends garden style with nautical notes.
4. Fort Lauderdale, Florida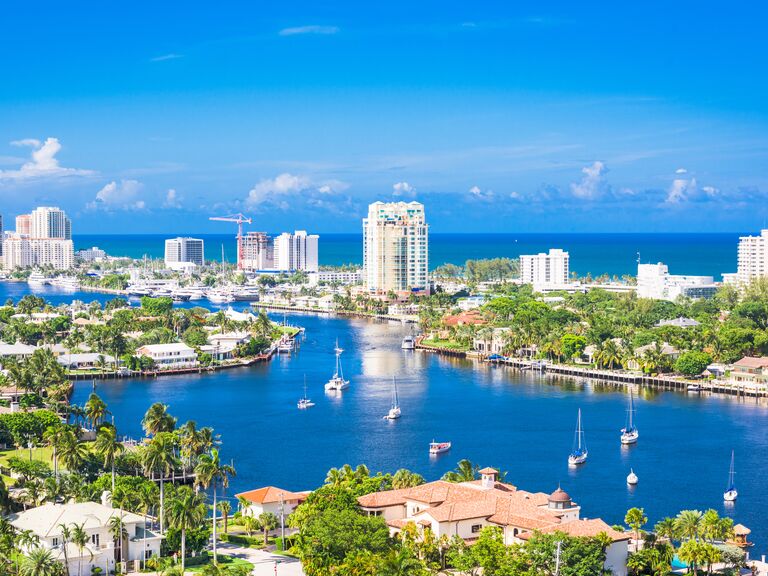 Fort Lauderdale's consistently mild temperatures, palm trees and diverse wedding venues make it a popular spot for destination nuptials year-round. The spot is especially perfect for couples who want to give themselves the best shot at having sunny-and-70 conditions on their wedding day. Bonnet House Museum & Gardens is a botanical beauty, while Sonesta Fort Lauderdale boasts a bright-and-airy interior with windows that give way to ocean views.
5. Costa Rica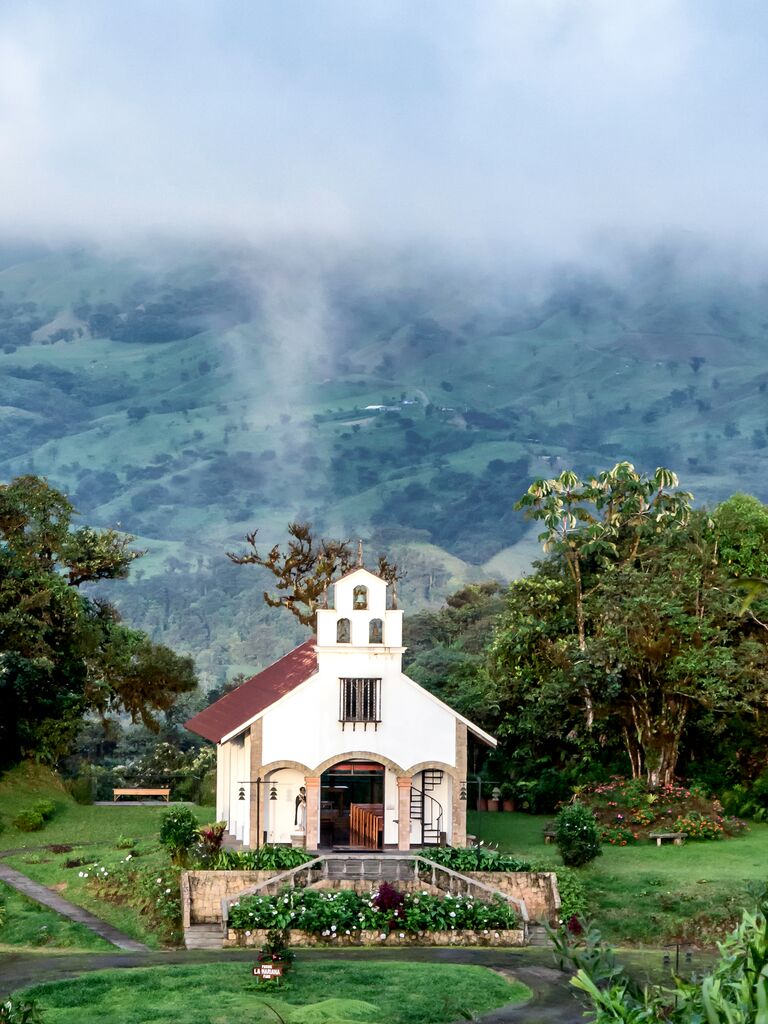 A Costa Rican destination wedding is equal parts laidback and stunning. The area is home to gorgeous beaches, top-notch surfing, rainforests and summer weather in December. The locals strive to live a "Pura Vida" lifestyle, and it extends to the country's wedding venues, which boast natural beauty and always-friendly staff at every turn. Villa Punto de Vista is intimate and idyllic, with views of golden sand beaches and a forest reserve that monkeys and parrots call home. The Westin Reserva Conchal is known for its ocean views, sea breezes and flawless execution.