June 15, 2022
Eco-Friendly Wedding Favors That Will Make Your Guests (and the Planet) Happy
Leave your thoughts
By: Maddy Sims- The Knot
We love the idea of gifting your wedding guests a token of appreciation. But if you're planning a sustainable wedding or you're striving for a zero-waste wedding, we've rounded up eco-friendly wedding favors you can buy right now. More and more couples are bucking tradition and personalizing their weddings—and sustainable wedding favors are a fantastic way to put your stamp on your nuptials. Not only will it show your guests how much you care about them, it will also show how much you care about the planet. With everything from seed kits to succulents to package-free shampoo bars, here are 12 eco-friendly wedding favors your guests—and the planet—will love.
Herb Kit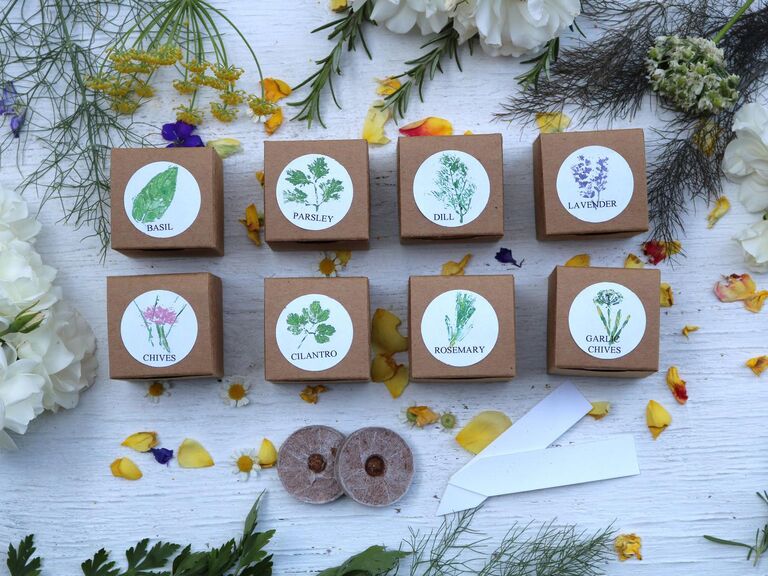 Let love grow…herbs! This pack has everything from basil to lavender to rosemary, so your guests will have a variety of different herbs to take back home and enjoy. Each box also comes with instructions, so your guests will know exactly what to do when they get home.
The Gifted Tomato herb wedding favors (set of 8), $25, Etsy.com
Seed Packets
Or, let your love grow into a garden. These adorable seed packets are customizable, so you can put your own special touch on them. The flowers that blossom will remind your guests of your wedding day.
Plain Jane 2424 custom seed packets, from $15 for 15 packets, Etsy.com
Bamboo Straws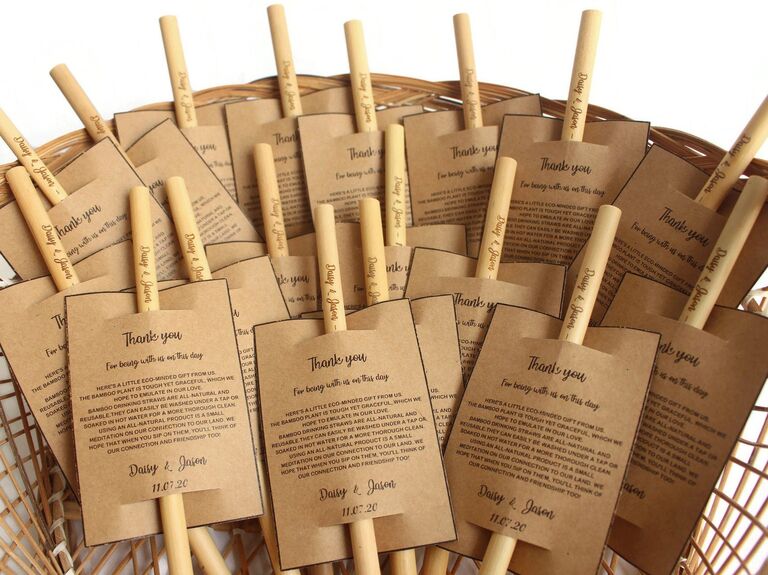 Your guests can use these bamboo straws long after your nuptials. It's a cute and thoughtful wedding favor that will also help your guests cut out single-use plastic straws out of their daily routine.
Gift4Angel personalized engraved bamboo straw, from $28 for 7 straws, Etsy.com
Succulents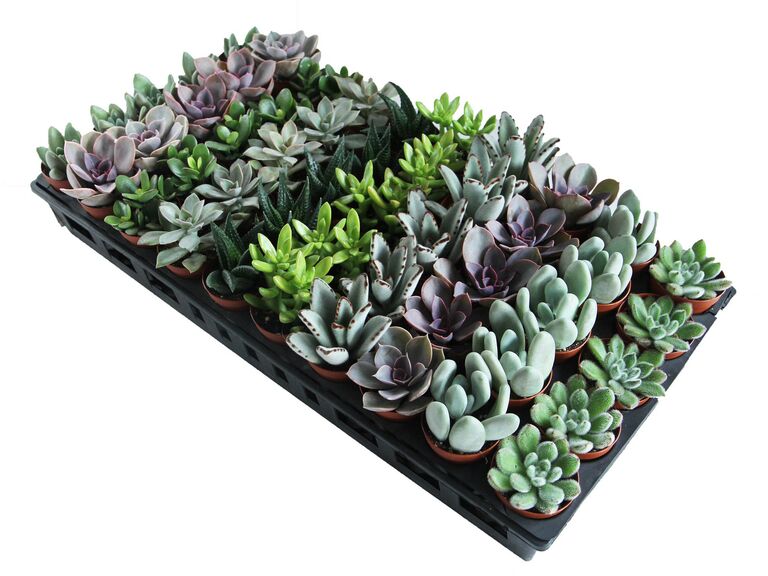 We love succulents because they're so easy to manage. Added bonus: they don't require much watering at all, making them a super eco-friendly wedding favor that your guests can enjoy at home. Plus, they're absolutely adorable!
Plant Crafting Co 50 assorted 2″ Rosette succulents, from $100, Etsy.com
Reusable Tote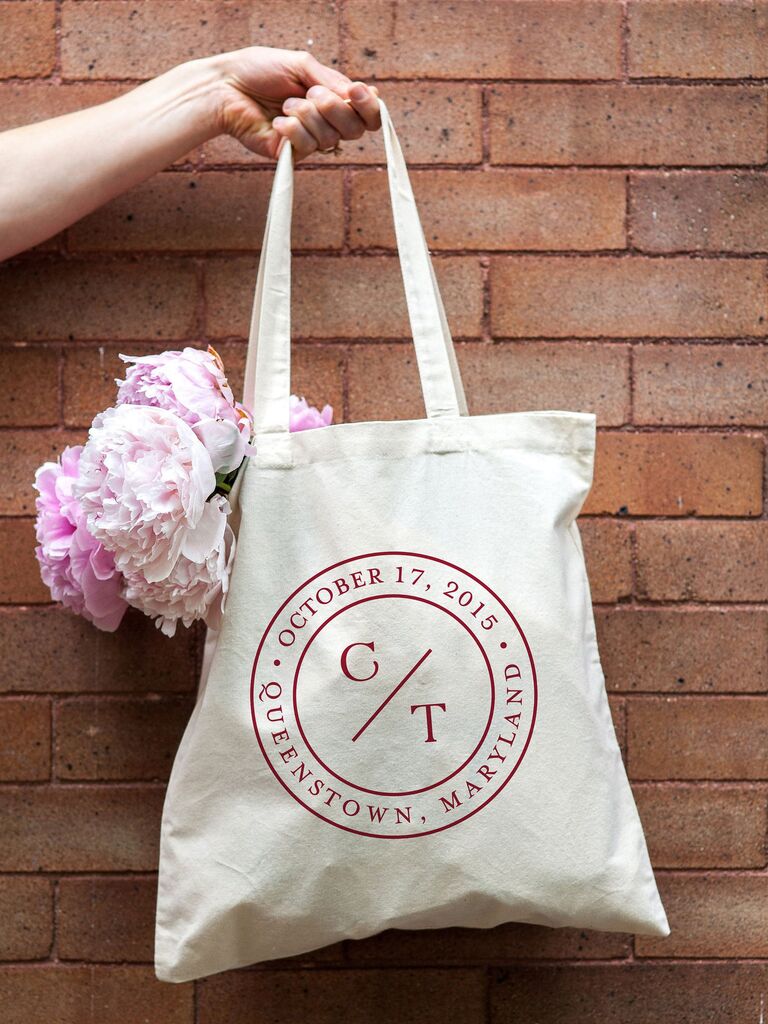 We love the idea of gifting reusable tote bags because it encourages an eco-friendly change in your guests' daily habits. With this bag, they can reduce waste from single-use plastic bags in their day-to-day lives by using them for groceries, errands or to transport their lunch.
Rook Design Co circle monogram wedding tote, $364 for 100, Etsy.com
Reef-Safe Sunscreen Lip Balm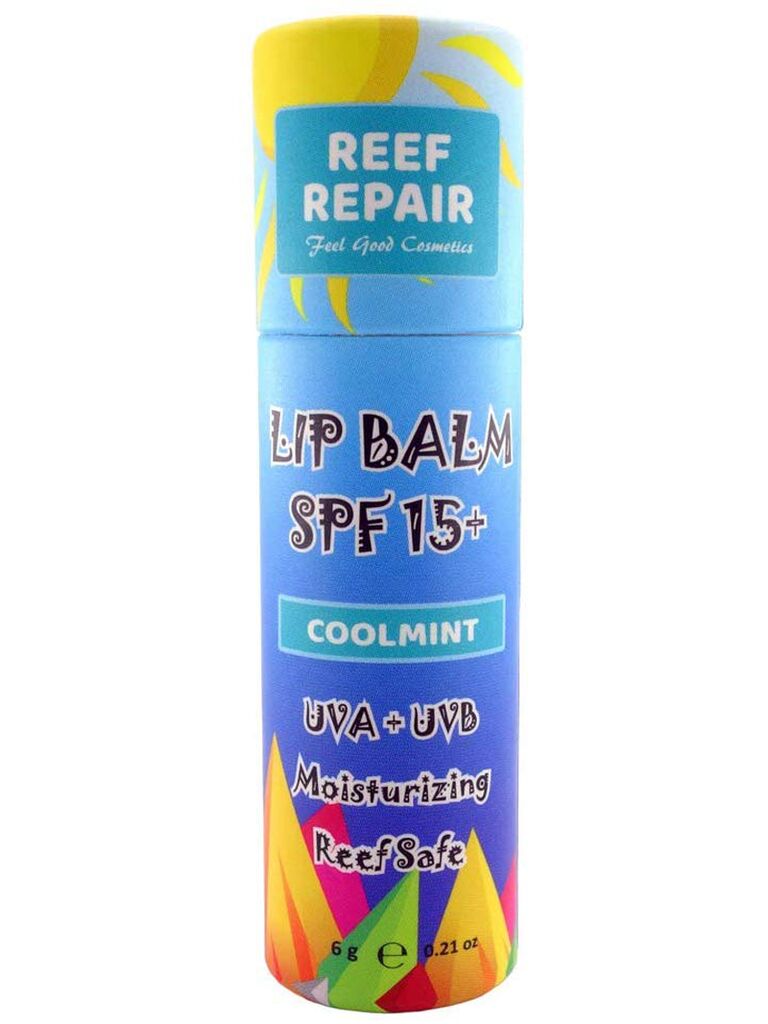 If you're having a beach wedding or destination wedding, it's thoughtful to give your guests some sun protection. But many sunscreen formulations contain ingredients that are harmful to the ocean and marine life. This lip balm is made with reef-safe SPF protection, meaning both your guests' lips and the ocean will be protected.
Reef Repair reef safe lip balm, $6, Amazon.com
Reusable Water Bottle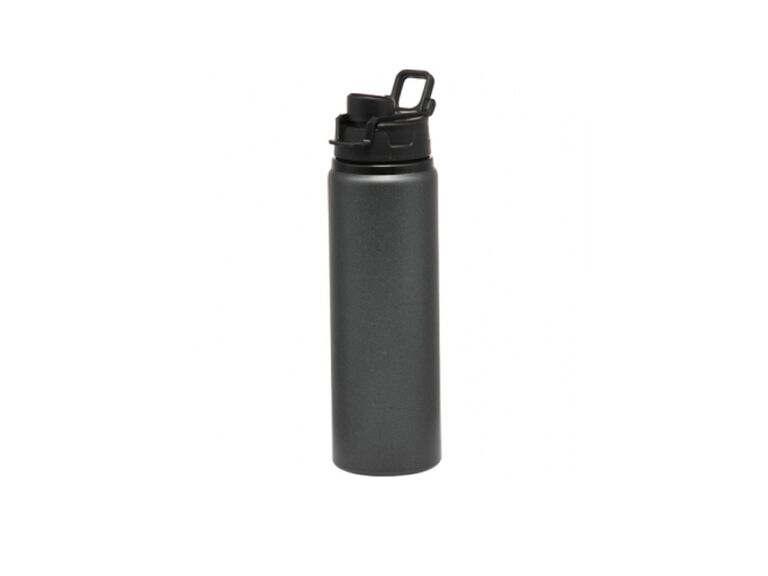 Mini water bottles have historically been a popular wedding favor choice—and for a good reason. It's important to make sure your guests are hydrated and happy (especially if you have an open bar). But if you're looking to minimize plastic waste, consider gifting your friends and family a reusable water bottle instead. They can fill it up and bring it with them anywhere (plus you can personalize these with your initials or your wedding hashtag).
Discount Mugs 25 oz. aluminum water bottles with snap lid, from $6 each, DiscountMugs.com
Edible Gifts
Another great way to personalize your wedding is to pay homage to the location. Share local treats that your guests can enjoy after all the dancing. They won't go to waste like other favors sometimes do—plus you will have lowered your wedding's carbon footprint by shopping locally. Wrap them in reusable, recyclable packaging (check out all the adorable options on Etsy) for the ultimate eco-friendly wedding favor.
Fair Trade Coffee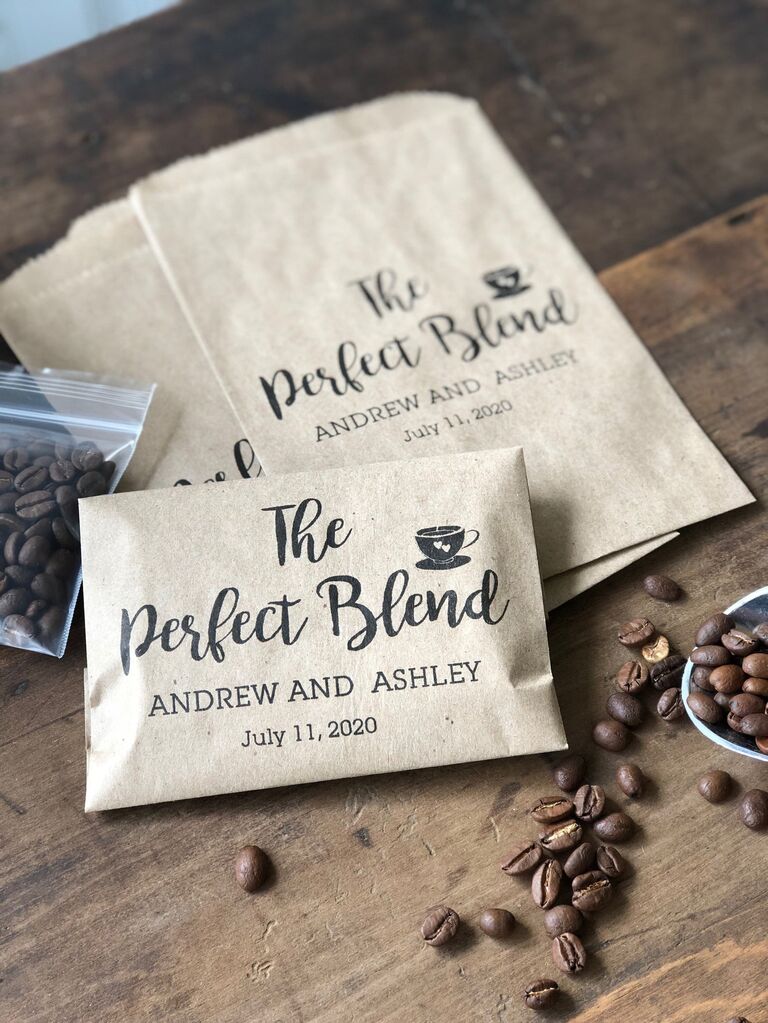 "Fair Trade" means fair for everyone—including the planet. Organizations that have a fair trade stamp of approval must ensure that they're sourcing their products responsibly and sustainably, minimizing waste and lowering energy consumption. Pick up some fair trade coffee beans for your guests (consider brands like Cafedirect, Equal Exchange, Wandering Bear and Stumptown) and then package them up in these customizable paper bags made of recycled paper.
The Favor Loft coffee favor bag, from $1, Etsy.com
Package-Free Shampoo Bars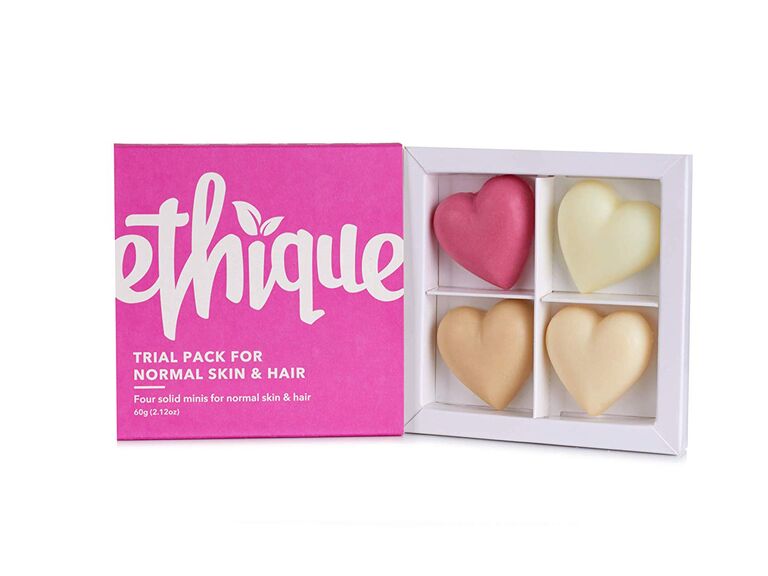 Promote a plastic-free beauty habit among your wedding guests by gifting them these pretty package-free shampoo bars. They're made by Ethique, a company on a mission to rid the world of plastic waste. Plus, the heart shape is perfect for a wedding favor.
Ethique eco-friendly trial pack for normal hair, $14, Amazon.com
Donation to Charitable Organization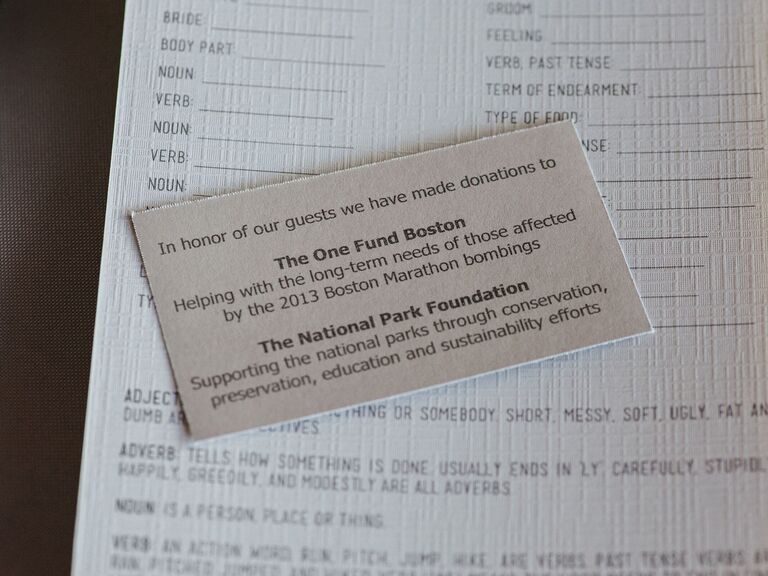 Going for a zero-waste wedding favor? Make a donation to a cause that's close to your heart in your wedding guests' name. Not only is it a super eco-friendly wedding favor, it's also a creative and meaningful way to personalize your nuptials.
Eco-Friendly Candles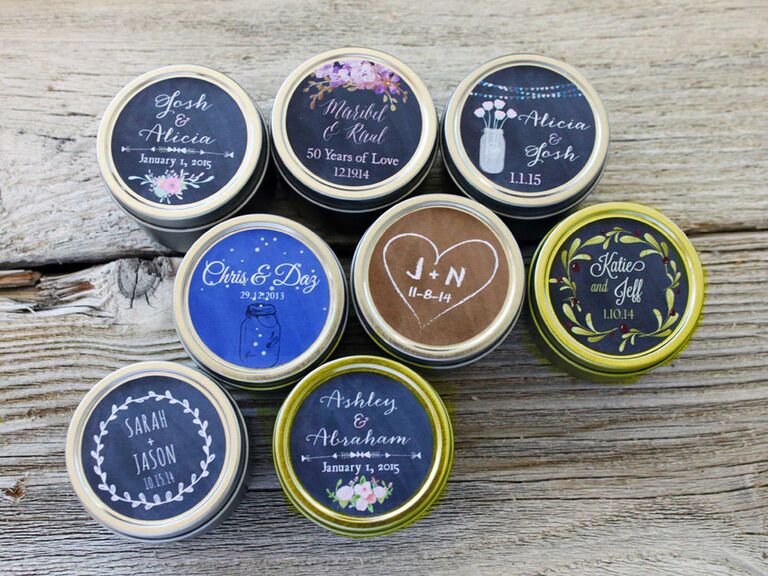 Candles are a lovely wedding favor because your guests can enjoy them after your wedding day. But some candles contain chemical additives that aren't great for the planet. Look for eco-friendly candles instead, which are made without harmful chemicals. These cute little favors are made of soy wax and essential oil fragrance.
Bitter Willoughby set of 25 wedding candle favor, from $62, Etsy.com