Tuxedo vs Suit: Which Should You Wear on Your Wedding Day?
Posted on
By: Tres Dean -TheKnot
Wondering what the difference is between a suit and a tuxedo? Read on for everything you need to know about the two.
You aren't in the wrong if you don't know off the top of your head what the difference between a suit and a tuxedo is. They both consist of trousers, a jacket, and are paired with a dress shirt and a tie, after all. However, dressing for a wedding is certainly the time to make sure you know which is which.
Tuxedos call to mind high-end formalwear, the sort of dinner jacket and bowtie pairing James Bond might wear to a gala hosted by an evil billionaire. That's certainly a great point of reference (who doesn't want to look as cool as James Bond infiltrating a gala?) but modern tuxes encompass far more than that classic look. Newer styles feature varied lapel styles, fabrics, and come in a wider variety of colors.
Whether you're getting married or when you've been invited to a formal event, it's important to know the difference between a tux and a suit, and when it's appropriate to wear each.
In this article:
What is the Difference Between a Tuxedo and a Suit?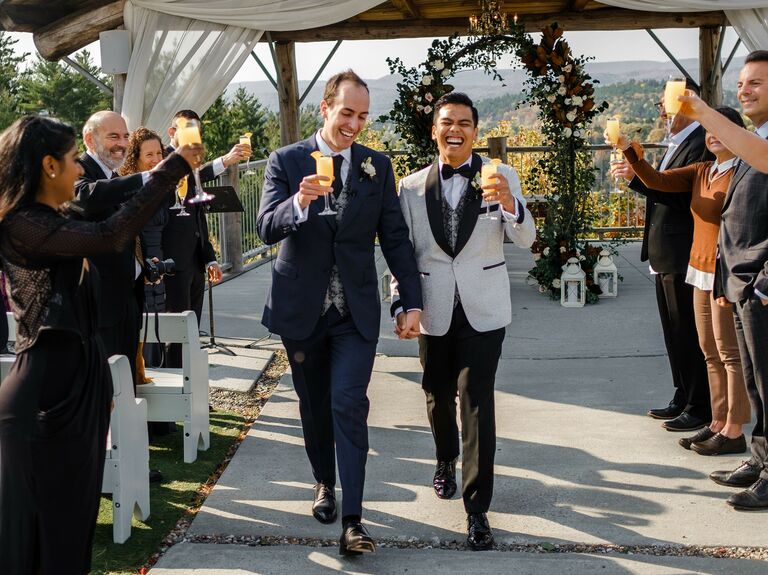 While tuxedos used to be a bit more rigid in their design and definition, modern tailoring has opened them up to far less strict interpretations. However, there are certain details that are classic clues when it comes to differentiating a tuxedo from a suit.
What is a Tuxedo?
A tuxedo is the most formal attire a person can wear to an event and is seen at white tie, black tie, and formal events (you can wear them to semi-formal affairs as well but they aren't required) and always in the evening–even the most formal of daytime weddings won't require one. In order for a tuxedo to be a tuxedo and not just a very fancy suit, a few details are necessary. The most noticeable is that a tuxedo is going to have some sort of satin detailing, whether it's a satin-faced lapel, satin buttons, or a satin stripe down the leg of the trousers. More modern tuxes tend to keep the satin detailing minimal, often simply including it in the trip of the lapel.
Parts of a Tuxedo
The rest of a tux's distinct detailing comes in what it's paired with.
Classic tuxedos include a number of accessories, most notably a cummerbund and/or a waistcoat. A tuxedo will always include suspenders, never a belt. The most classic image most folks have in mind of a tuxedo includes a self-tied bowtie. However, these days you're more and more likely to see long ties.

Tuxedos are worn with white shirts that have either a wing collar or a turndown collar.

Black dress shoes are usually worn with tuxedos, never loafers or oxfords.
Types of Suits
Single-Breasted:
A single-breasted suit is the MVP of your wardrobe. It can be easily dressed up or down and comes in a variety of fabrics and weights. Single-breasted suits consist of a jacket and matching trousers, with the jacket having (you guessed it) a single-button closure. When paired with a nice shirt, tie, and the right accessories they're appropriate for a formal dress code but can also be worn to semi-formal (you can leave the tie out for this) or even more casual settings. A single-breasted linen suit is great for a beach wedding and you can pair one with a sweater for a more casual vibe.
Double-Breasted:
Double-breasted suits also consist of a jacket and matching trousers, with the jacket having a two-button closure. It's generally seen as the upscale option when compared to the single-breasted suit, perfect for formal events or black tie if you want to really do it up. When dressed up with a shirt and tie it just looks fancier than the alternative, though it's becoming more and more common for them to be paired with more casual pieces for less-formal occasions.
Three-Piece Suit:
A three-piece suit is reserved for special occasions (think black tie) and pairs a matching button-up waistcoat with a coat and trousers. They're great for formal occasions but are significantly harder to dress down, the waistcoat giving the look a formal air that hampers its versatility. You're also far less likely to find three-piece suits in linen, one of the more casual fabrics for summer and daytime events.
Tuxedo vs. Suit Price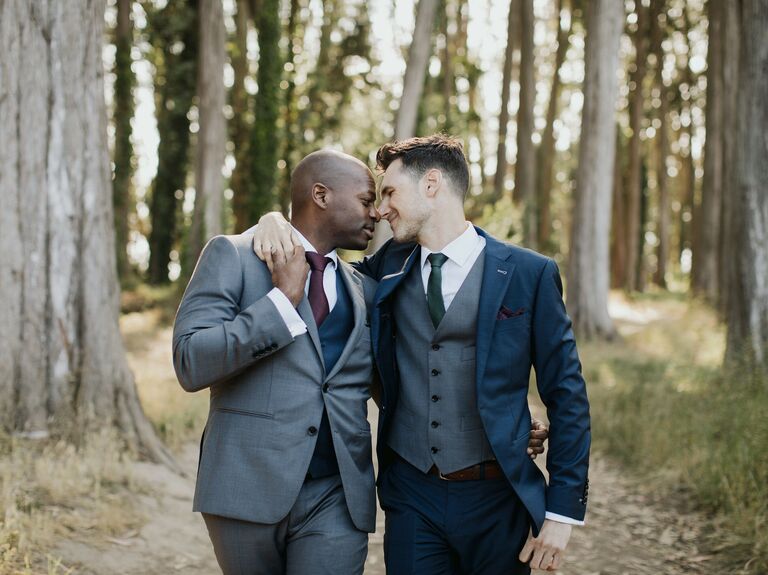 A high-quality three-piece suit can range in price from $300 to $800 or more. Traditionally tuxedos are seen as the more expensive of the two. But that's not always the case. These days the same brands that have made made-to-measure suiting more accessible have done the same for tuxedos. You can purchase a tuxedo from anywhere from $400 to $1200, with designer brands going for as much as $3000. If you look for sales, you may be able to find a great suit for even less. An Editor Tip: you're going to snag a great deal around national holidays like Memorial Day and Labor Day, plus the traditional Thanksgiving and Black Friday sales. Keep in mind that you'll still need a shirt, tie, and shoes (unless you're purchasing from an all-inclusive brand like The Black Tux) and you may need to pay for alterations. These may cost as little as $30 at a local tailor but can go higher depending on how many alterations are made..
Cost Considerations for Suits vs Tuxedos
Am I going to wear this suit again? The benefit to buying a suit rather than a tux is that you're more likely to wear it again. Suits aren't exclusive to formal events and can be worn to anything from work functions to nights out on the town.
Tuxedos are a timeless investment piece. Even if you aren't suiting up with one on the regular, they can still pay for themselves in the long run. Most tuxes range between about $700 to $1,000 for the jacket and pants, with the various other pieces bumping the price up a bit more. You may be able to find a tuxedo on sale but generally you will be paying more than you would for a suit. The upside to buying a tuxedo instead of renting one is that even if you won't get as much wear out of it as a regular suit, it can still pay for itself in the long run. If you buy it well and the fit is right, you won't have to worry about being able to dress right for a black-tie affair any time one rolls around.

For those who aren't ready to make the investment, good news: you can rent a high-quality wool tuxedo for less than $250 with everything you need: vest, shirt, shoes, and cufflinks. This makes the process completely stress-free. That said, if you think that you'll wear your tuxedo at least two more times, it may be worth it to buy instead of rent.
When to Wear a Tux vs Suit to a Wedding
So when do you reach for a tuxedo and when is it time to button up a suit? The wedding's dress code is your best clue, but there are a few other hints that can help along the way. Is the event during the day, regardless of dress code? Stick with a suit–tuxes are for when the sun goes down. If you're wondering what the dress code is–white tie, black tie, semi-formal, formal, or something else–reference the couple's invitation or wedding website. You'll find your answers there.
How to Choose a Tux or Suit for the Groom?
If you're the groom, it's your big day, so whether you wear a suit or a tux is all about being your most authentic self! If you want to stand out (as you should) a tux is always a good call, even if the dress code for your guests doesn't require them. If there's a suit you're particularly taken with or makes you look and feel your best, you can stick with that as well. The only instance in which a tux is likely required for a groom is if the wedding is a white or black tie affair. If you're asking your guests to show up in their best formalwear, you should follow (pardon the pun) in suit.
As a Guest, When Can You Wear a Tuxedo to a Wedding?
If you're attending a white or black tie affair, you should showup in a tux. There's a slight bit of wiggle room with black tie dress codes but a tuxedo is the safer bet. A suit is your best choice for anything lower on the formality scale (formal, semi-formal, etc.).It's a bad look to overdress—you don't want to be better dressed than the groom. Save your tuxedos for celebrations call for it.
Do Groomsmen Wear Tuxedos or Suits?
There are no set rules to groomsmen attire—ultimately, it's up to the groom to decide how he and his crew should be outfitted for the big day. If a groom is feeling matching suits or a tuxedo clad crew, it goes. A groom may also decide to don a tuxedo for a semi-formal celebration while his wedding party rocks coordinated suits.
Posted with permission by theknot.com. Original article posted here.