The Biggest Trends in Men's Suits in 2023
Posted on
By: Tres Dean -TheKnot
The only guide you need for suiting up in 2023.
There's no better time to try out some of 2023's hottest trends in mens' suits than wedding season. It doesn't matter if you're walking down the aisle in a tux or just trying to look put together for a friend or loved one's semi-formal big day, a wedding is the best excuse to dress to impress–and nothing impresses like a good suit.
Nostalgia is the driving force behind most of the trends in suits as well as menswear as a whole in 2023. It's what has pushed longtime mall stalwarts like Banana Republic and J. Crew to dig into their archives and bring back some of the coolest cuts from decades past. At the same time, period-set pop culture streamers like Daisy Jones & The Six and #Menswear TikTok has renewed interest in old-school looks, from bright colors to long collars and wider lapels. The result is a suit-shopping landscape that makes it easy to dress like your cool uncle circa 1987 or make a statement all your own. The lines between vintage and modern are blurring, and the best suits in 2023 blend the two seamlessly.
Speaking of which, pop culture is influencing the wedding world more than ever, and wedding fashion is following in (ahem) suit. Daisy Jones has slouchy '70s suits and long, pronounced shirt collars on everyone's mind, while Succession is a great point of reference for old-money New York suiting classics. Yellowstone even has folks wondering if there's a way to tastefully incorporate denim into a wedding suit. Spoiler alert: there is! Whether you're looking to channel James Bond or Jon Snow, we're all for finding ways to bring a little bit of what you love into your next wedding suit.
Top Wedding Suit Trends for 2023:
1. Wider Proportions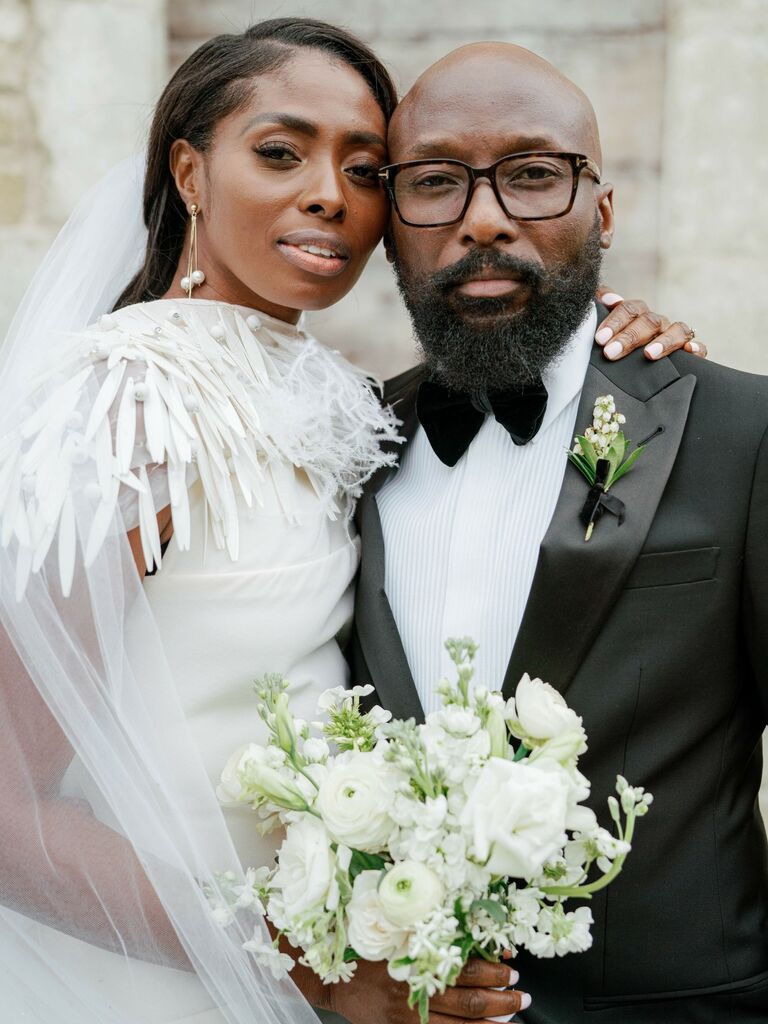 The days of the slim-lapel, low-rise and slim-leg trouser have passed. In their place is the new modern suiting fit, which utilizes slightly wider proportions throughout. Part of this is simply the natural ebb and flow of fashion, which jumpsbetween skinny and wide fits every decade or so. Slim-fit suiting, which was all the rage in the early 2010s, is giving way to a looser fit with broader proportions.
The good news: what's trending now is suiting with staying power. . Wider proportions doesn't necessarily mean intentionally baggy suits. It can just mean something more in the middle of the two extremes, more of a standard fit throughout. And if you feel like going extra-wide, by all means, do it! Big lapels and roomy, flowy trousers are very much in vogue right now. It has far less to do with finding the suit cut that makes you comfortable, and one you'll still think looks good when you're looking back on photos a decade from now.
The key takeaway with these cuts is proportions—you can't pair a wide lapel with a skinny tie. Instead, opt for a cohesive look across lapels, trousers and ties.
Shop the trend:
Spier & MacKay Light Gray Sharkskin English Cut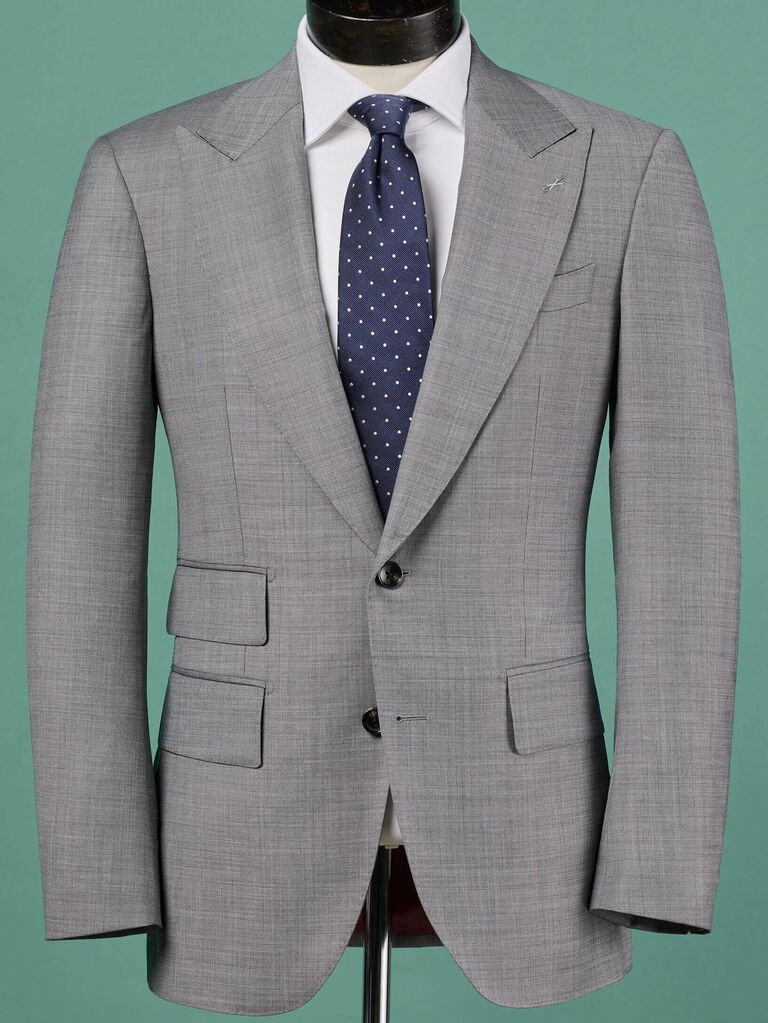 Spier & MacKay make old-school English tailoring accessible across the globe and at an affordable price point. Their English cut suits feature of-the-moment wide peak lapels and trousers to match.
Lauren by Ralph Lauren Classic Fit Suit Separates, Blue Tic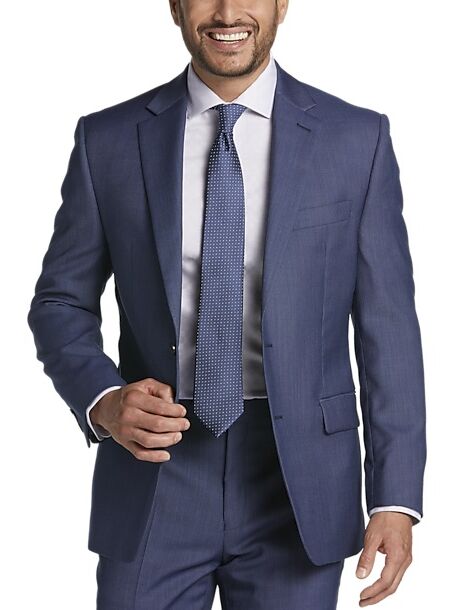 Keep in mind, wider proportions doesn't have to mean super wide. It just means something in more of a classic traditional suiting cut. For that, a classic Ralph Lauren look has you covered.
Indochino Hampton Black Dinner Jacket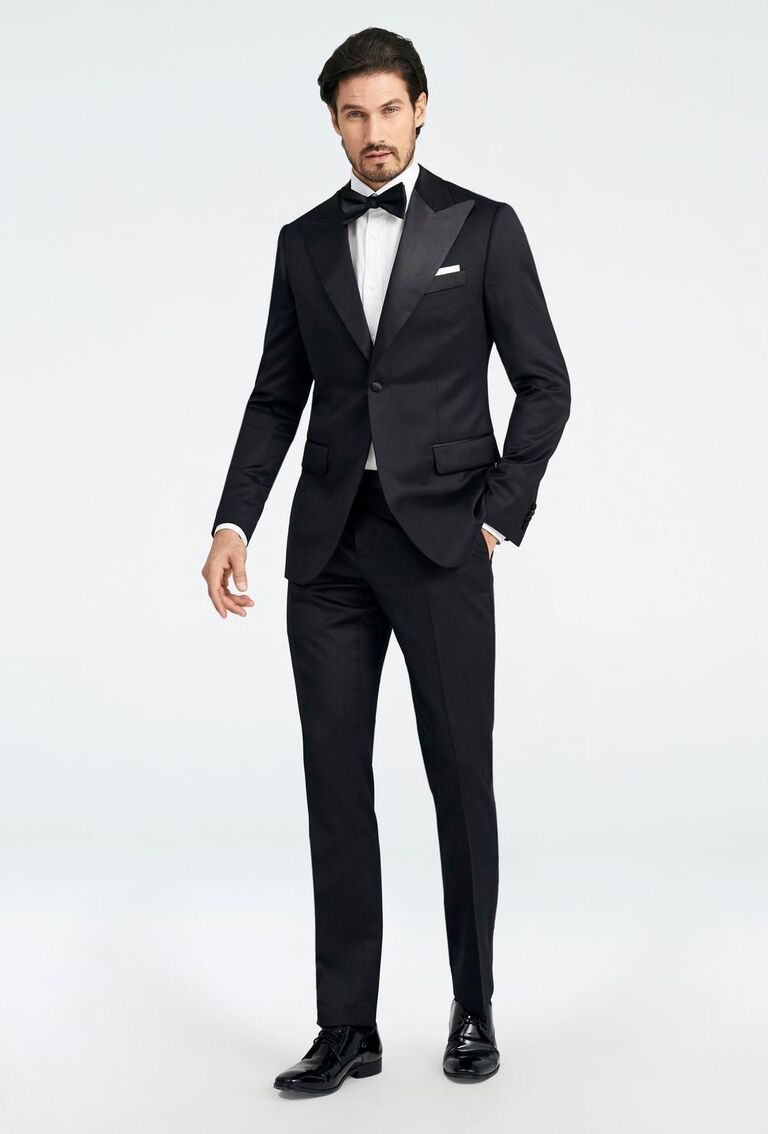 If you're gonna wear a tuxedo, wear a tuxedo. This one boasts thick satin lapels with sharp peaks that make a statement (and that statement is that you are wearing a tuxedo).
2. Double-Breasted Suits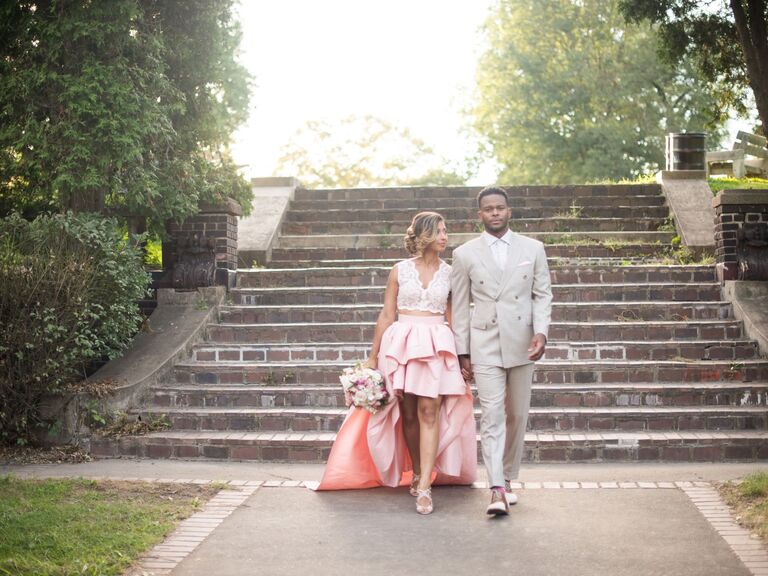 Wide lapels aren't the only throw back style making a come back. Double breasted suits have entered the hat. For a lot of guys a double-breasted suit can feel like an intimidating step—it can feel stiff, overly formal (even for a wedding) or like something from your TK's closet. , Allow us to direct your attention to Chris Pine on the Dungeons & Dragons film's press tour. Never has a man so effortlessly y proven the versatility of a suit cut.
Sure, it can serve as a more formal-forward alternative to a single-breasted suit, but it can look just as good in linen for an oceanfront ceremony (Miami Vice vibes, anyone?). Double-breasted suits flatter almost any form, slimming you in the right places while broadening your chest and shoulders. It will give you the confidence of an A-lister hitting the red carpet as you walk down the aisle (or just to your seat).
Shop the trend:
Suitsupply Navy Havana Suit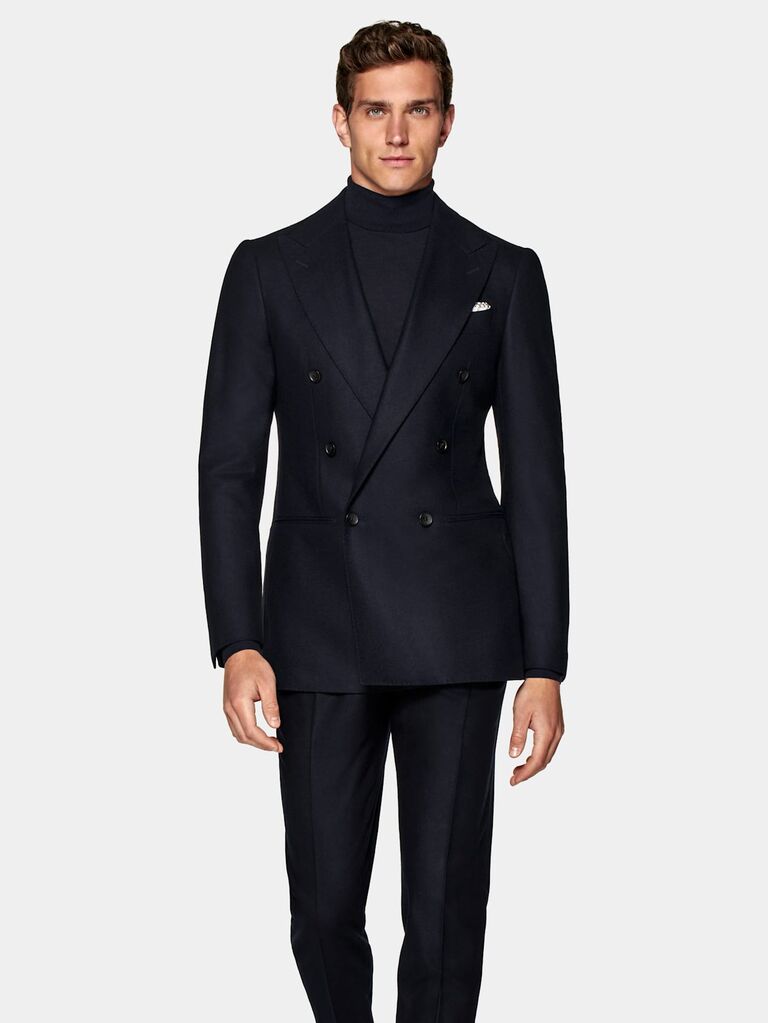 Suitsupply's popular double-breasted option has beefy lapels and a bottom-button closure. You can dress this one up or down with ease, leaving it unbuttoned and paired with a turtleneck or an open collar. Or button it up over your crispest dress shirt and a tie with an elaborate knot.
The Black Tux Double Breasted Tuxedo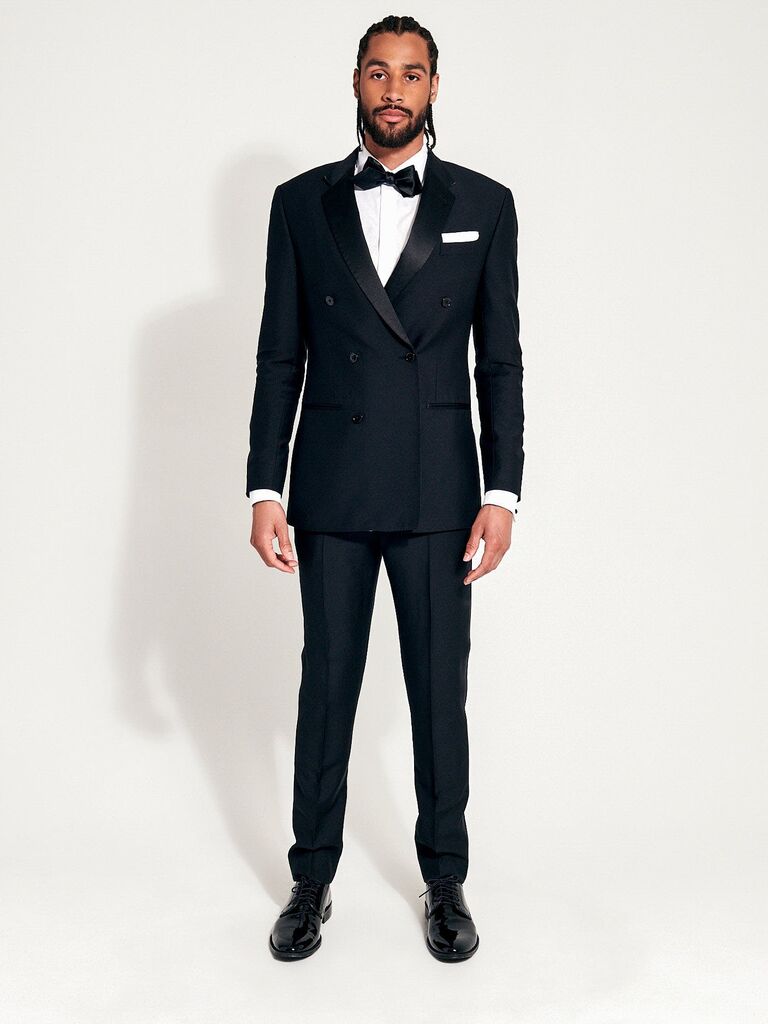 The Black Tux's double-breasted tuxedo provides a stellar option if you're looking to dress for a more formal affair. And if you're worried about buying a tux when you aren't sure if you'll have an excuse to wear one again any time soon, fear not–the brand has rentals available as well, and ones that'll look good alongside any number of made-to-measure suits.
Husbands Paris Double-Breasted Twill Blazer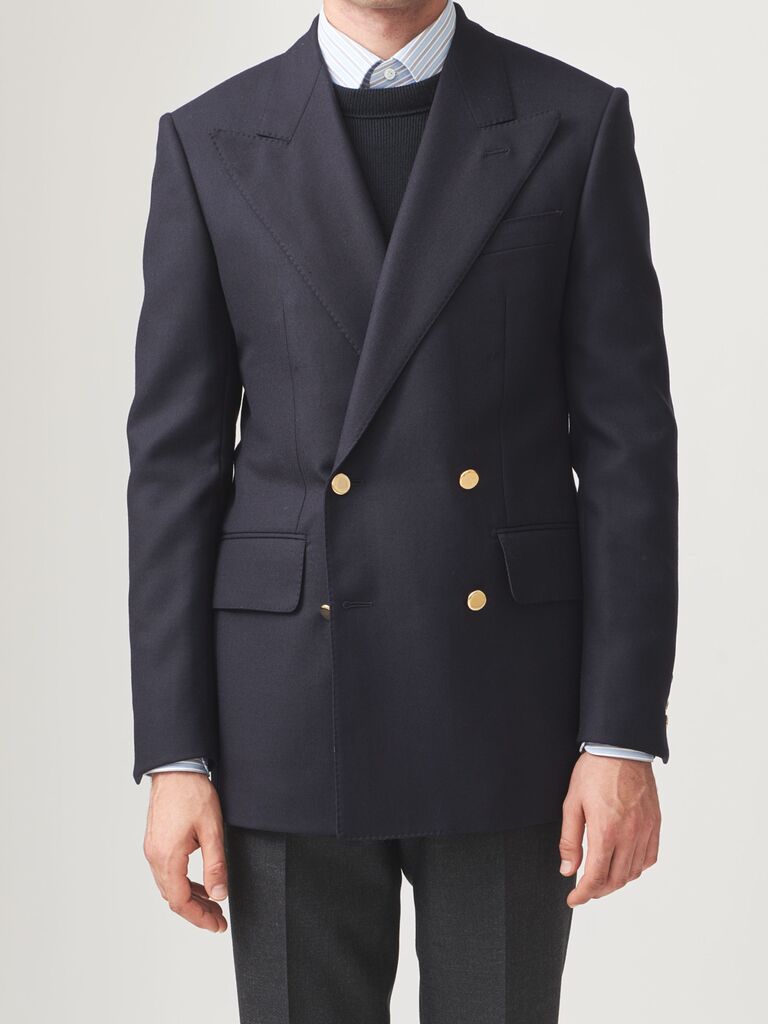 It doesn't get much better than Husbands Paris when it comes to modern tailoring. Their evening attire in particular is a cut above the rest. This double breasted navy blazer has a sleek wide lapel, and classic gold buttons, perfect for channeling old-school Ivy League prep or for nautical nuptials.
3. Westernwear Weddings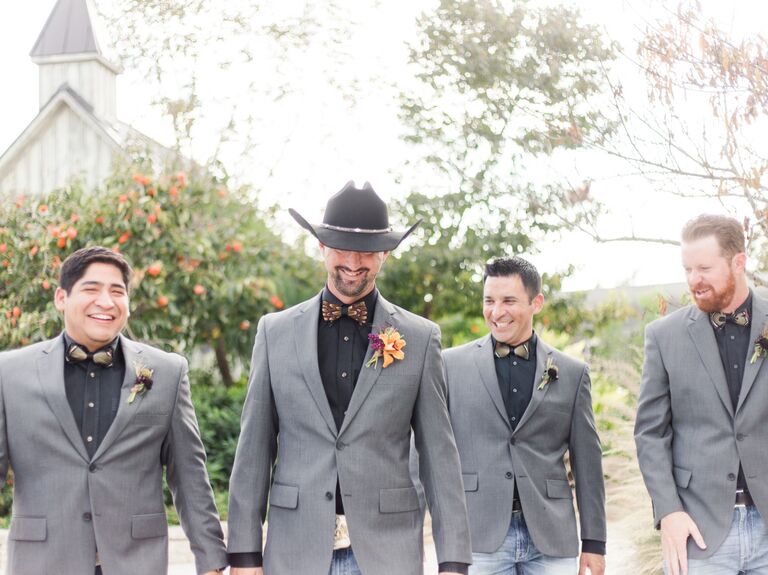 Maybe it's the surging popularity of Yellowstone (more on that later) or maybe the influence of Kacey Musgraves' 2017 masterpiece Golden Hour still looms large. Either way, western ways are trending, with cowpoke influence spreading across everything from venues to decor to suiting when it comes to weddings. This is the sort of trend that you can make your own, but a good bolo tie or cowboy hat is a great place to start.
And keep in mind, you can make this as authentic or as camp as you'd like–Kevin Costner and Dolly Parton are equally valid points of inspiration.Flare your suit's pants a bit for a cool Texas circa 1977 vibe. Or mix in a bolo tie instead of a traditional one or swap dress shoes for on boots. If you're really feeling the trend, opt for custom Nudie suit-style embroidery on your blazer and trousers for a one-of-a-kind wedding day look. Happy trails, partner.
Shop the trend:
Tecovas 'The Zane'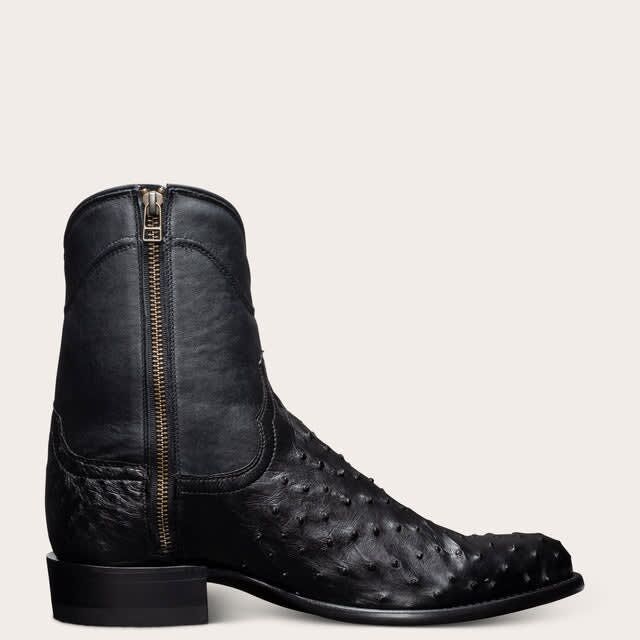 Whether your wedding suit is in denim or Dior, Tecovas's The Zane zip-up boot will give it all the western flair you need. Black will go with pretty much any suit you could imagine, but if you're looking to really make a statement find a white one.
Nudie Jeans Nisse Bolo Tie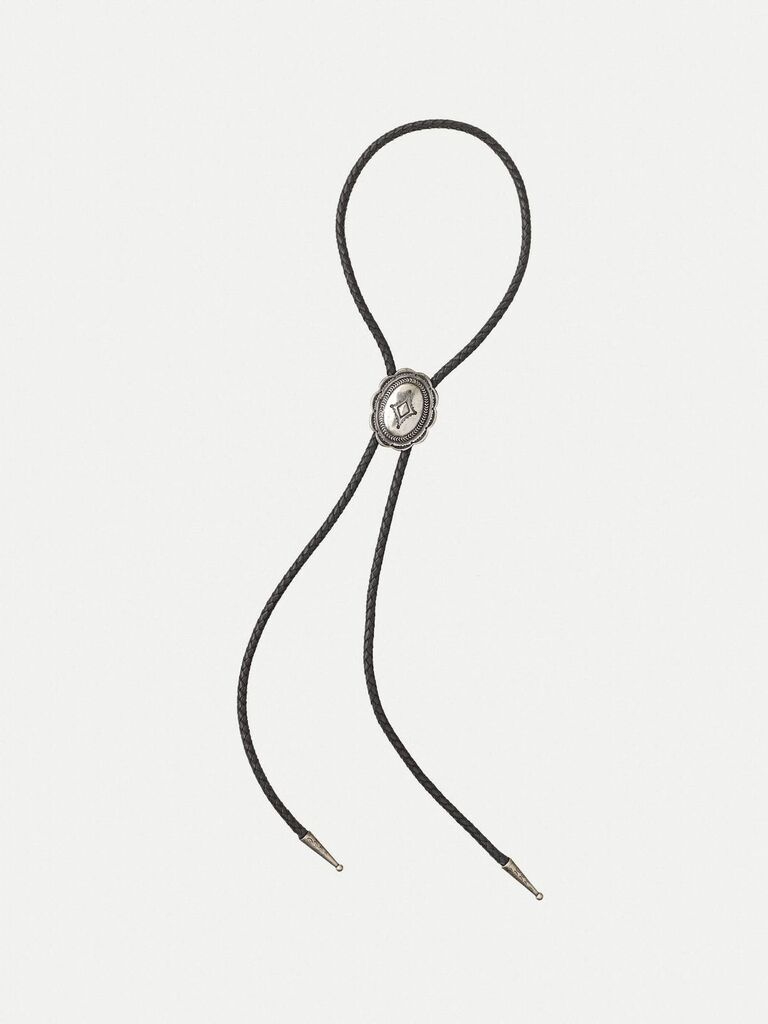 Loosen up that Windsor knot and tie your western suit together with this instead. Better yet, get matching ones for the whole wedding party–or have everybody pick out their own unique one to add some personal flair to the group's suiting.
Banana Republic Adan Suit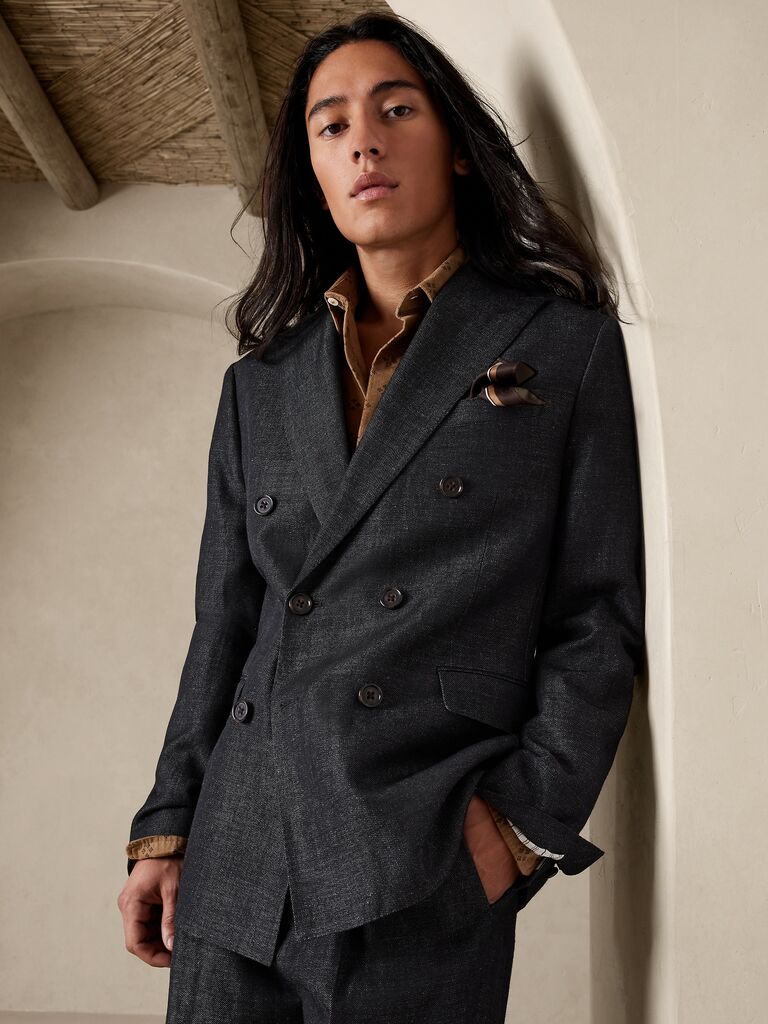 A combination of wool and linen results in a suit.that looks and feels like denim but isn't actually denim—its a cut above. It's perfect for a western wedding look, and it's double-breasted!
4. Mixing Patterns and Textures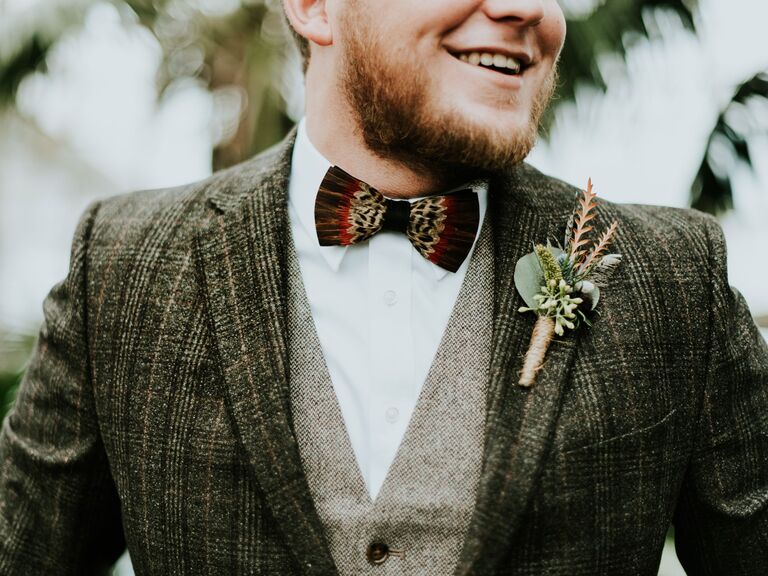 Suit color may come to mind first, but putting as much thought into fabrication, texture and pattern can elevate your wedding suit game. There's nothing wrong with a four-season wool (the most standard suit fabric), but stepping outside of your comfort zone is going to do wonders for the look and feel of your next wedding fit.
It starts with taking the season into consideration. Fall calls to mind tweed and herringbone–or even both! Try a tweed blazer and pair it with a herringbone vest, providing some variance to the look that lets everyone know you put some effort into putting together. Linen is perfect for regulating temperature in the warmer months. The textured hand-feel of the fabric will pop against a dress shirt, though beware: linen is prone to wrinkles. Opt for snagging photos pre-wedding for the a polished look. Choices like these are what separate great wedding suits from good ones. Make sure you wear a great one in 2023.
Shop this trend:
Proper Cloth Bedford Suit in Linen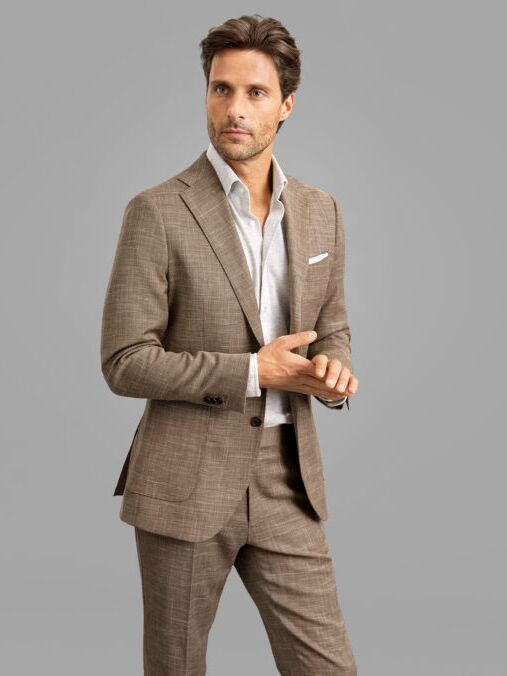 Proper Cloth may have made the perfect linen suit with this number. It's proportioned perfectly, comes in a very on-trend hue (perfect for a day-to-night wedding, too), and the high-quality fabric doesn't wrinkle nearly as easily as cheaper linens do.
The Tie Bar Pointed Tip Knit Brown Tie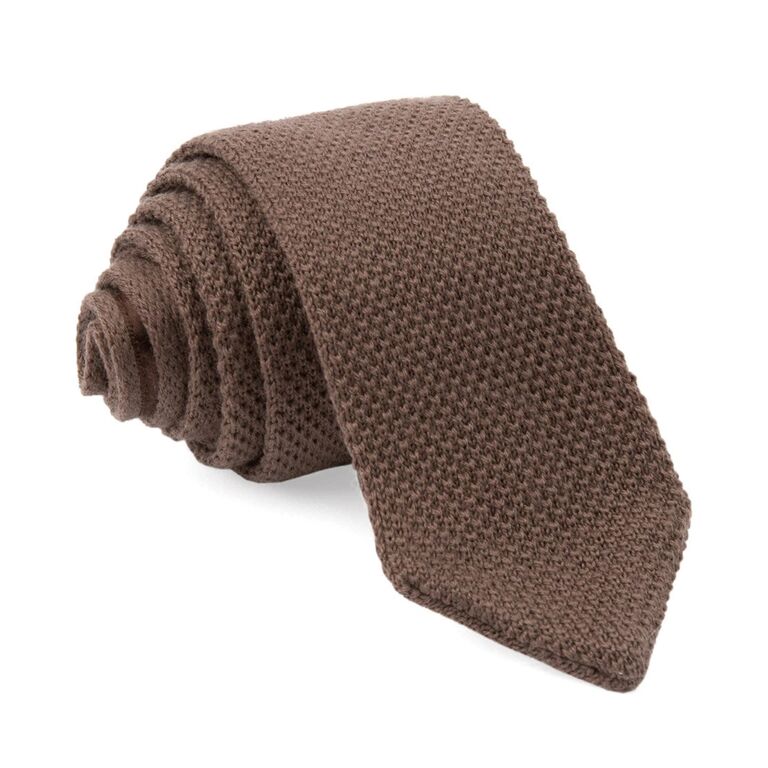 Knit ties add tons of texture to any suit. The Tie Bar stocks them in a wide array of on-trend colors, including this brown that will pair excellent with other earthy neutrals.
Hockerty Light Grey Rustic Tweed Double Breasted Vest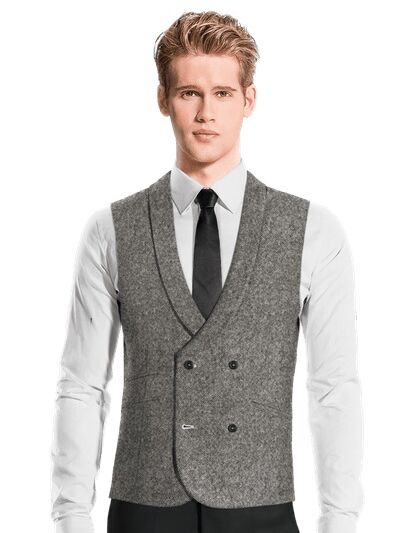 From the tweed to the double-breasted closure to the rounded lapels, nothing about this vest from Hockerty is ordinary–and that's a good thing. Pair it with a solid color trouser to make it stand out even more.
5. Earthy Neutrals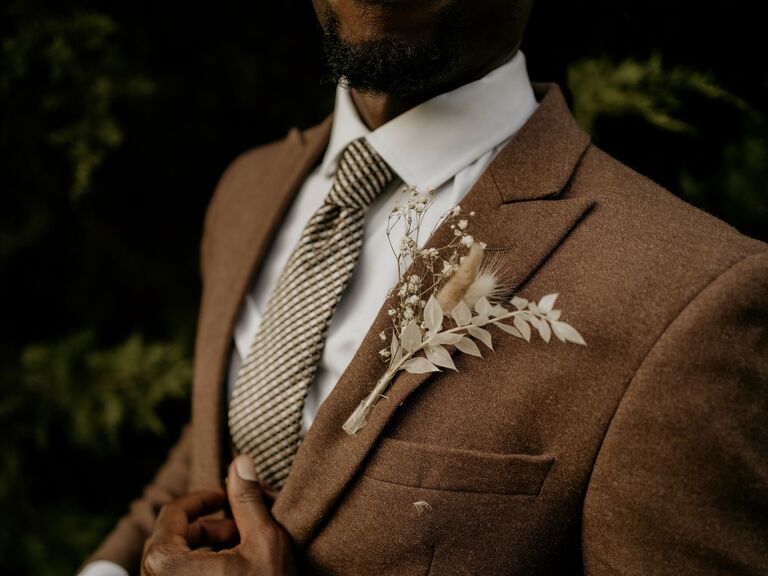 Regardless of the style of wedding suit you're aiming to wear this year, one thing remains consistent across suiting trends in 2023: earthy neutrals. If you're looking to step outside of the black-tie norm, this is the way to do it. Whether it's with deep browns, light beiges, or rich olives, earthy neutrals can swing formal or rustic. This palette will slayt at a semi-formal farmhouse wedding or at an elevatedindoor affair. Earth tones offer the best of both worlds in that they'll help you stand out from the black-suit crowd while also giving you a strong neutral canvas to add pops of color and personalized accessories.
Shop this trend:
Canali Siena Executive Plaid Wool Suit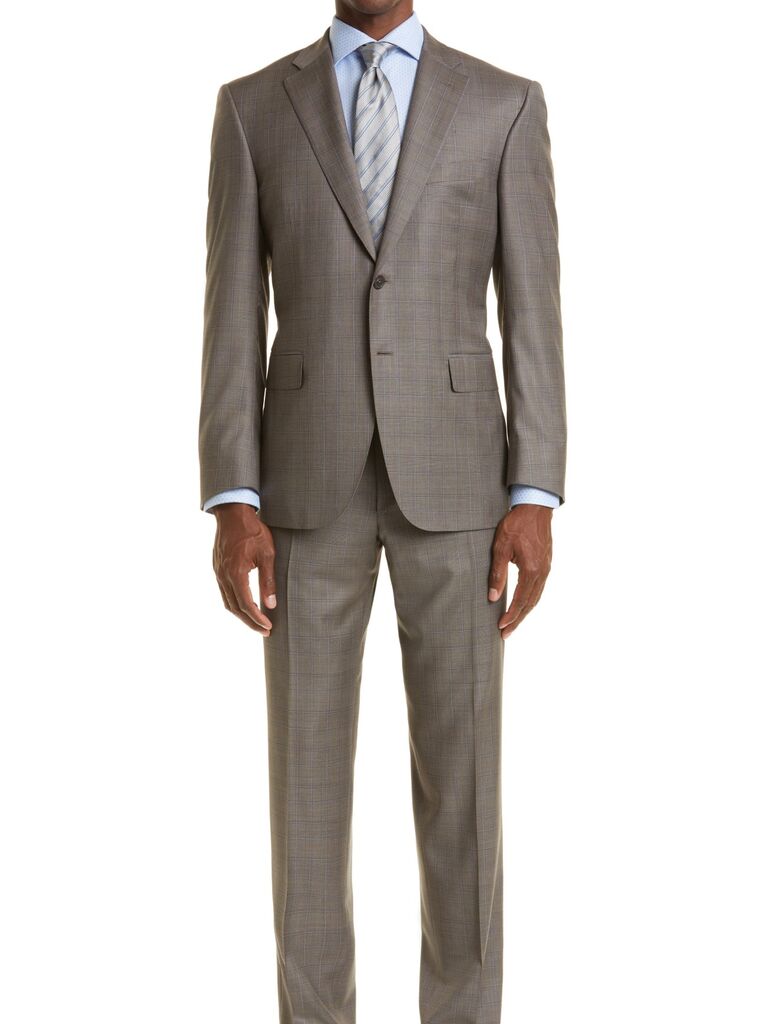 The folks at Canali are known for their sleek cuts, so sleek that you aren't going to want to take this suit off. The greys and greens of the fabric are versatile enough to wear to your next wedding and then for the rest of the year, too.
Percival Tailored Blazer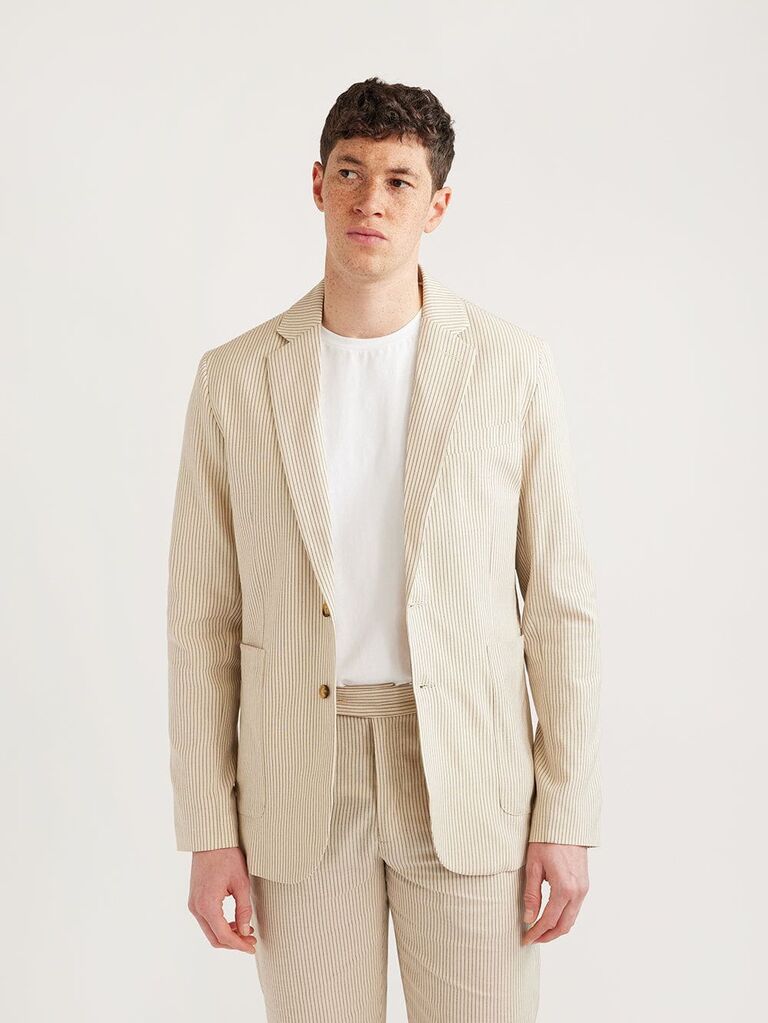 Want to feel like an A-lister on your wedding day? Look to Percival, the go to brand of actors and musicians. Their suiting is always on trend with tailored cuts and expert fabrications. This sand color blazer is perfect for casual beach vows or for a next day brunch.
Bonobos Jetsetter Italian Wool Suit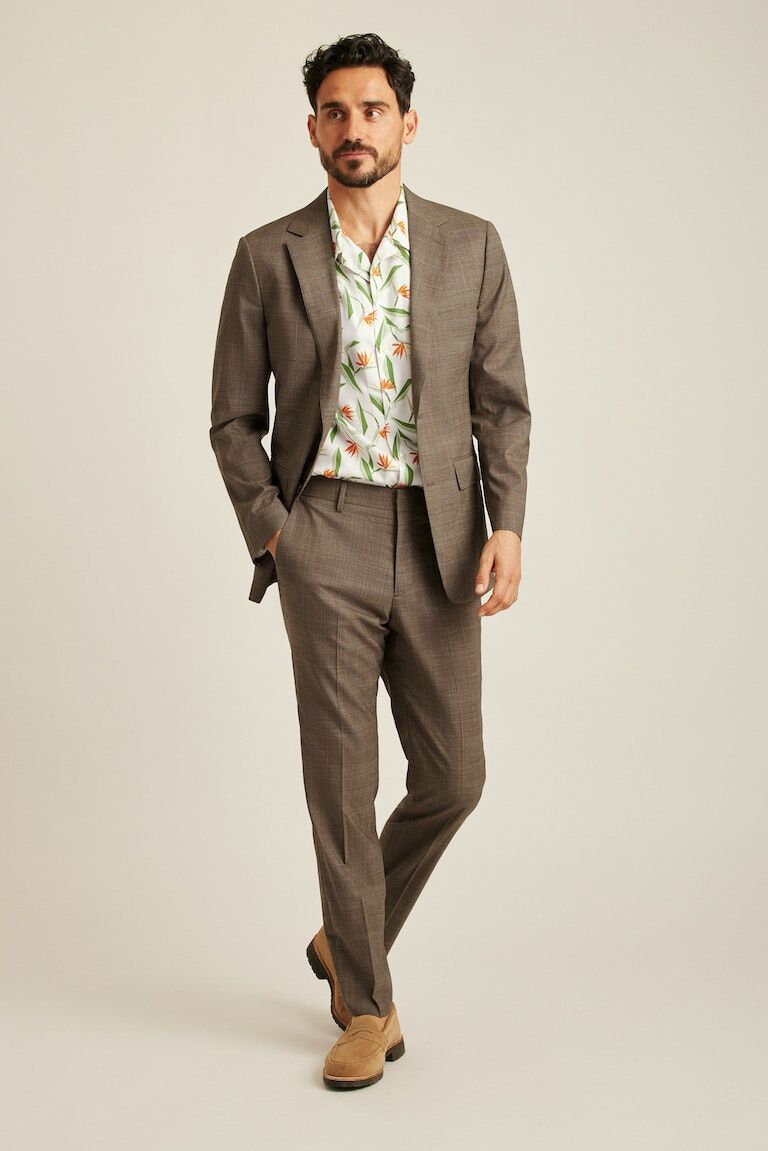 Bonobos keeps their menswear offerings simple and classic—perfect for wedding attire. This jetsetter suit in brown glen plaid offers just enough pattern to be understated. The cut is universally flattering, with staying power.
6. Geometric Ties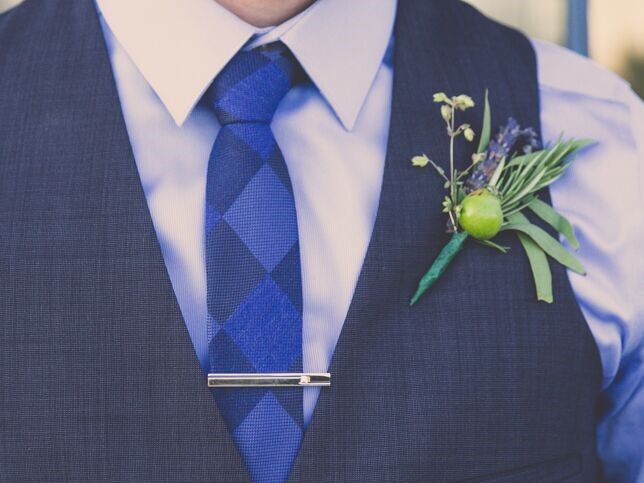 Kitsch is back, and geometric patterns have re-entered the groupchat. The tie is the easiest way to pull off this look, thanks to a wide offering of patterns and colors. This simple accessory provides a quirky flourish to a classic suit, channeling that cool vintage vibe we're all chasing. Pair with a single-breasted suit or a pair of high-waisted trousers for that effortlessly cool look.
Shop this trend:
Kohl's Bespoke Geometric Tie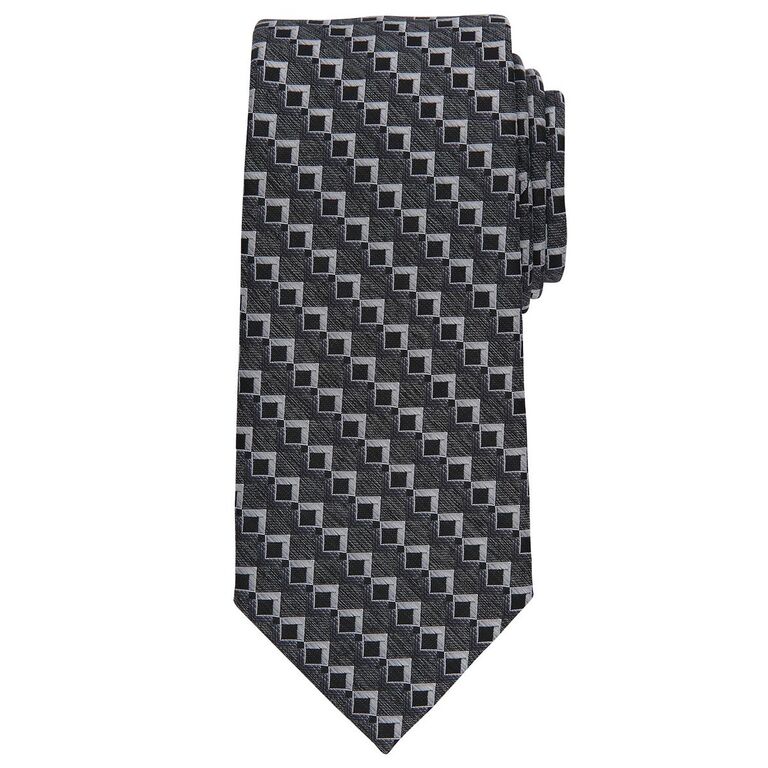 Want to dip your toe in this trend in a low-risk fashion? This black and grey number is a great affordable option. Give it a try, and if you like it then good news: there's plenty more where that came from.
Rowing Blazers Zig Zag Tie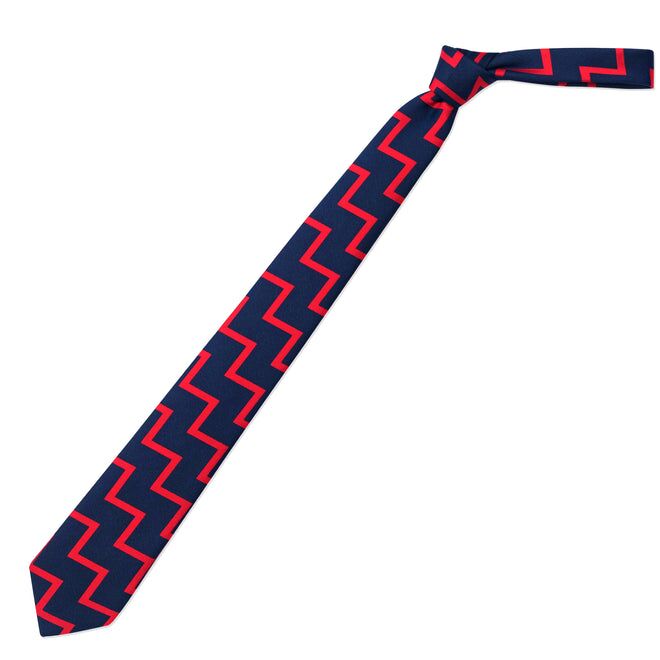 Rowing Blazers is better than most at making the old feel new again. Their take on the geometric tie trend is going to bring all the right kind of flair to your next wedding suit. Be forewarned, though: with a tie this out-there you're going to want to keep the rest of your fit pretty basic. Stick with a simple navy suit and a white button-down.
Paul Smith Painted Geometric Silk Tie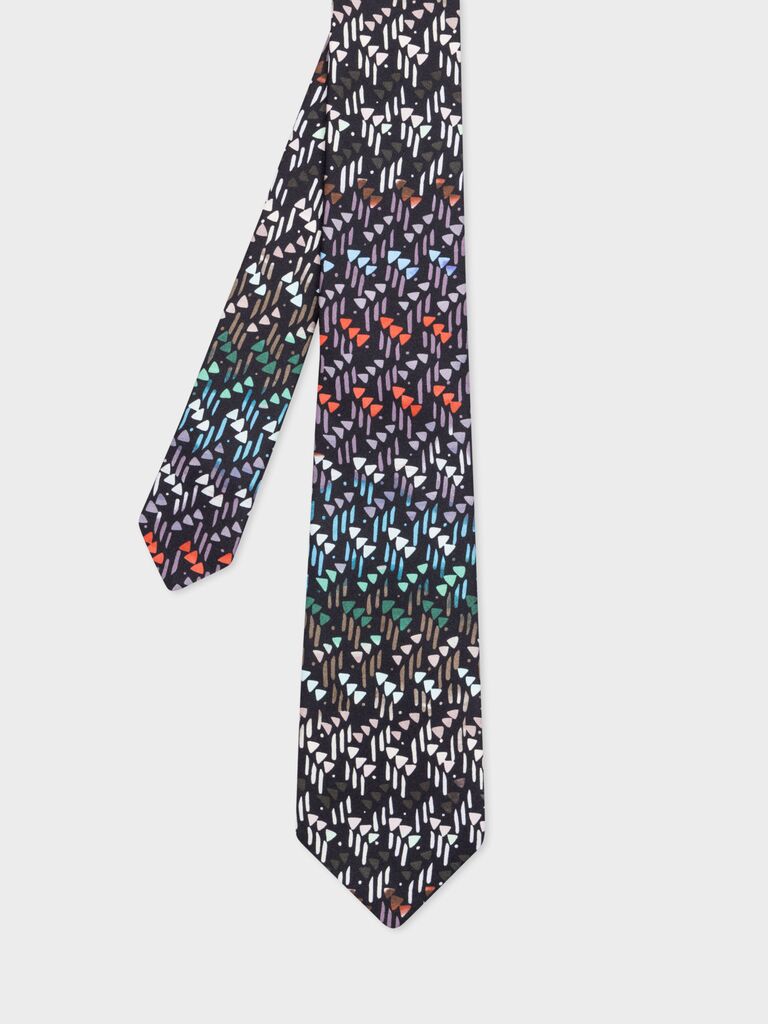 For those looking to throw on a tie that'll make a big impression, well, look no further. Paul Smith has you covered with this rainbow geometric tie, the perfect way to make a big impression
Posted with permission by theknot.com. Original article posted here.