Hailing from Virginia, Matt has been playing music professionally since the age of 18. With thousands of live performances and over a hundred weddings performed to date, Matt is indeed one of the premier live musicians in the Washington DC Metro Area. Using a pedal called a looper, Matt records live renditions of cover songs that sound like full bands, creating all sounds from his guitar and effects pedals. Your guest will do a double-take when they realize that the sounds, that they are hearing are coming from one person, and those sounds are all created live! Matt stays in demand thanks in part to his diversity, his professionalism, and his kind, friendly spirit. Matt can play virtually any style of music, and will keep your guests entertained for the duration of your event. While still playing solo gigs, Matt also performs vocals and guitar in a brand new wedding & corporate party band called We The People!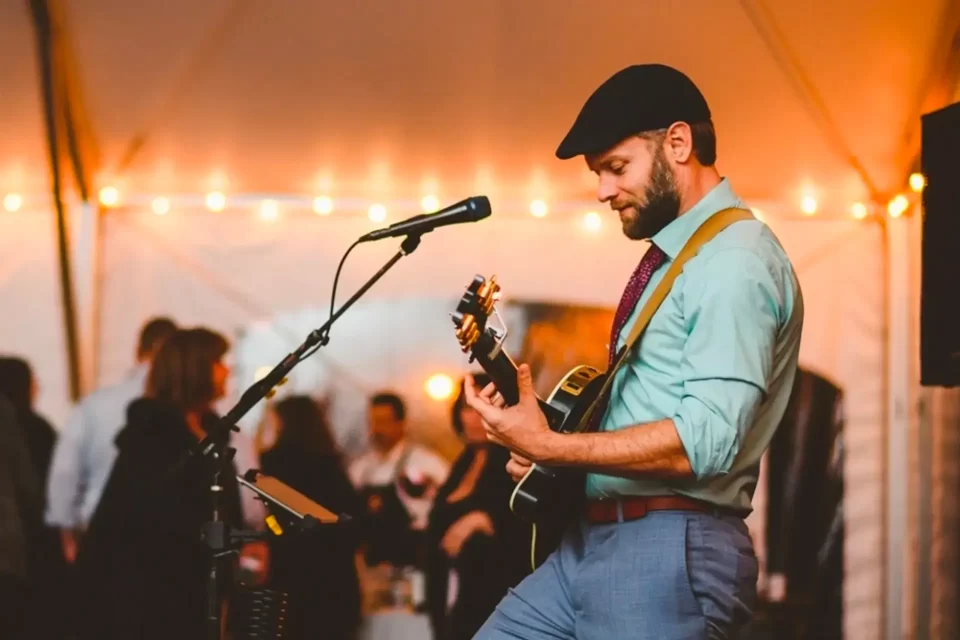 Live or DJ'd Music
Up to 5 Hours of Live/DJ'd
Music Featuring Your Choice of:
Acoustic, Electric, Classical Guitar, or Ukulele
Instrumental or Vocal Renditions of Song Selections
Emcee Duties
Announcements
Introductions
Segways
Use of Microphones
Wireless Handheld
Clip-on Lapel Mic
Stand for Wireless Mic
Diverse Song List
Choose Songs For Your Ceremony From a Song List Featuring Over Four-Hundred Songs, Spanning All Major Genres
Custom-Tailored Songs
Have a Song That You Love That's Not on The List? Choose Up to Two Songs to be Learned and Performed Live.
Custom Timelines
Custom Shortened or Lengthened Renditions of Your Songs to Fit Certain Timeline Restraints.
Pre-Ceremony Music
Up to 30 Minutes of DJ'd or Instrumental Music For Your Guests While They Are Arriving.
A Truly Unique Musical Experience!
Matt will provide a truly unique, tasteful, and captivating musical experience that you and your guests will talk about for years to come!
One-Stop Shopping
Matt does it all!
Emcee Services
Sound Equipment Rental
Live Music
DJ Services
Multi-Location Performing
Choose to Have Live Music in Up To Three Locations.
(Multiple Sites Not in Walking Proximity to Each Other May Result in Up-Charge)
Music That Fits the Mood
Relax, and Soak in the Day! The Music Will be Appropriate for Whatever the Setting Calls For, Be it Low Key or Upbeat!
First Dances/Parent Dances
Live Music is a Great Option For First Dances! Songs Can be Tailored to Your Liking, in Case You Are a Shy Dancer, or Don't Want the Moment to End Too Soon!
Long Playtime
Opt For up to Four Hours of Live Music For Your Big Day!
Appropriate Volumes
Nothing Can Dampen an Event Like a Musician That Is Barely Audible, or Worse, One That is Too Loud. Your Wedding Music Will Be Just Right, and Surely a Highlight of The Evening!
Dressed to Impress
No Uniforms or Jeans Here. Your Musician Will Look The Part in Suit and Tie!
A-HA-Take on Me
The Cure-Just Like Heaven, Love Song, Friday I'm in Love
Bryan Adams-Summer of 69
Modern English-Melt with you
Billy Idol-Dancing with Myself
Duran Duran-Hungry like the wolf
New Order-Bizarre Love Triangle
Simple Minds-Don't Forget About Me
Journey-Don't Stop Believing
The Outfield-Your Love
Tears for Fears-Everybody wants to rule the world
Phil Collins-In the Air Tonight
The Human League-Don't You Want Me
Bon Jovi-Living on a Prayer
Kenny Loggins-Footloose
Depeche Mode-Enjoy the Silence, Personal Jesus
The Police-Every Breathe You Take
Oasis- Wonderwall, Don't Look Back In Anger, Champagne Supernova, Live forever
Semisonic- Closing Time
Jimmy Eat World- The Middle
Blind Melon- No Rain
Cake- I Will Survive, Frank Sinatra
Fuel- Shimmer
Violent Femmes- Blister in The Sun, American Music, Kiss Off
Foo Fighters- Everlong
Bush- Glycerine, This Cloud
Lit- My Own Worst Enemy
Blink 182- All the Small Things, Damnit
Verve- Bittersweet Symphony
Toad the Wet Sprocket- All I Want, Something's Always Wrong, When Will We Fall Down
The Replacements- Banditos
Rusted Root- Send me on my Way
Better Than Ezra- Good, Desperately Wanting
Tonic- If you Could Only See
R.E.M.- The End of The World as We Know It, Losing My Religion, Everybody Hurts
Eve 6- Inside Out
Beck- Where It's At, Loser
Killers- Mr. Brightside, When You Were Young, Jenny Was a Friend of Mine, Smile Like You Mean it, All These Things That I've Done
Beastie Boys- Girls
Counting Crows- Mr. Jones, Sullivan St.
James- Laid
The Cure- Just Like Heaven, Love Song, Friday I'm in Love
Proclaimers- 500 Miles
Gin Blossoms- Hey Jealousy, Found Out About You, Till I hear It from You
Ben Folds Five- Brick, The Army, The Luckiest
311- Amber, Prisoner, Beautiful Disaster, Do You Right, All Mixed Up, Homebrew
Weezer- Say It Ain't So, Sweater Song, Island in The Sun, My Name Is Jonas, Only in Dreams, Hashpipe
Third Eye Blind- Semi Charmed Life, How's It Gonna Be, Jumper, The Background, Motorcycle Drive by, God of Wine
Bare Naked Ladies- Old Apartment, If I had a Million Dollars
Alanis Morrisette- Head Over Feet
Coldplay- Clocks, The Scientist, Yellow, Fix You
Red Hot Chili Peppers- Under the Bridge, Give it Away, Scar Tissue, Dani California
Pearl Jam- Black, Better Man, Alive, Elderly Woman, Yellow Ledbetter, Corduroy
Stone Temple Pilots Plush, Wicked Garden, Sex Type Thing, Big Empty, Vasoline , Interstate Love Song
Smashing Pumpkins- Today, 1979, Disarm, Landslide, Mayonaise
Sublime- What I Got, Santeria, Badfish, Right Back, Summertime, Don't Push, 5446, Wrong Way, 40oz to Freedom, Right Back, Smoke Two Joints
Dave Matthews Band- Crash, Two Step, #41, What Would You Say, So Much to Say, Lover Lay Down, Grey St, Trippin Billies, Dancing Nancies, Don't Drink the Water, Stay, Warehouse, I'll Back You Up
Nirvana- Polly, Come as You Are, Lithium, About a Girl, Drain You, In Bloom
Greenday- When I Come Around, Basket Case, Longview, She, Good Riddance
Radiohead- Creep, Fake Plastic Trees, Karma Police, No Surprises, Nice Dream, Black Star, Bulletproof, High and Dry
U2- One, With or Without You, (Pride)In the Name of Love, All I Want is You
4 Non-Blondes- What's Up
George Michael- Faith
The Cranberries- Zombie, Linger
Neil Diamond-Sweet Caroline, Girl, You'll be a Woman Soon
John Cougar Mellencamp- Jack and Diane, Hurts So Good
Fleetwood Mac- Dreams, Landslide, Everywhere
The Bangles- Eternal Flame, Walk Like an Egyptian
The Doors-Touch Me
CCR-Proud Mary, Have you Ever Seen the Rain, I Heard it Through the Grapevine
David Bowie-Major Tom
Indigo Girls-Closer to Fine
Steeler's Wheel-Stuck in The Middle
Guns and Roses-Patience, Don't Cry
Dire Straits-Walk of Life
Sinead Oconnor- Nothing Compares 2 U
Led Zepellin- Dyer Maker, Whole Lotta Love
Jimmy Buffet- Margaritaville, Volcano, Cheeseburger in Paradise
Scorpions- Wind of Change
The Beegees- Stayin Alive
Steve Miller Band-The Joker
The Ramones-Sedated
Cheap Trick- I want You to Want Me
Bruce Springsteen-Dancing in The Dark, I'm on Fire, Born to Run
Talking Heads-This Must Be the Place, Road to Nowhere, Burnin Down the House
Peter Gabrielle-In Your Eyes
Beatles-With a Little Help from My Friends, Come Together, Twist and Shout, I've Just Seen a Face, It's only Love, Revolution, Across the Universe, Hide Your Love Away, While My Guitar Gently Weeps, In My Life, O Bla Di, Help, Hey Jude, For No One, Something, Blackbird, Nowhere Man,Yesterday, Here Comes the Sun
Elton John-Tiny Dancer, Benny and The Jets, Danielle, Rocket Man, Nikita, I Guess That's Why They Call It the Blues, Goodbye Yellow Brick Road, Candle in The Wind, Crocodile Rock
Tom Petty-Mary Jane's Last Dance, You Don't Know How It Feels, Running Down a Dream, Into the Great Wide Open, American Girl, Won't Back Down, Free Fallin, Wildflowers
Billy Joel-Piano Man, Uptown Girl, Only the Good Die Young, River of Dreams, She's Always a Woman, For the Longest Time
Pink Floyd-Breathe, Comfortably Numb, Wish You Were Here, Learning to Fly, Another Brick in the Wall
The Eagles-Hotel California, Peaceful Easy Feeling, Take It Easy
Van Morrison-Into the Mystic, Brown Eyed Girl, Moon Dance
Grateful Dead-Friend of the Devil, Scarlet Begonias, Ripple, Truckin, Fire on The Mountain, Franklin's Tower
Eric Clapton-Wonderful Tonight, Cocaine, Tears in Heaven, Lay Down Sally
Cat Stevens-Wild World
Paul Simon-You Can Call Me Al, Me and Julio, Cecillia
Notorious B.I.G-Juicy, Big Poppa, Hypnotize, Mo Money, Mo Problems
Lil Nas X, Billy Ray Cyrus- Old Town Road
Post Malone- Circles, Better Now, Congratulations, Sunflower
Jay-Z-I Just Wanna Love you, Can I Get a?
Dr. Dre Snoop Dog-Nothing but a G Thang, Gin and Juice, California Love
Ice Cube-It Was a Good Day
Salt & Peppa- Shoop
Naughty by Nature-O.P.P.
The Weeknd- Can't Feel My Face, Starboy, Blinding Lights
Young MC-Bust A Move
R Kelly-Remix to Ignition
Nate Dogg and Warren G-Regulate
Drake-Just Hold On
Robin Thicke- Blurred Lines
Coolio- Gangsta's Paradise
Kanye West/Estelle- American Boy
Outkast- Hey Ya, Spottieoddiedoubleliciousangel
Marky Mark- Good Vibrations
Bel Biv Devoe- Poison
Boyz II Men-So Hard to Say Goodbye to Yesterday
Lenny Kravitz- It Ain't Over Till It's Over
Vanilla Ice- Ice Ice baby
Michael Jackson-Billy Jean,I Wanna Rock with You
Dj Jazzy Jeff and The Fresh Prince-Summertime
Justin Timberlake- Can't Stop the Feeling, Rock Your Body, Cry Me a River
Bruno Mars-Locked Out of Heaven, Treasure
John Legend- All of Me
Next-Too Close
Kriss Kross- Jump
House of Pain- Jump Around
Ini Kamoze-Hot Stepper
Prince- Purple Rain, I Would Die 4 U, Kiss
Bob Marley-Stir It Up, No Woman No Cry, Waiting in Vain, 3 Little Birds, Turn Your Lights Down Low, Jammin, Zimbabwe, One Love
Big Mountain- Baby I Love Your Way
Toots and the Maytals- 5446
Ed Sheeran- Thinking Out Loud, Photograph, Perfect
Taylor Swift- Blank Space, Shake it off, Lover, Bad Blood
Maroon 5 –Sugar, This Love
N'Sync-Tearing Up My Heart, Bye Bye Bye
Backstreet Boys-I Want It That Way, Backstreet's Back
Elle King-Exes and Ohs
Imagine Dragons-Demons
Fitz and The Tantrums- Out of My League
Justin Bieber- Sorry, Love Yourself
Jack Johnson- Bubble Toes, Flake
Kings of Leon- Sex on Fire, Use Somebody
Fall Out Boy- Sugar We're going Down
Daft Punk/Pharell Williams- Get Lucky, Around the World, One More Time
MGMT-Electric Feel
The Darkness-I Believe in a Thing Called Love
Capitol Cities-Safe and Sound
Foster the People-Pumped Up Kicks
White Stripes-7 Nation Army
Franz Ferdinand-Take Me Out
The Strokes-Last Night
John Mayer-Your Body Is a Wonderland, Gravity
Leonard Cohen/Jeff Buckley-Hallelujah
Scorpions-Wind of Change
Crashtest Dummies-Mmm Mmm Mmm Mmm
UB40-Red Red Wine, The Way You do the Things You do
Muse-Starlight
Jason Mraz-I'm Yours
Majic!-Rude
Katy Perry-Hot & Cold, Teenage Dream
Lumineers- Ho, Hey
Peter Bjorn and John- Young Folks
Bright Eyes- First Day of My Life
Mazzy Star- Fade into You
Vampire Weekend- M-79, The Kids Don't Stand a Chance
Vance Joy- Riptide
Mumford and Sons- Believe, The Cave
The Postal Service/Death Cab for Cutie-
Such Great Heights, The District Sleeps Alone, I Will Follow You in to The Dark
Neutral Milk Hotel- In an Airplane over the Sea
Johnny Cash-Folsom Prison, Ring of Fire, Long Black Vail
Elvis-Hound Dog, Can't Help Falling in Love, Jailhouse Rock, That's Alright
Chris Stapleton-Tennessee Whiskey, More of You
Lynard Skynard-Sweet Home Alabama, FreeBird
John Denver-Country Roads
Zac Brown Band-Chicken Fried, Toes
Old Crow Medicine Show-Wagon Wheel
Willie Nelson- On the Road Again
Garth Brooks- Friends in Low Places
Chris Isaak- Wicked Game
Merle Haggard- Mama Tried
Patsy Cline- Walking After Midnight
Allan Jackson- Chatahoochee
The Drifters-Under the Boardwalk, Save the Last Dance for Me
Ben E. King-Stand by Me
Louis Armstrong- What a Wonderful World
Al Green- Let's Stay Together
Aretha Franklin- Respect
The Foundations- Build me Up Buttercup
Marvin Gaye- Sexual Healing, Let's Get It On
Frank Sinatra- Fly Me to the Moon
Tommy James and The Shondelles- I Think We're Alone Now