7 Tips for Choosing Your Wedding Flowers, Step by Step
Posted on
By: Samantha Iacia- The Knot
Choosing your wedding flowers is one of the most exciting parts of wedding planning, but it's not as simple as picking your favorite blossoms and requesting them in your wedding colors (sorry!). There are a handful of other details that all impact how to choose wedding flowers, and we're outlining them below to help get you up to speed. Ready to go? Here's where to start when designing and ordering your wedding flowers—plus a few insider tips that you can use while working with your wedding florist to nail the final look.
1. Create your wedding flower budget.
Before you do anything—bookmark wedding centerpiece inspiration, hire a florist—it's important to know exactly how much you can spend (or are willing to spend) on your wedding flowers. According to The Knot 2021 Real Weddings Study, couples typically allocate 7% of their total wedding budget to flowers. The final dollar amount will vary depending on where you're getting married, the types of flowers you want and the overall budget you're working with—in addition to how much of a priority flowers are to you personally. For example, having a photo-worthy floral wedding ceremony arch may be more important to you than handing out wedding favors or individual place cards, so you can allocate those expenses accordingly.
Once you have a ballpark number in mind, you can start looking for a professional floral designer who's able to work within your budget. During your initial email or at the start of your first meeting, put your budget on the table. Ask your florist, "What great things can you do with $__?" This will give you an idea of how much the florist charges for things like bridal bouquets, centerpieces, flower installations and other decorative extras—and whether or not they're a good fit for your needs.
While it's okay to be upfront about what you love (specific colors, romantic designs, etc.), the main thing you want to avoid is getting your heart set on a certain look without crunching numbers with a florist first. Keep in mind that flowers can be deceptively pricey, especially when you factor in seasonality and the ongoing wedding boom, so the best way to avoid disappointment is by connecting with a pro as soon as possible. And most importantly, be flexible. If you love over-the-top flowers or are dead-set on using peonies in November, plan to spend more on flowers and less elsewhere. Finally, don't forget to account for extras, like wedding day setup and breakdown charges, taxes and tips.
2. Pinpoint your wedding flower vision through inspiration.
On top of creating your wedding flower budget, you'll need to do some visual homework before reaching out to potential florists. Take some time to figure out what you like—are you into simple flower arrangements with neutral colors, or are you more of a bigger-is-better, neon color palette type of person? Think of your florist as an artist: Some specialize in classic design, while others are known for breaking the mold, so it's important to find someone you align with.
When in doubt, remember that images are way more telling than words when choosing wedding flowers. For your consultation, bring your wedding decor inspiration boards, swatches of what your wedding party will be wearing and examples of other flower arrangements you like. This will cue your florist into the overall style of your big day, but don't expect an exact replica of those ideas. While they'll appreciate snapshots of things that reflect your desired look, they'll have their own vision and technique for pulling it off, so be open to their expert recommendations and modifications. The upside? You'll be getting something totally one-of-a-kind for your wedding.
Finally, take some time to brush up on things like the most popular types of wedding flowers and other floral terms, such as the types of wedding bouquets. This will help you from feeling totally clueless when chatting with a pro.
3. Hire a wedding florist.
Crowdsource and start early.
On top of reading vendor reviews, one of the best ways to find your wedding florist is by word of mouth. Ask for recommendations from newlyweds you know, browse wedding magazines and search hashtags on social media. If you're working with a wedding planner or a professional venue coordinator, they should have recommendations for area florists. Set up appointments or phone calls with a shortlist of florists so you can connect and get a better idea of their work, personality and price range.
Your florist should be one of the first wedding vendors you hire—we recommend starting your search between eight and 12 months ahead of the wedding date. Because of the time and team required to create all of those stunning flower arrangements, wedding florists' calendars can book up quickly, especially if you're getting married during peak wedding season (May to October). Vetting florists early in the process will help you lock one in as soon as you can, and a longer lead time allows your florist to make any necessary orders for your specific wedding.
When you're looking for a potential florist, you should also consider the skills they can offer beyond basic floral design. Do you want someone who will help coordinate the look of your ceremony aisle, reception tables (such as providing candles) or other miscellaneous decor? A florist with event design experience is probably a good fit, although they'll typically cost more than a standard florist. If you're already working with a wedding planner, or you're not concerned about anything except the flower arrangements, a regular florist will likely do the trick.
Hash out the details with a proposal.
With your wedding flower budget in place and initial interviews complete, narrow down your list of potential florists to one or two finalists.
If you've spoken about many different ideas, ask them to prepare a "high" best-case scenario and "low" bare-minimum proposal. You can always ask about compromising to create a mid-range package—perhaps you spend more on lavish centerpieces but pare down the bridesmaid bouquets.
4. Make a list of all the wedding flower arrangements you'll need.
You probably know that you need bouquets and centerpieces, but there are other wedding flower arrangements to consider too. Things like boutonnieres, ceremony altar arrangements, aisle markers and garlands are just a few examples of additional flowers you might need. The list of arrangements can impact your overall decor and budget, so work with your florist to determine exactly what's essential for your special day and what you might be able to skip.
One way you can make sure you're covering all your bases—without breaking the bank—is to recycle your wedding flowers when possible throughout the day. Your ceremony will probably last less than an hour (or maybe even less than 15 minutes!), so it would be a shame to let a statement floral arch go to waste. Ask your florist about repurposing it for the reception—they can plan ahead to use it as a backdrop for your sweetheart table, escort card display or other reception decor element. Alternatively, use ceremony aisle arrangements to accent the cake table or bridesmaid bouquets to add pops of color to vases in the bathroom. If you want even more ideas, talk to your florist about how you can reuse arrangements to get the most bang for your buck.
5. Start with in-season blooms.
You may already have a few favorite flowers you want to use for your arrangements, and it's important to communicate that to your wedding florist when you first start working together. But it's also important to keep an open mind and remember that certain flowers may not be available or may cost more, depending on their availability and your wedding season. Remember: Not every type of flower is readily available year-round, so if you're insisting on using very specific blooms, be prepared to spend more money or consider similar alternatives.
Using in-season wedding flowers is just one way you can cut costs. Those flowers are more abundant and easily sourced around the time that you're getting married, which means that your florist won't have to work too hard—or use too much of your budget—to find them from growers. Talk to your florist about the in-season flowers during your wedding month and try to make those stems the mainstay of your arrangements, then add a few "splurge" flowers as accents.
If your favorite blooms won't be in season (or if you've just seen the price tag for your beloved Lily of the Valley), your florist can suggest substitutes that achieve the same style. Garden roses, which are available almost year-round, can often stand in for peonies, while hydrangeas can pose as sweet peas. And don't forget about greenery, which can quickly make arrangements look more full with less flowers required.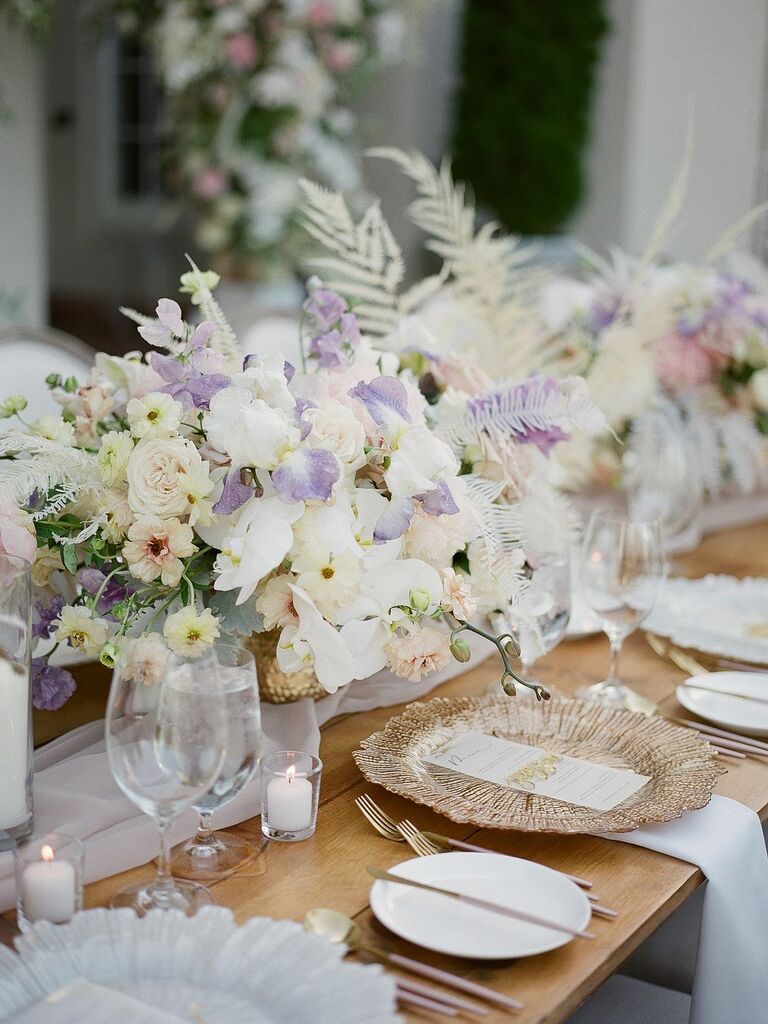 6. Use your wedding venue, theme and color palette as influences.
Take your surroundings into consideration.
Your wedding venue will greatly influence how you choose wedding flowers. If, for example, you're marrying in a park, botanical garden or vineyard, the flowers can be kept to a minimum, since you'll be surrounded by plenty of natural scenery anyway. If your venue is indoors, like a restaurant or banquet hall, you may need bigger, more impactful arrangements to build out the space. Either way, opt for arrangements that generally seem like they belong with the vibe of your setting: Clusters of boho wildflowers may look out of place in a formal ballroom the same way tropical, brightly colored flowers would seem to clash with a rustic setting.
The floral arrangements themselves can also convey a lot about your wedding style. Tighter bunches of traditional blooms, like peonies and roses, immediately evoke a classic look. Oversized arrangements with abundant greenery or pampas grass will take on a romantic, ethereal element. Architectural flowers, like calla lilies, orchids, anthurium, tend to look more modern. Work with your florist to pick the style that matches the overall wedding theme you're going for.
Be specific about colors.
It's not necessary to have your wedding flowers identically match your color palette, but the arrangements should complement the rest of your decor and wedding attire. Most flowers bloom in more than one color, so be as specific as possible when you're describing what you want to the florist. For example, if you say you like pink roses, you may be thinking of soft, blush pink roses, when in fact there are dozens of light pink, dark pink and mauve roses your florist could choose from. Sharing examples of your wedding invitations, table linens and wedding day accessories can be a great starting point for your floral designer to understand your actual color scheme.
Next, think about the message that your color palette conveys. Pastel flowers, like sweet peas, lilacs, and anemones, are typically associated with ultra-romantic garden wedding themes. Vibrant blooms, like bright yellow ranunculus, fuchsia bougainvillea and orange lilies will add a fun, upbeat vibe. White flowers and muted greenery make for a timeless combination.
7. Incorporate flower symbolism and other meaningful touches.
If you're looking for even more ways to personalize your flowers, tap into the symbolism behind each bloom. During the Victorian Era, the "language of flowers" was everything—the Victorians believed that each type of flower held a special meaning, and they even used flowers to send coded messages. Red roses and red tulips are a declaration of love and passion, while orchids symbolize refinement and beauty. While the practice isn't as well-known today, it's a fun way to add even more meaning to your celebration.
You can also finish your arrangements with special embellishments or other blooms that hold personal significance (for example, Kate Middleton added 'sweet William' flowers to her bouquet as a nod to her future husband). Consider using the same types of flowers that your parents had at their wedding, or wrapping your wedding bouquet with charms or other mementos from a loved one.S