23 Travel-Themed Bridal Shower Ideas for Adventurous Couples
Posted on
Consider this your itinerary for an unforgettable, wanderlust-worthy event.
If planning a bridal shower feels more daunting to you than fitting a week's worth of outfits in a carry-on, there's no need to reach for your life vest just yet. We're answering your call button with this list of everything you need to pull off a first-class travel-themed wedding shower, from world map party decor to souvenir-worthy favors for the crew. Prepare for takeoff, because it's almost time for this couple to embark on the journey of a lifetime.
Some Doodles Where Were We Bridal Shower Game Printable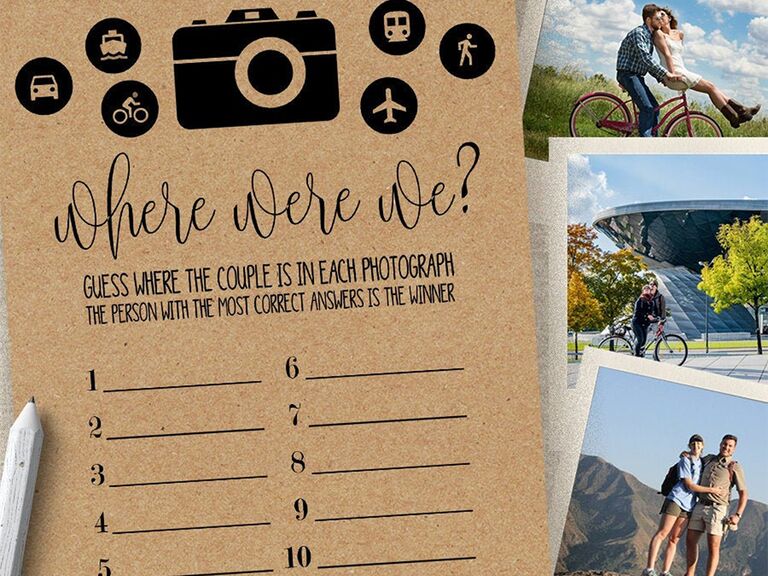 This unique bridal shower game is ready-made for a pair of adventurers. Print, frame and number up to 10 photos of the couple in various locales. Then, have guests use the response cards to record their guesses.
Letter + Leather Luggage Tag Favors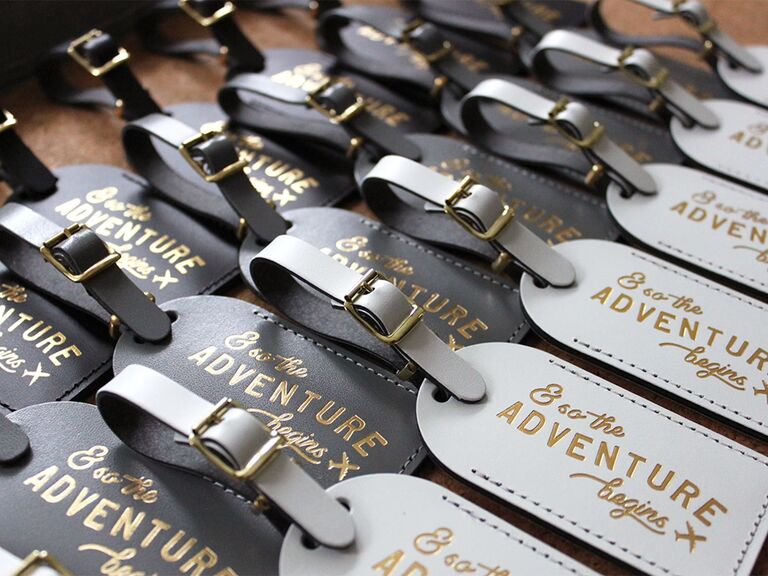 Send guests off with an on-theme shower favor they'll actually use. These gorgeous leather luggage tags come in more than two dozen color combination options and are fittingly embossed with the text "& so the adventure begins," complete with a little airplane taking flight.
Catch Some Raes Travel Cupcake Toppers
You can stick these cute cupcake toppers in more than just frosted confections. A combination of pink airplanes, heart-shaped map cutouts and brown suitcases adorn toothpick toppers you can pop in mini sandwiches and sliders, let guests use to skewer fruit and cheese, or even mix with fresh flowers for easy centerpieces.
Design My Party Studio Love Is an Adventure Travel-Themed Bridal Shower Invitation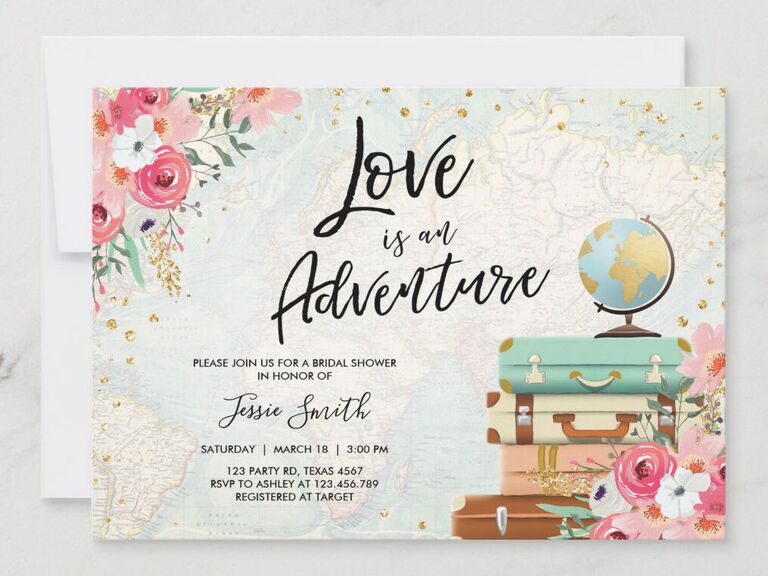 Establish the party theme from the start with these pretty floral bridal shower invitations that read, "Love is an adventure" above your wedding shower details. A faded world map background, gold sparkle accents and vintage suitcase illustrations serve as details you can carry through the day's festivities.
Itsy Bitsy Paper Cuts Adventure Awaits Glitter Banner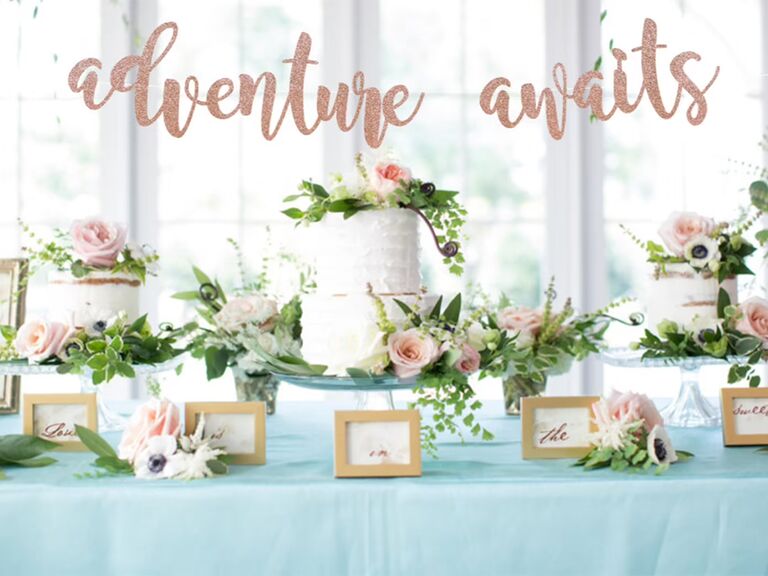 You'll need plenty of bridal shower decorations to help round out the travel theme. How cute is this banner spelling out "adventure awaits" in cursive glitter letters? Hang it above the dessert table or make the most of the Insta-worthy design by using it as the backdrop for a photo booth.
Design My Party Studio Bridal Shower Welcome Sign in Miss to Mrs. Floral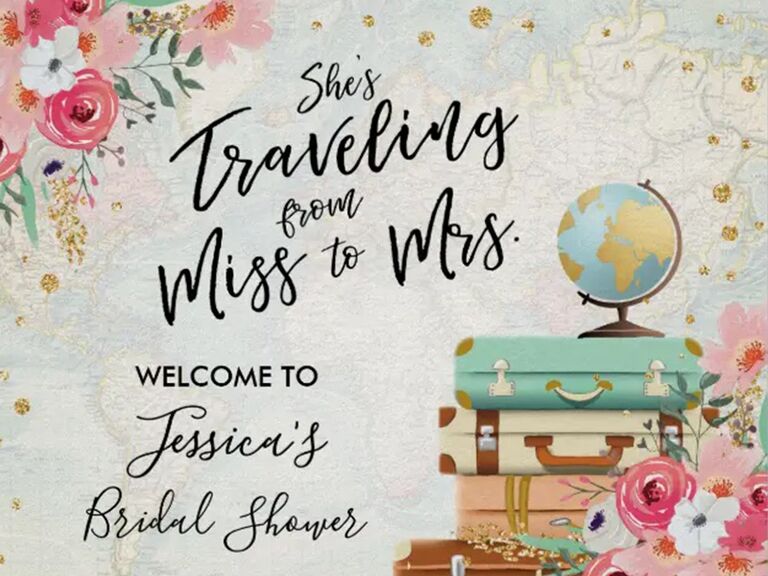 A floral-adorned welcome sign announcing that "She's traveling from Miss to Mrs." will help set the scene for the party. If you prefer to stick with a simple "welcome" message, you can edit and print your own travel-themed welcome sign with this digital download.
Whimsical Star Studio Travel Theme Bridal Shower Printable Props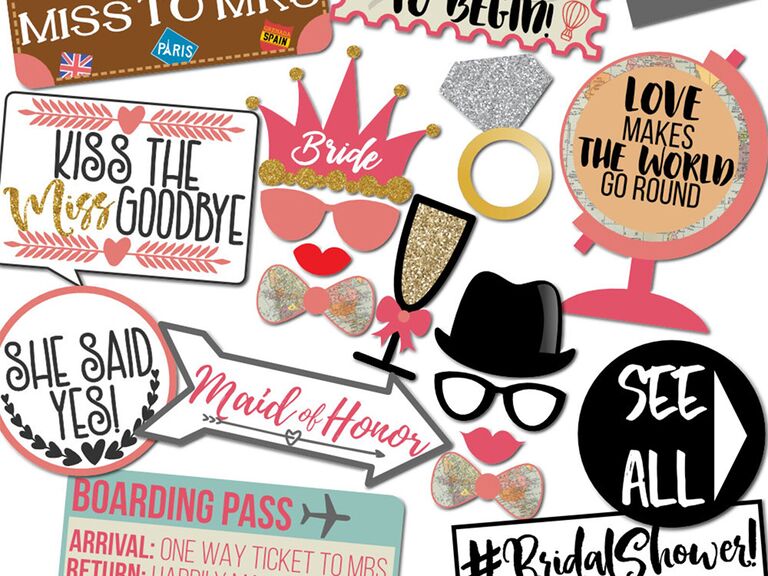 Attach these printables to sturdy craft sticks and set them up alongside a few Polaroid cameras for instant photo booth fun. Don't forget the extra film!
Printable Moment Traveling From Miss to Mrs. Date Night Ideas Game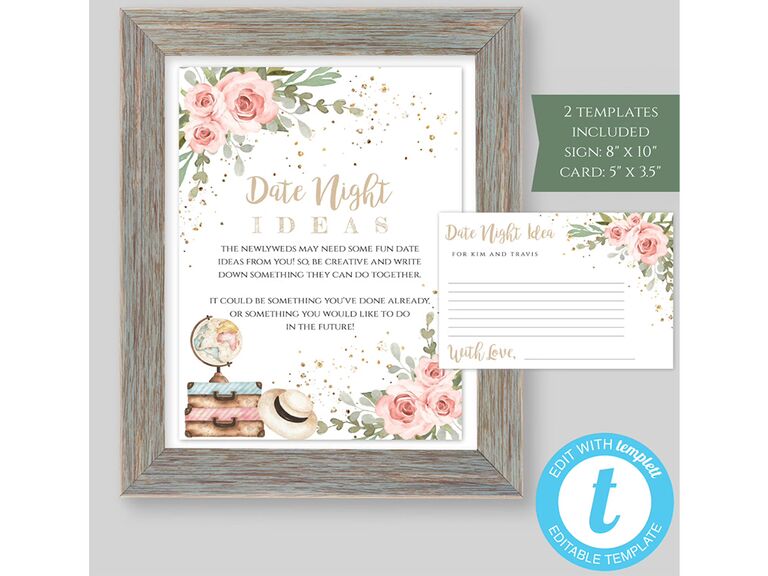 Set the lovebirds up for those nights when they aren't traveling by having guests fill out these date night idea cards as a shower activity.
Bride and Chic Boutique Traveling From Miss to Mrs. Banner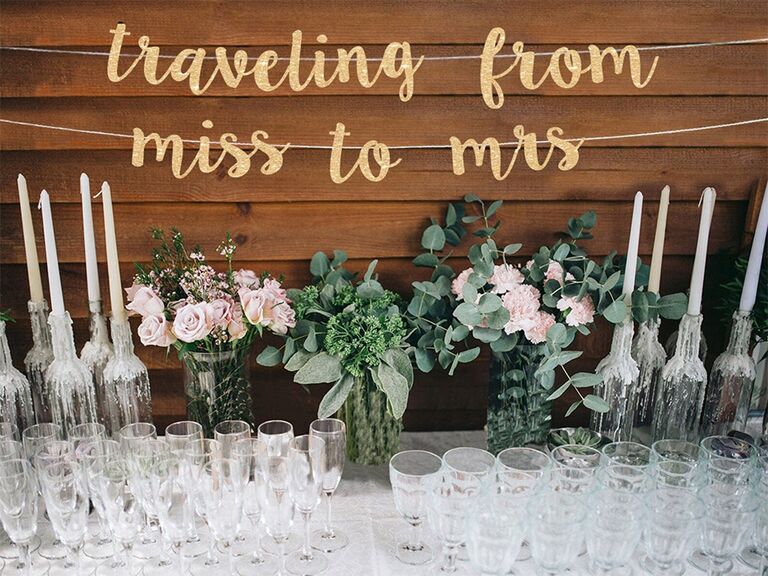 Choose from gold, silver or black glitter for this "traveling from Miss to Mrs." banner party decoration.
Design My Party Studio Travel Thank-You Cards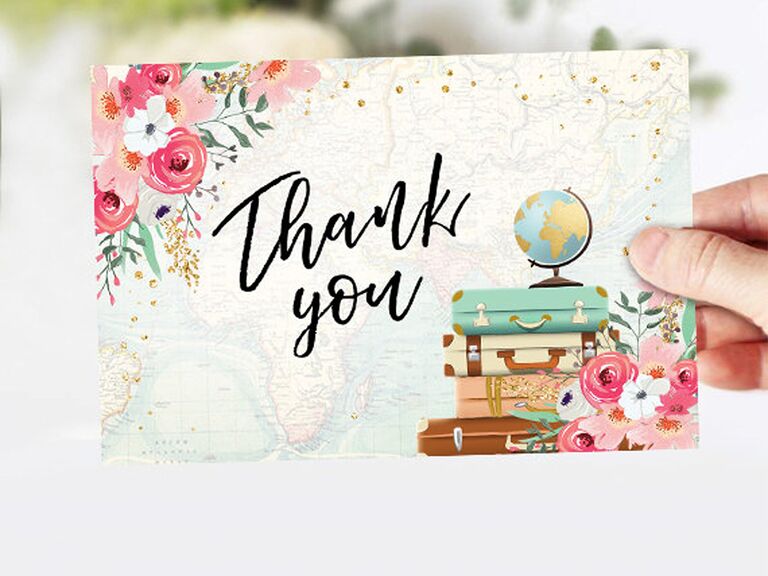 The bride-to-be or couple can write personalized notes to guests on the back of these printable thank-you cards to keep the travel theme going strong.
Megz Cookies Bridal Travel Theme Cookies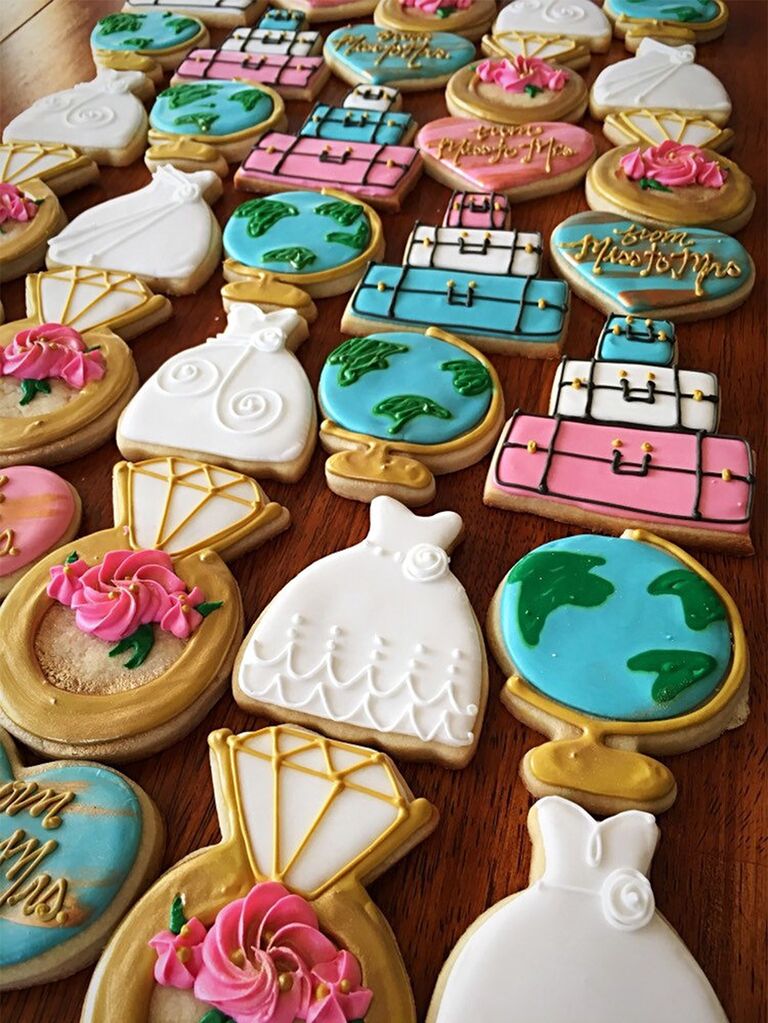 These beautifully detailed cookies look almost too good to eat… almost. According to reviews, they're as delicious as they are pretty, so make sure to take a picture before you take a bite.
Crease Studio A World of Thanks Bridal Shower Lip Balm Favor Cards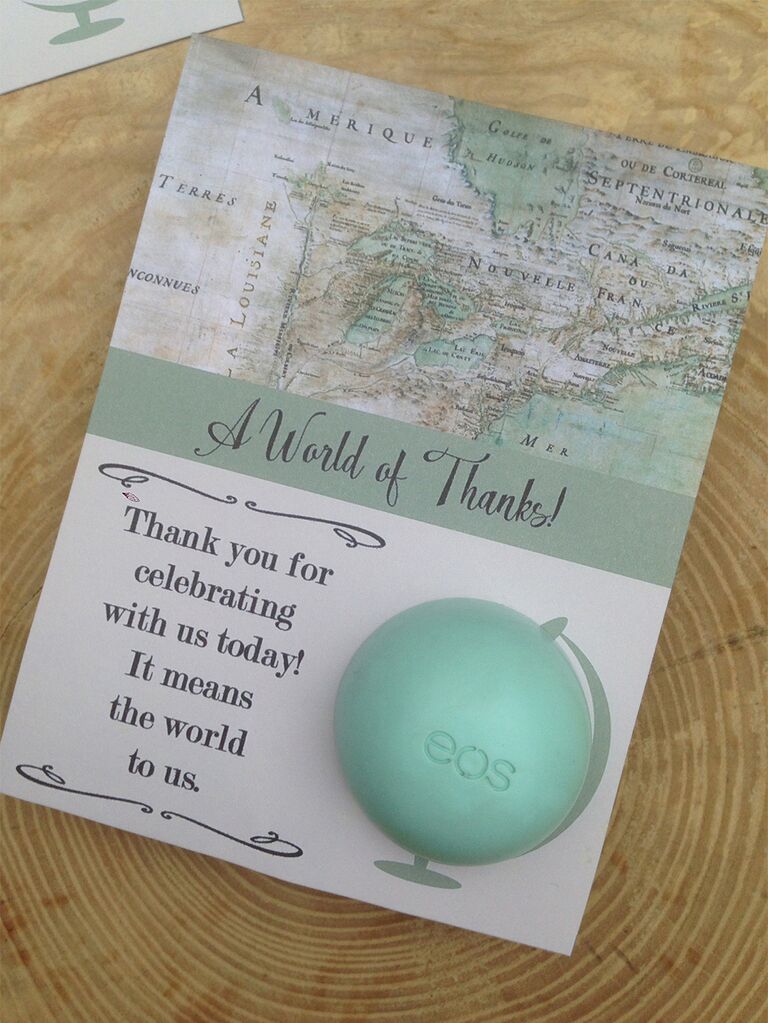 Bid bon voyage to your guests by giving them a cute, useful keepsake from your travel-themed bridal shower. These digital downloads come ready to print and trim. Just cut out each circle using scissors or a 1.5-inch hole punch and complete the "globe" with a round eos lip balm in the color of your choice.
Handmade Supplyer Personalized Satin Eye Mask Favors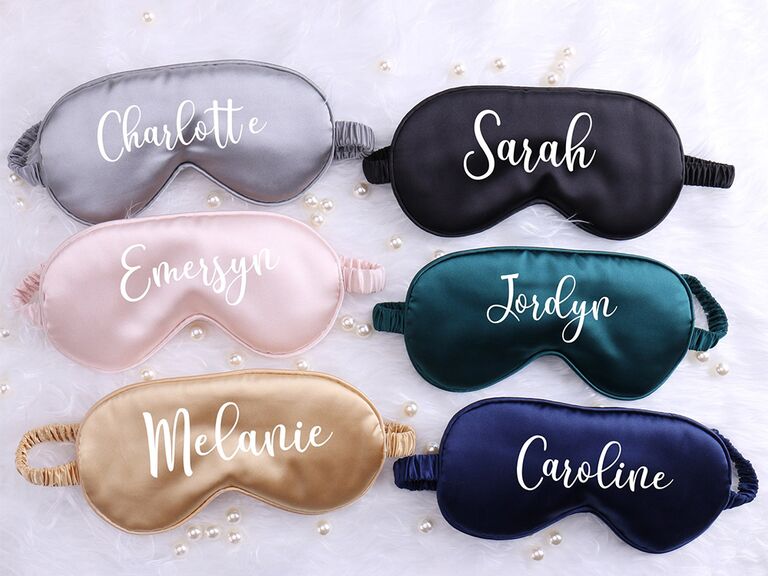 Personalized favors for the bridal party will make your shower even more special. Add a name or monogram to these satin eye masks that come in both adult and kid sizes for better beauty sleep before the big day. These also make great travel-ready favors for a destination wedding.
The Lettering Studio 8″ Signing Globe Guest Book Alternative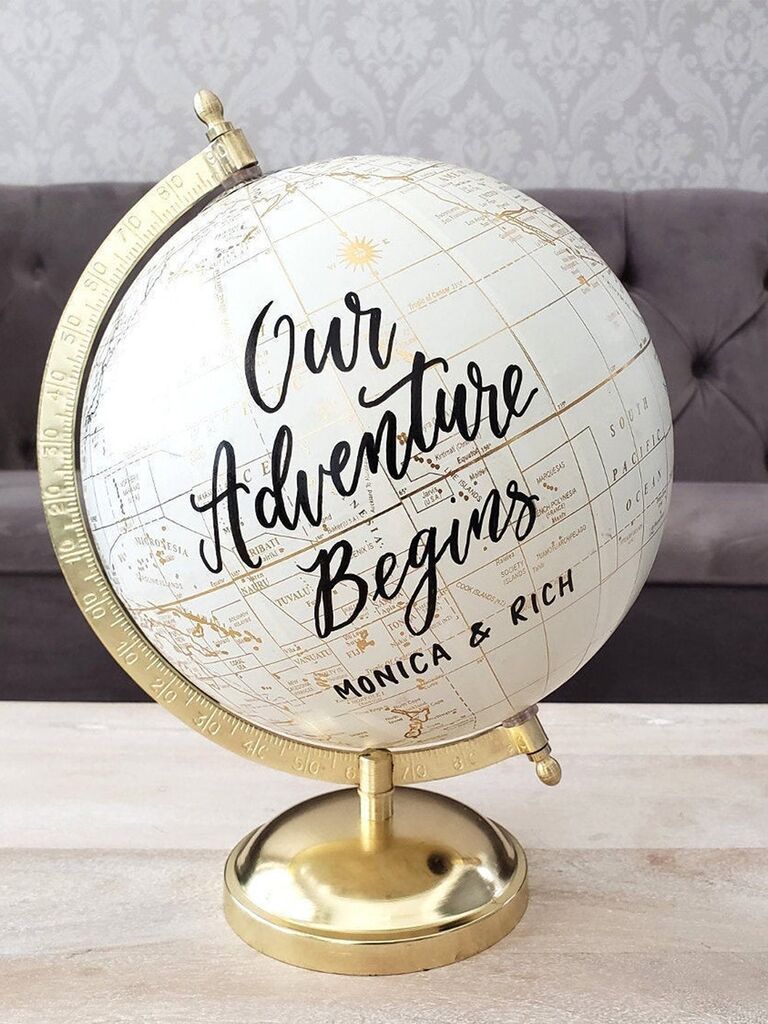 In place of a traditional guest book, have everyone sign this globe, which can be customized with a hand-lettered quote of your choice, the couple's names and a date in black or gold ink.
Design My Party Studio Travel Paper Plates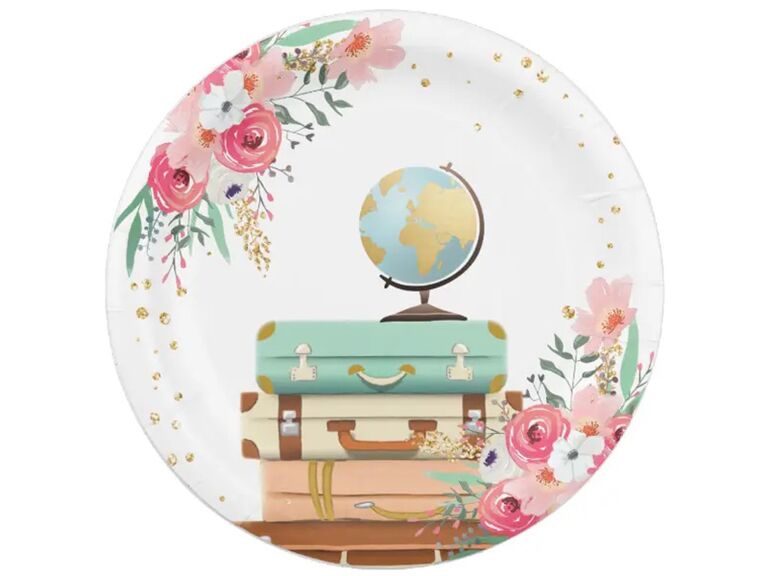 Table decorations are a must if you're serving food, so pull double-duty by setting out these adorable paper plates and letting guests help themselves to pre-flight bites.
Balsa Circle Mini Globe Favor Holders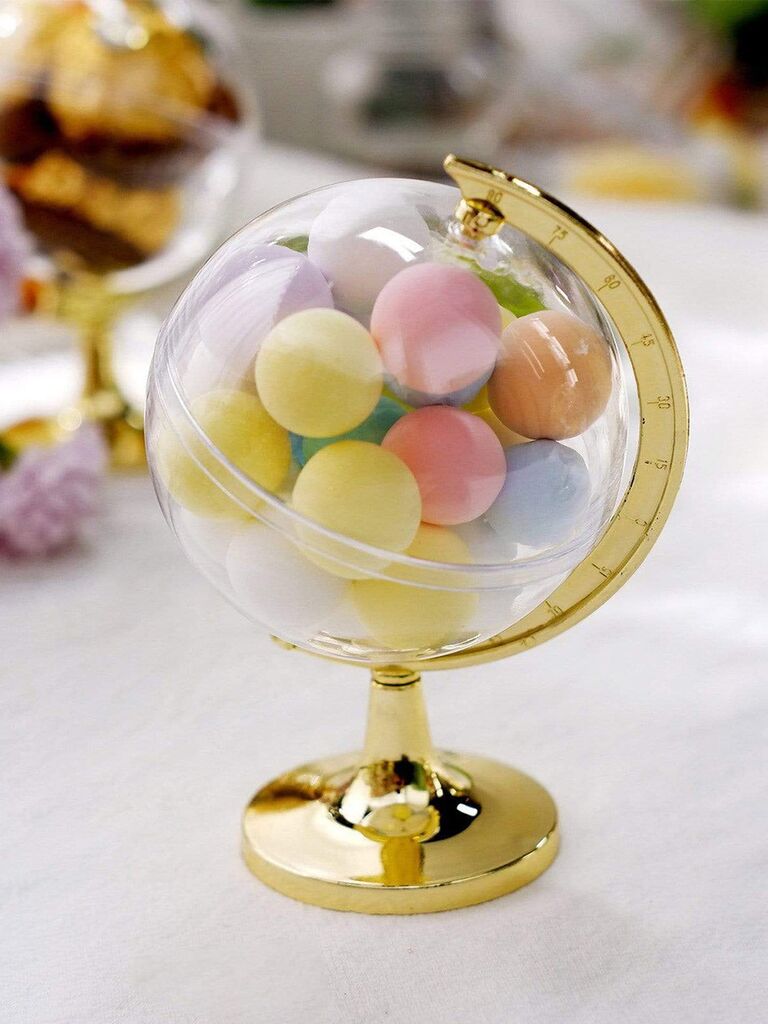 Provide guests with a sweet and sanitary send off by placing a couple of individually wrapped treats, like Ferrero Rocher or Lindor chocolate truffles, inside of these mini globe favor holders.
Wedding Favor Discount Silver Suitcase Metal Bottle Openers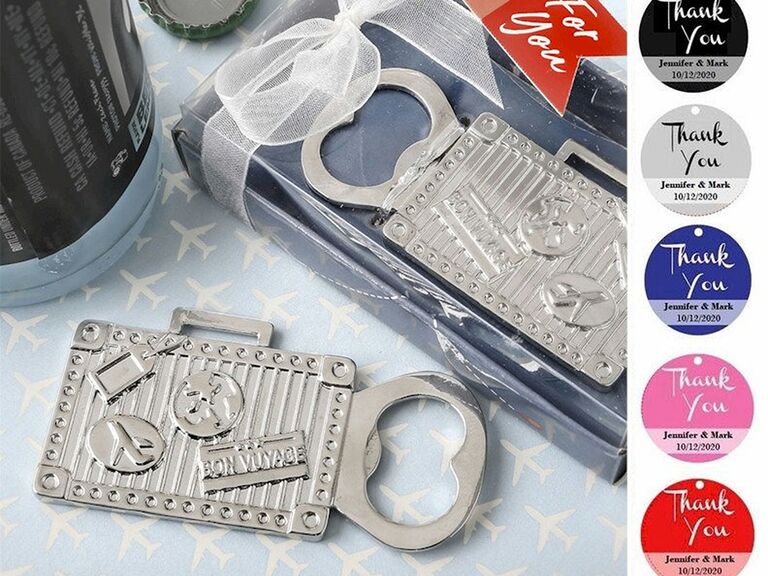 Bottle openers are popular, functional party favors, and these silver suitcase bottle openers are oh-so-cute for a travel-themed bridal shower. With raised vintage patch and luggage tag designs, a "Bon Voyage" message and even a cutout handle detail, these favors are well-made but won't break the bank.
Mabel Lane Boutique Map Paper Flowers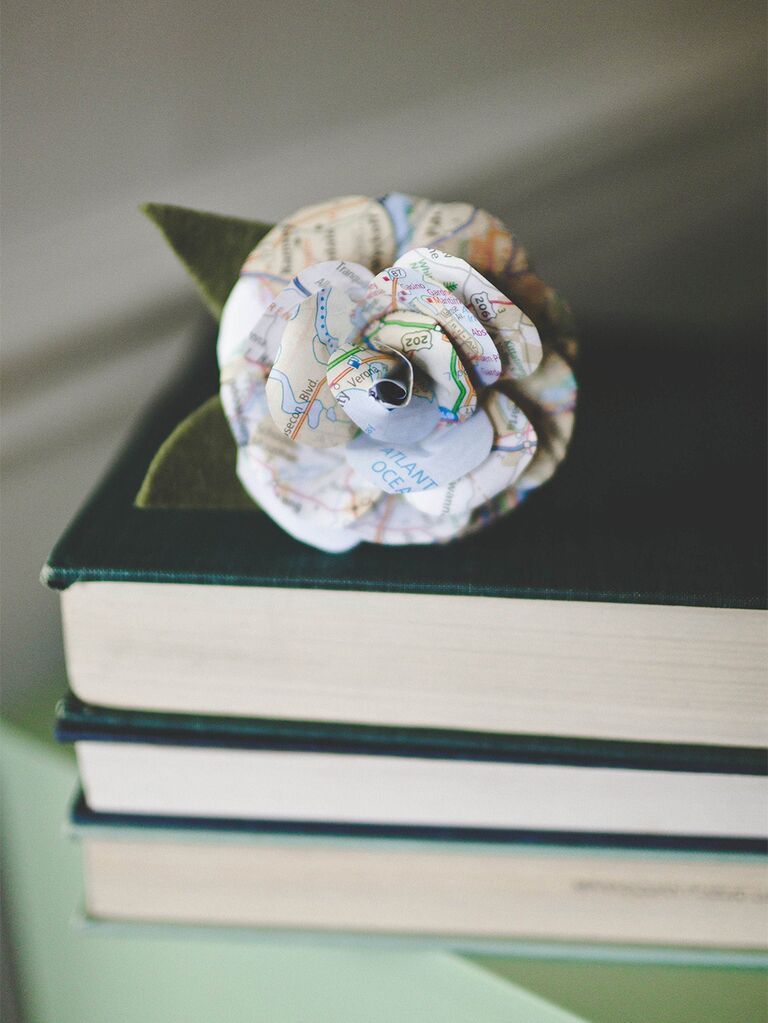 Available in a choice of any US state (or a custom mix of states), these paper flowers made from maps are a special way to add personal details to your shower. Highlight the couple's hometowns, the place where they met or the state they now call home. Display the paper roses individually or make sustainable bouquet centerpieces. As a bonus, these can also be repurposed for wedding decor.
The Path Less Traveled Vintage Map Airplane Drink Stir Sticks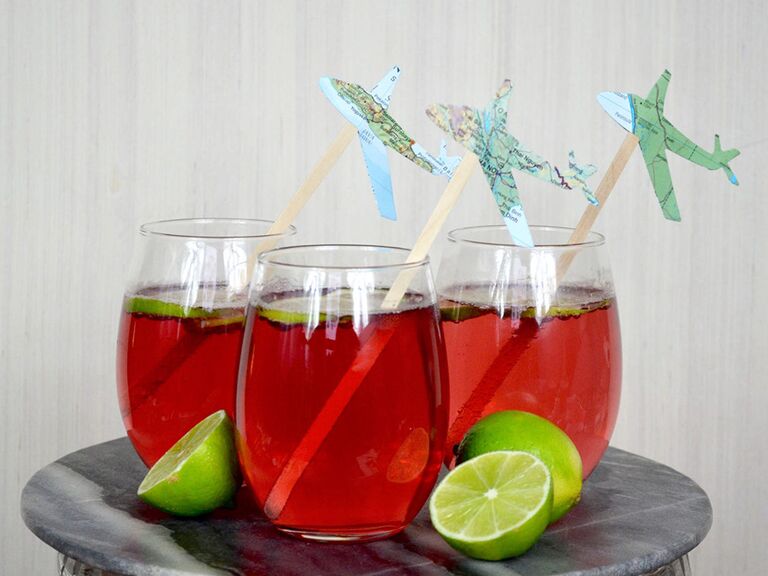 Top off custom cocktails with these airplane drink stir sticks made from vintage maps. They could also be used as cake toppers.
Sweet Thymes Bon Voyage Favor Bags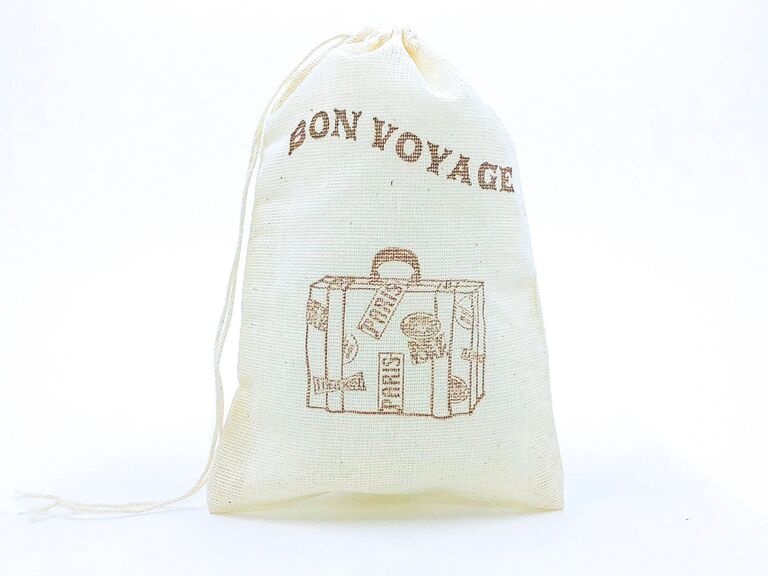 Set up a candy bar and have guests fill these travel-themed wedding favor bags with treats as a thank you. Or, simply use the bags in place of a favor box to hold your shower favor of choice and save yourself hours of folding time.
Moss and Twig Prints Editable Travel Food Tent Template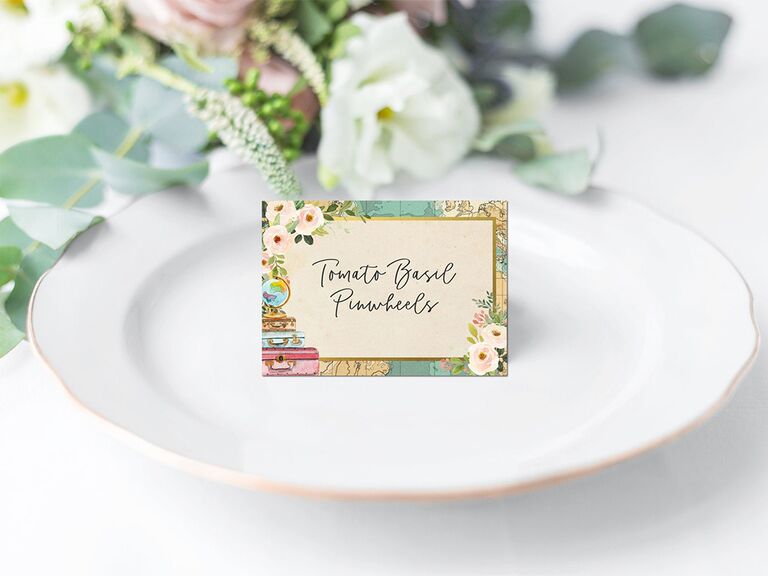 Whether you're setting the table for a sit-down brunch or putting out food buffet-style, these custom-label map printables are made to be folded so they can stand on their own. You can use them as place cards or as labeled displays in front of food and drinks so guests can scope out the different options. These are especially helpful for those with dietary preferences, because you can easily mark what's gluten free, nut free, vegetarian or vegan.
Printable Moment Travel Bridal Shower Template Set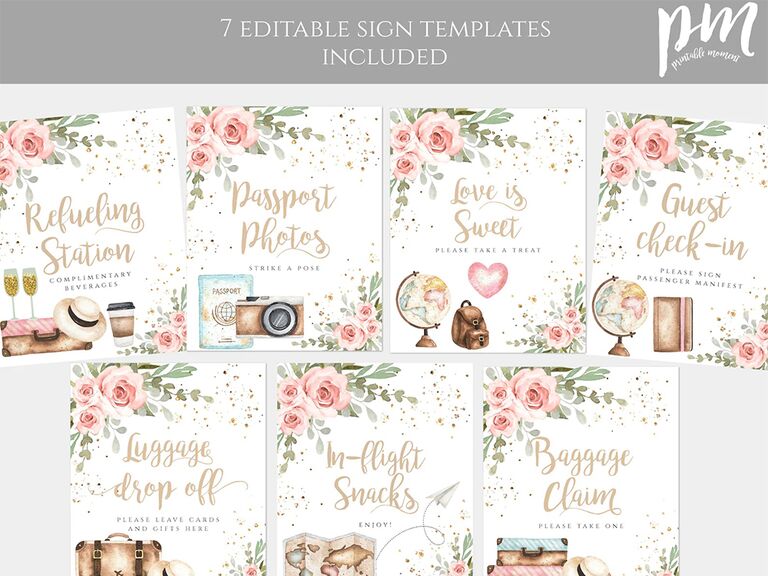 Mark different stations with punny signs using these editable, printable templates. There are seven different signs, including "guest check-in," which you can use to indicate that attendees should sign the guest book; "luggage drop off" to place by the gift table; "passport photos" for a photo booth or selfie backdrop; and "baggage claim" to put where guests can pick up their party favors.
Design My Party Studio Editable Travel Advice for the Bride-to-Be Card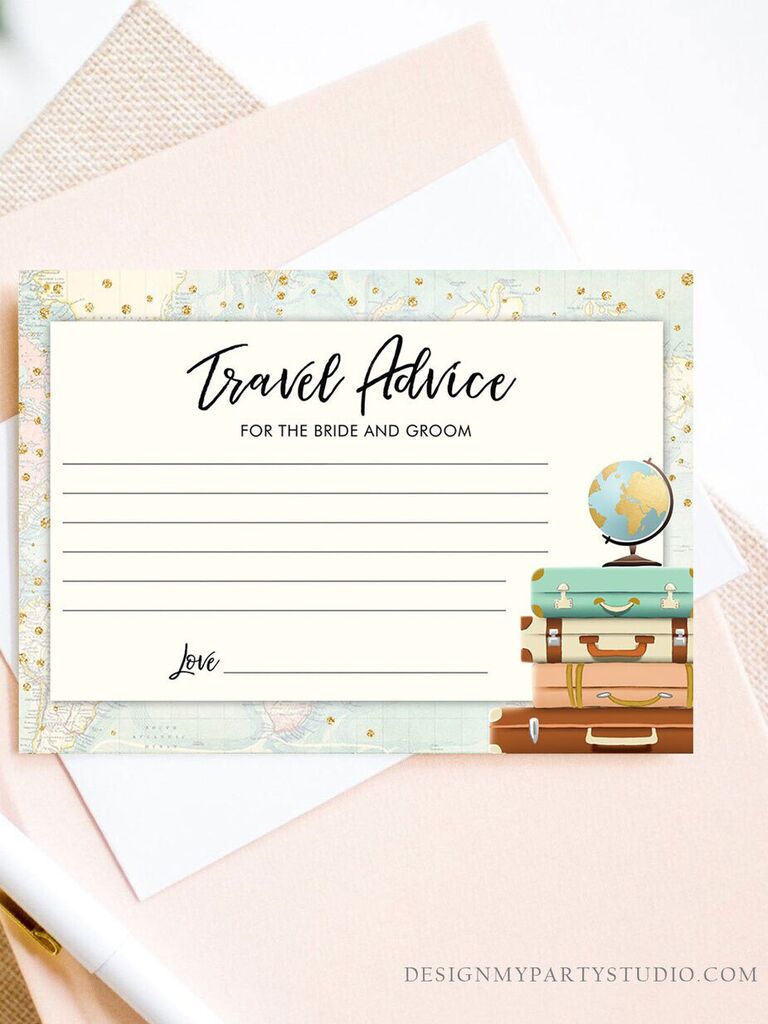 Put a fresh, travel-themed spin on a bridal shower tradition with these travel advice cards. Friends and family members can share their best tips for the couple and sign their names. Not only will the pair come away with plenty of useful advice, but the cards also serve as memorable keepsakes from loved ones.