12 Stately Libraries in the U.S. Where You Can Get Married
Posted on
By: Samantha Iacia- WeddingWire
We can think of so many reasons to consider getting married at a library wedding venue, even if you aren't a bibliophile. For starters, some of the country's oldest libraries are housed in gorgeous historical buildings, which is a huge bonus if you appreciate late 19th- or 20th-century architecture. On top of that, libraries are inherently romantic—the narrow rows of bookshelves, quiet atmosphere, and ambient lighting all set the mood for a cozy yet sophisticated event. Library wedding venues also provide a perfect opportunity to get a little whimsical with your wedding decor, such as book-themed centerpieces, catalog card seating charts, or typewriter guest books. Need even more convincing? Check out these stunning library wedding venues that will impress you and your guests.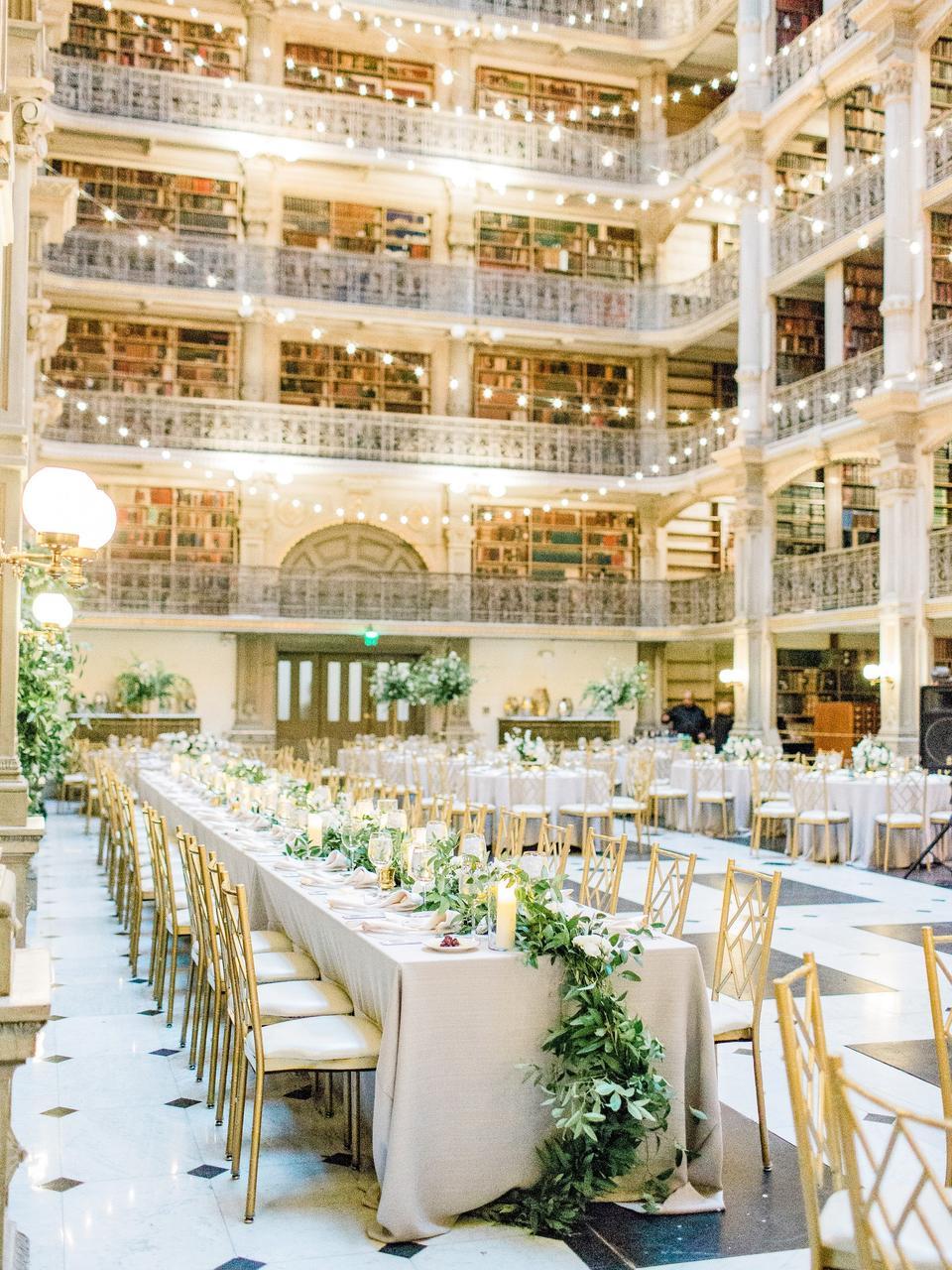 George Peabody Library
Baltimore, Maryland
Like something straight out of a fairy tale, the George Peabody Library in downtown Baltimore is one of the most magical wedding venues in the state, if not the country. This library wedding venue has six stories of wraparound balconies lined with rows of bookshelves, all leading to a frosted glass skylight that spans the length of the room. Strands of twinkle lights suspended above the dance floor add even more ambiance. A personal venue manager, tables, chairs, and on-site dressing suite are all included with your rental of the The George Peabody Library.
Learn more about the George Peabody Library »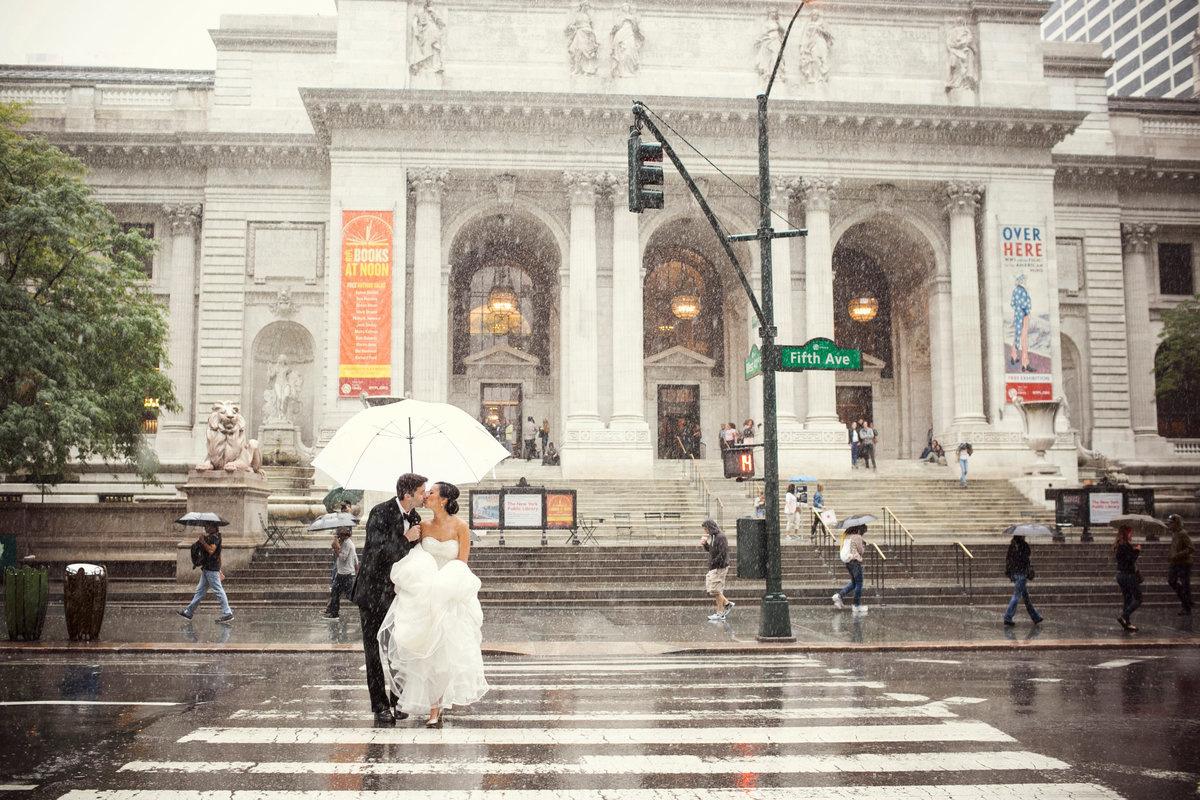 The New York Public Library
New York, New York
How does the idea of getting married at a New York City landmark sound? Whether you're a lifelong New Yorker or you're looking to plan a totally memorable destination wedding in the Big Apple, the New York Public Library on Fifth Avenue (also known as the Stephen A. Schwarzman Building) is another impressive library wedding venue. This iconic library has been the setting for countless weddings, red carpet events, and movie scenes—Holly Golightly spent time in the Rose Main Reading Room at NYPL in Breakfast at Tiffany's, and the library was the setting for Carrie Bradshaw and Mr. Big's wedding in Sex and the City: The Movie. The library backs up to Bryant Park, which is a gorgeous spot for wedding photos.
Learn more about the New York Public Library »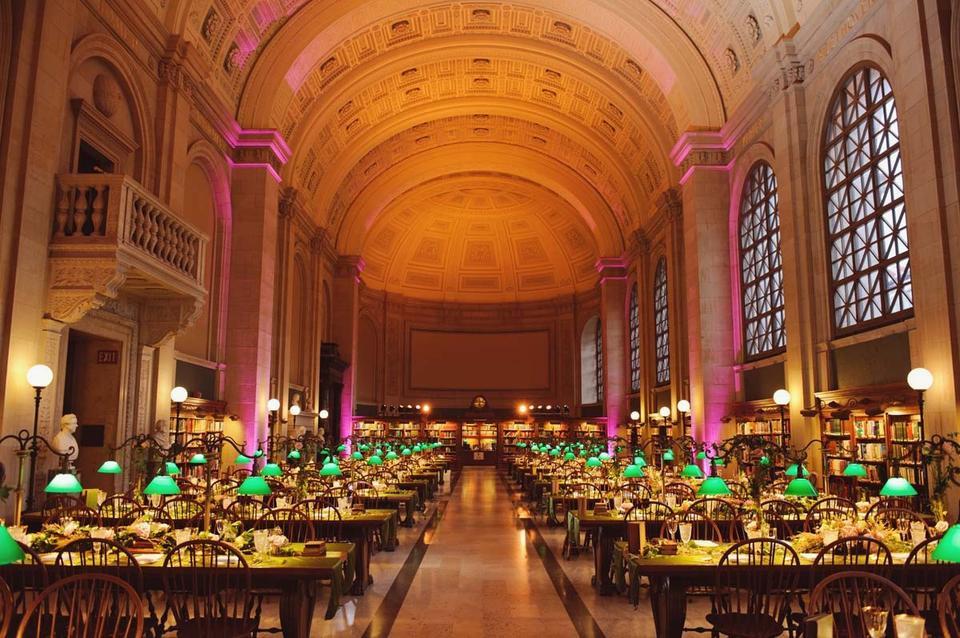 The Boston Public Library
Boston, Massachusetts
Beantown is full of history at every turn, but the Boston Public Library is one of the best wedding venues in town for couples planning a quintessential Boston celebration. This grand event space has eight different settings to choose from for your wedding ceremony and reception, including McKim Bates Hall (pictured above), the adjacent McKim Courtyard, and a breathtaking lobby with chandeliers, arched windows, and marble stairs. The library's in-house event partner, The Catered Affair, handles catering, bar service, and basic day-of coordination to make your big day run as smoothly as possible.
Learn more about the Boston Public Library »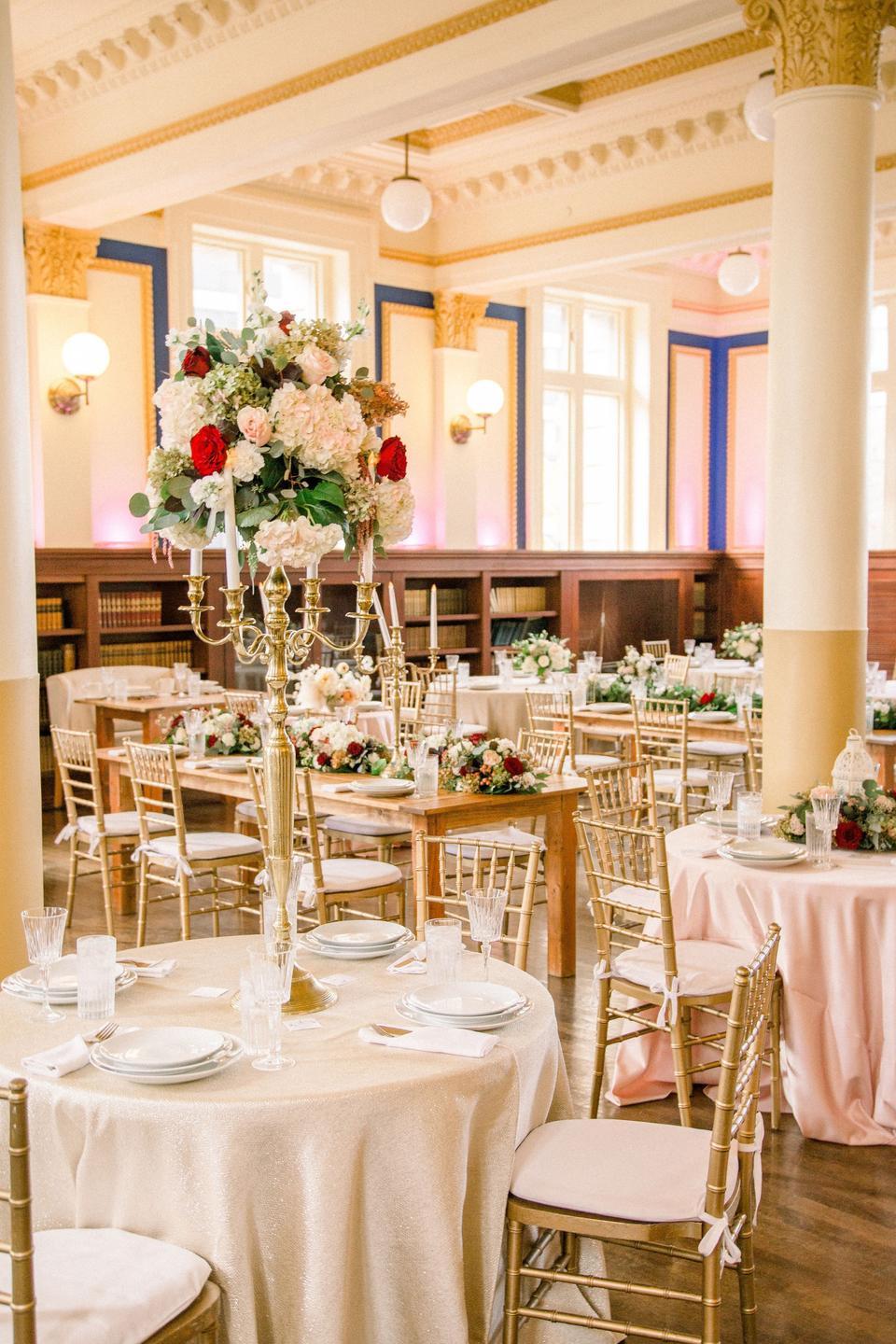 Providence Public Library
Providence, Rhode Island
If you're planning to get married in Rhode Island, consider this impressive library wedding venue in downtown Providence. Built in 1878, the Providence Public Library is full of historical details and turn-of-the century charm, including coffered ceilings, marble floors, dramatic staircases, floor-to-ceiling windows, and built-in bookshelves. Along with its three distinct event spaces, Providence Public Library provides an in-house wedding planner, catering team, cleaning services, and basic event rental items, such as tables, chairs, linens, and flatware.
Learn more about the Providence Public Library »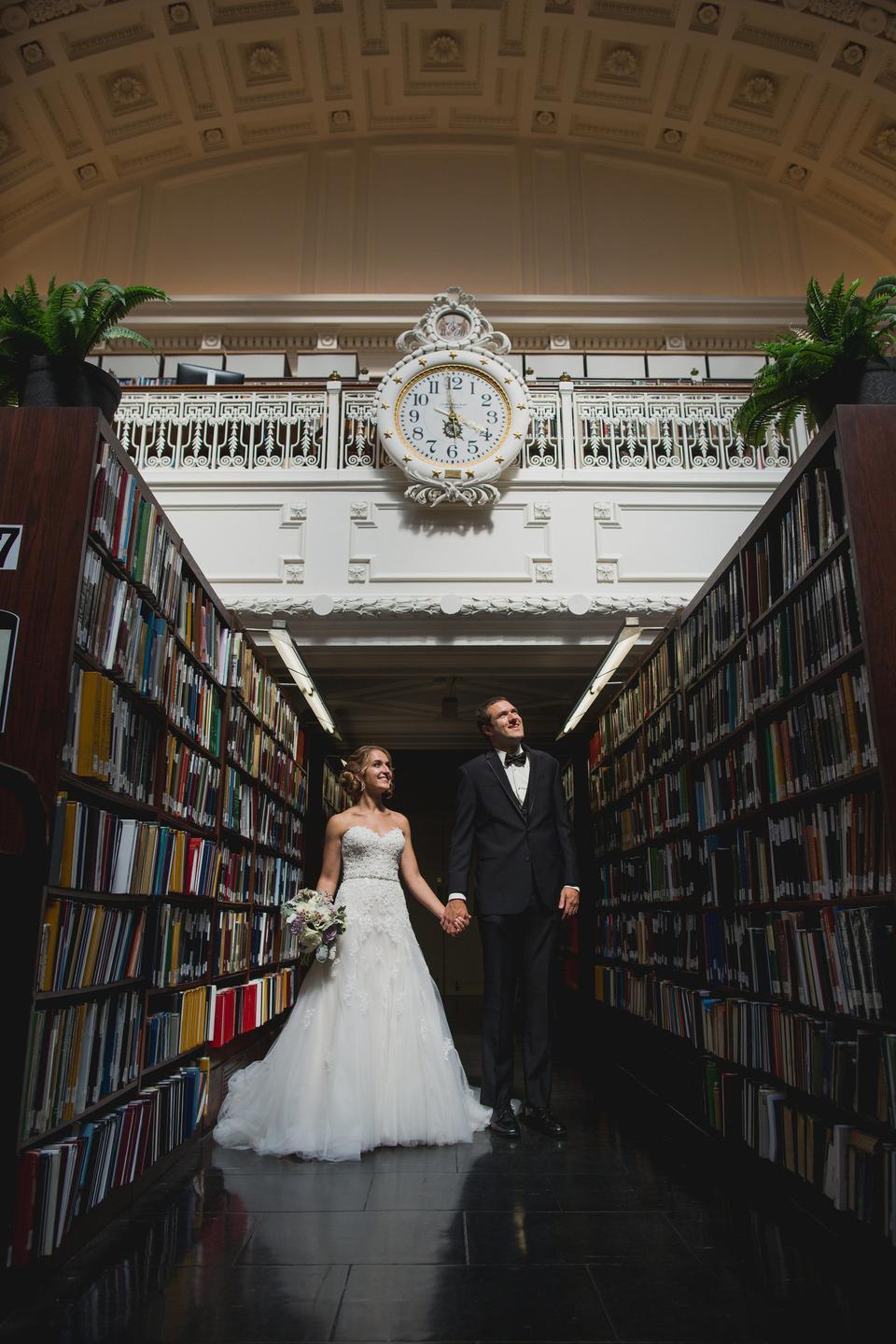 Daughters of the American Revolution Memorial Continental Hall
Washington, DC
Located just across the street from The Ellipse, DAR Memorial Continental Hall is one of the most impressive wedding venues for anyone getting married in the District. The historic venue, which houses the DAR national headquarters, DAR Constitution Hall, and DAR Library, was built in 1905 and is registered as a national historic landmark. The library features high ceilings, beautiful glass skylights, a wraparound interior balcony, and dramatic dark floors.
Learn more about Daughters of the American Revolution Memorial Continental Hall »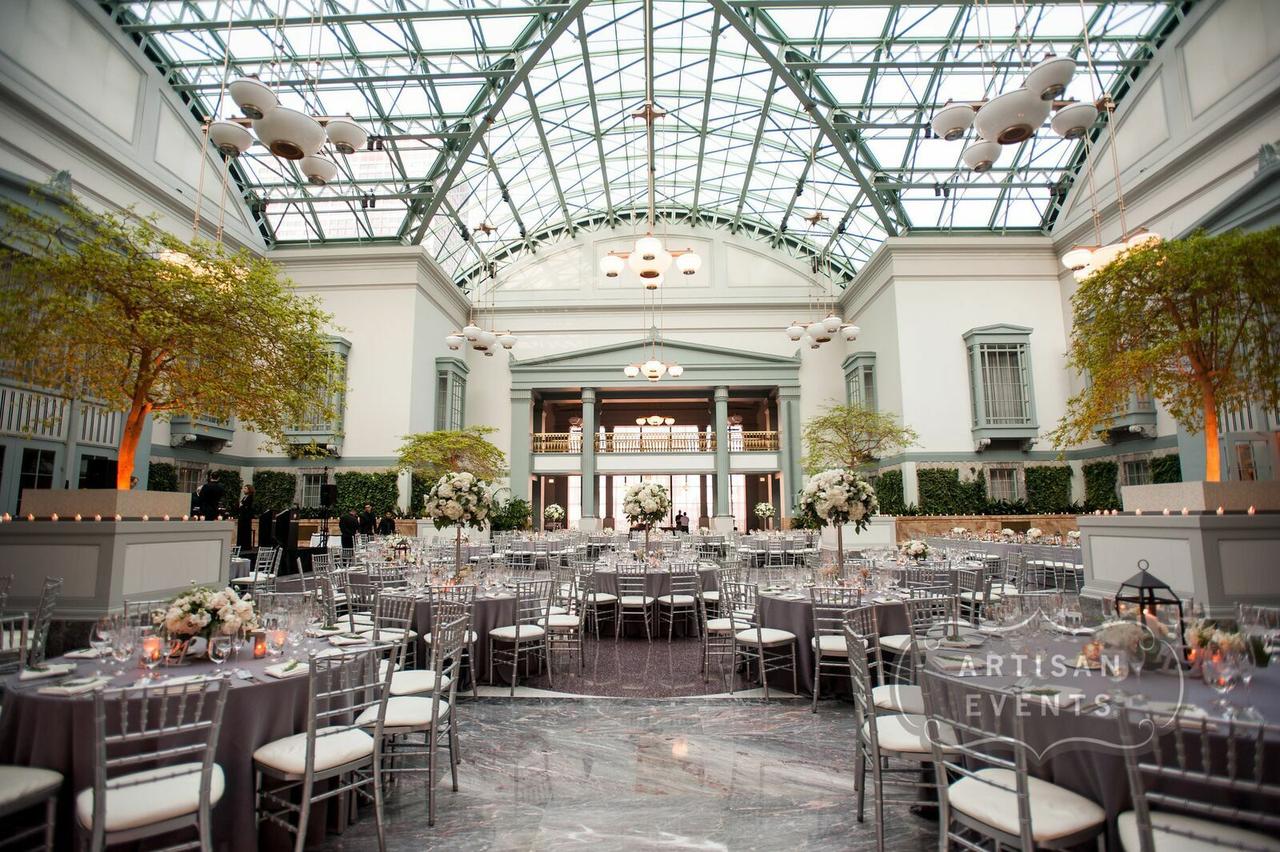 Chicago Public Library—Harold Washington Library Center
Chicago, Illinois
The Chicago Public Library seamlessly blends historic charm and modern style into one event venue, just a few blocks from Buckingham Fountain, the Willis Tower, and Grant Park. The Winter Garden room, the main event space at the Harold Washington Library Center, is a sun-filled atrium located on the ninth floor of the building. This gorgeous room features terrazzo floors, potted plants and greenery, and a glass domed ceiling for year-round sunlight. Other spaces at this library wedding venue include the airy South Hall with floor-to-ceiling windows, an auditorium, and a spacious lobby that would be ideal for cocktail hour or an informal wedding reception.
Learn more about Chicago Public Library—Harold Washington Library Center »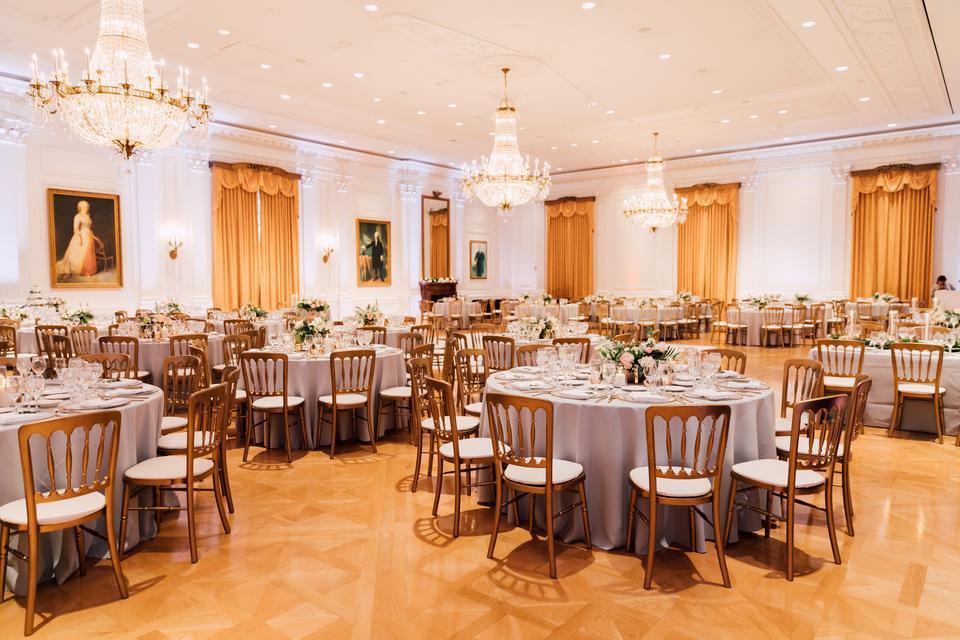 The Richard Nixon Library
Yorba Linda, California
If you want room to spread out on the wedding day, this gorgeous estate and library spans more than nine acres of land in Southern California. Located less than 40 miles from Los Angeles, The Richard Nixon Library is the perfect escape from the city, offering both indoor and outdoor backdrops amongst a serene, private setting. While this venue doesn't have a traditional library with rows of bookcases and catalogs, the stately event spaces will still appeal to history buffs and book lovers alike. The White House East Room (an authentic replica of the real one in Washington, D.C.) is one of the venue's most popular spots for a wedding reception, along with the Pat Nixon Gardens. In-house catering, event rentals, and basic wedding coordination are all available through the venue.
Learn more about the Richard Nixon Library »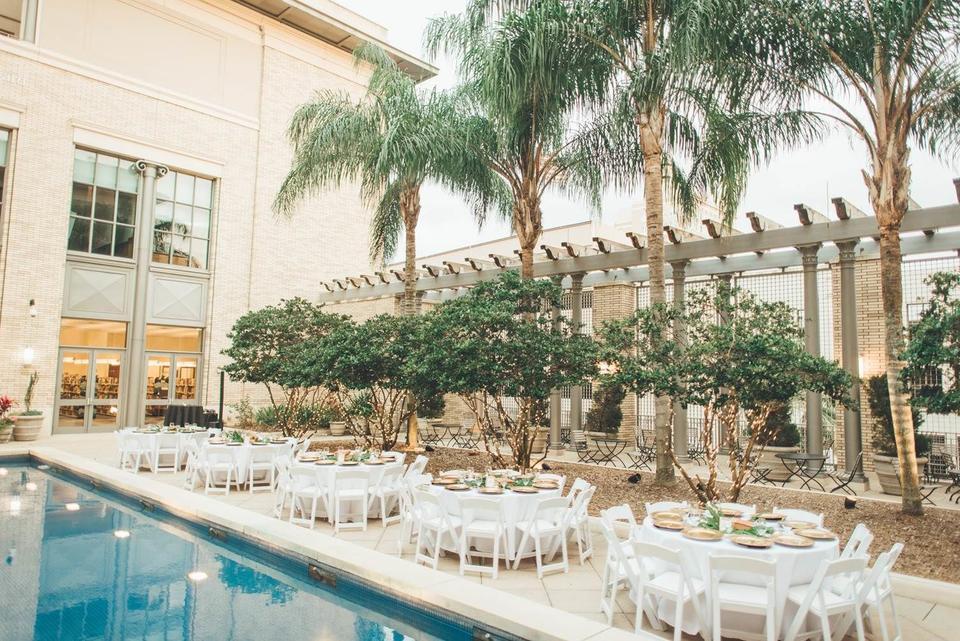 Jacksonville Public Library
Jacksonville, Florida
Located in the heart of downtown Jacksonville, this library wedding venue is like an oasis for your special day. The expansive venue has more than 20,000 square feet of banquet halls, meeting rooms, and gardens, giving you plenty of space to design the perfect day. Two atriums at the venue are among the most popular event spaces for weddings, along with the Betsy Lovett Courtyard (pictured here) that looks gorgeous for an outdoor ceremony or reception. The Jackson Public Library can host up to 300 guests, but if you have a smaller group, the venue's cocktail area and indoor lounge are ideal for a low-key celebration.
Learn more about the Jacksonville Public Library »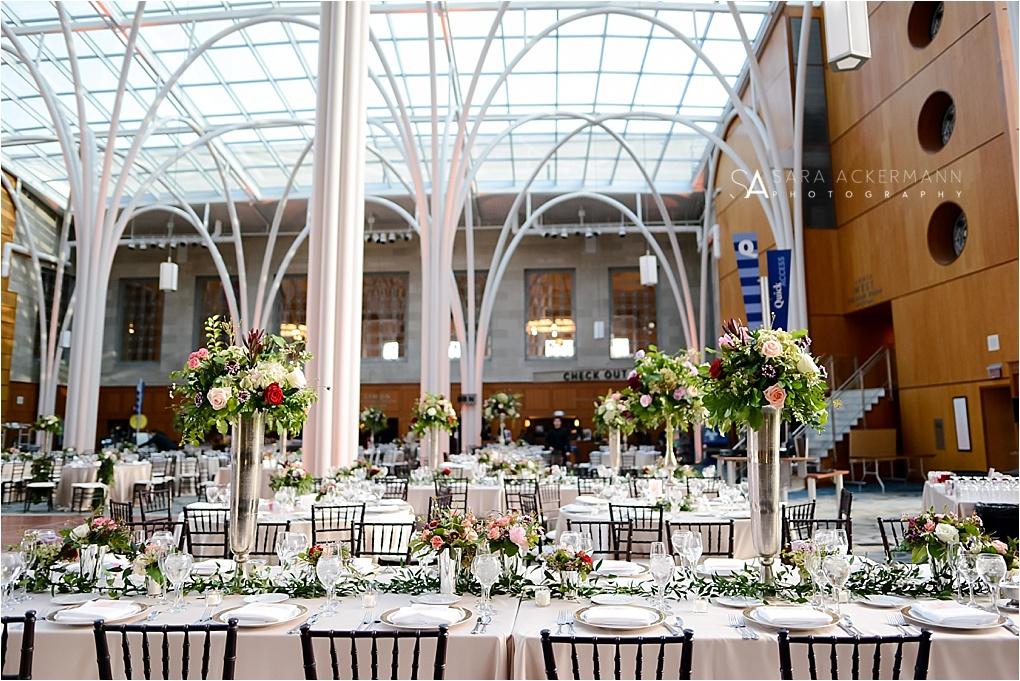 Indianapolis Marion County & Public Library
Indianapolis, Indiana
With eight different wedding spaces, the Indianapolis Public Library (also known as Central Library), has something to choose from no matter the size of your guest list. This unique library wedding venue blends contemporary and historical design—the original 1917 exterior features grand columns lining the entrance, while a modern glass-window atrium is the main reception space at the venue. To streamline your wedding planning process, catering and beverage services are provided in-house by Ritz Charles, crossing off two wedding vendors at once from your to-do list.
Learn more about Indianapolis Marion County & Public Library »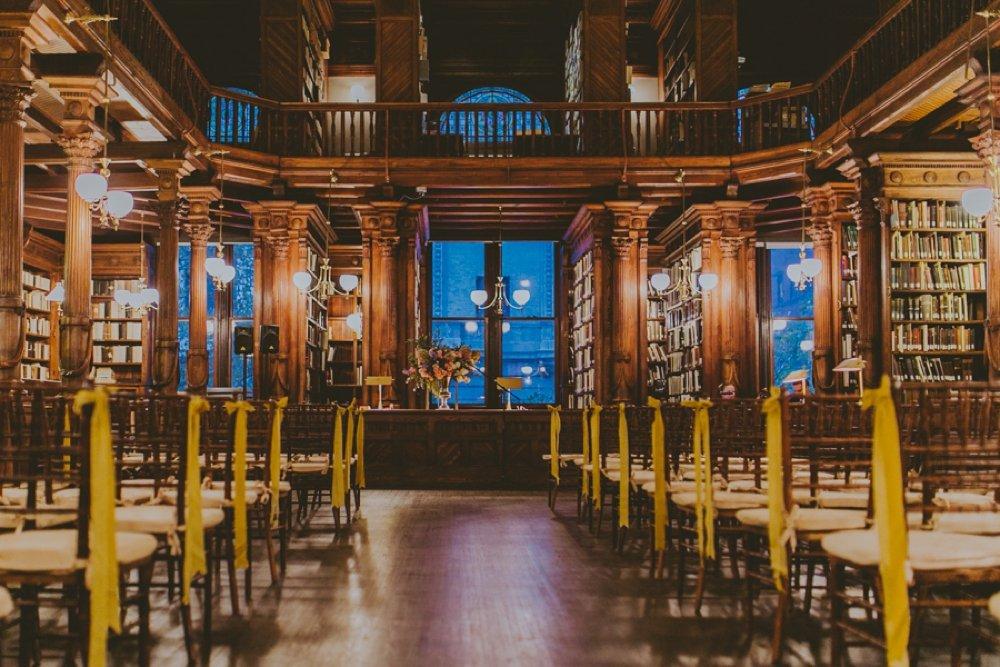 Brooklyn Historical Society
Brooklyn, New York
Hogwarts Castle or New York City? You decide. This stunning library wedding venue, which dates back to 1863, is a must-see if you're getting married in Brooklyn. Featuring dark wood paneled walls, built-in bookcases, and stained glass windows, the Brooklyn Historical Society is an undeniably cozy space for your wedding day—and the existing architectural details mean you won't have to worry about going overboard with other decor.
Learn more about the Brooklyn Historical Society »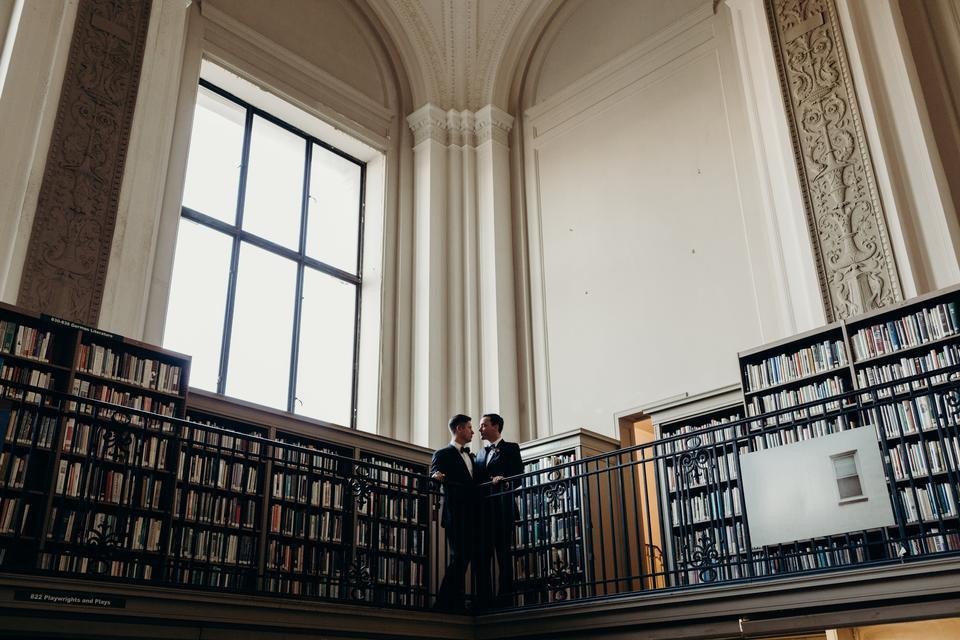 Free Library on the Parkway
Philadelphia, Pennsylvania
Looking for one of the best skyline views in Philly? Don't miss the Free Library on the Parkway. This historic library has a handful of indoor and outdoor spaces for your big day, including a rooftop terrace where you and your guests can get a prime view of the city. Inside, the Beaux Arts building offers plenty of grandeur, thanks to the marble staircases, arched windows, inlay tile floors, and stone columns throughout the venue. All-inclusive packages at this library wedding venue include catering by Brulee Catering, plus event rentals, day-of setup and assistance, and more.
Learn more about Free Library on the Parkway »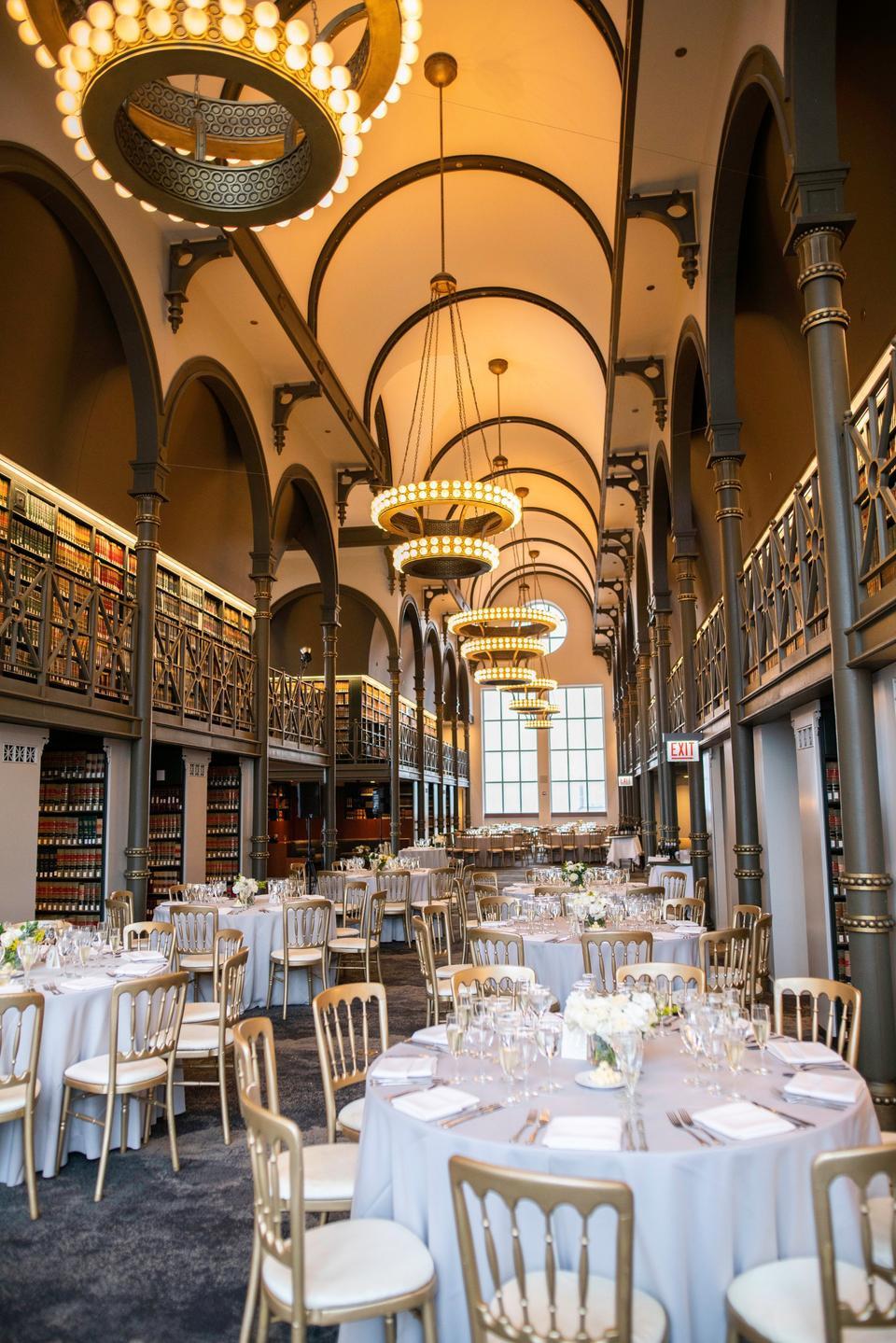 The Library at 190 South LaSalle
Chicago, Illinois
Sitting 40 stories above Chicago's Financial District, The Library at 190 South LaSalle is a hidden gem in the Windy City. The library itself is a two-story private event space featuring book-lined walls, arched balconies, dark wood railings, and other ornate trimmings. Large windows in the room offer unbeatable views of Lake Michigan and the statue of Ceres atop the nearby Chicago Board of Trade building.
Learn more about the Library at 190 South LaSalle »