11 Tips For Planning a Destination Wedding Fit for an Influencer
Posted on
By: Hannah Nowack -TheKnot
Here's a look at how The Knot plans a destination wedding for influencers.
Itching to travel and considering planning a destination wedding for your big day? According to The Knot 2022 Real Wedding Study, 18% of couples hosted destination weddings last year. It's not hard to see why nearly one in five couples gravitates toward destination wedding ideas—this style of nuptials gives you the chance to experience a unique locale and curate an intimate, vacation-like getaway for the loved ones you've included on your guest list.
READ MORE
The Top Destination Wedding Locations of All Time
The Knot recently invited some of our favorite engaged influencers down to Antigua, Guatemala, for a week packed with destination wedding inspiration and a crash course in all things wedding planning. Along with some of our favorite wedding pros, The Knot gave this group of content creators and social media mavens an inside look at what it takes to plan a wedding. And now we're here to dive into all the tips and tricks you need to know to make a far-flung celebration, like a dream destination wedding in Guatemala, a reality. With insights from expert destination wedding planner Aimee Monihan (who was the mastermind behind the celebration in Guatemala!) as well as WeddingPro educators Jason Rhee, Terrica and Andrea Eppolito, we're taking a look at what to consider when planning a destination wedding, with 11 destination wedding planning tips you need to know. Plus, influencers from the trip open up about what they learned about planning a destination wedding and what takeaways they hope to infuse in their own nuptials.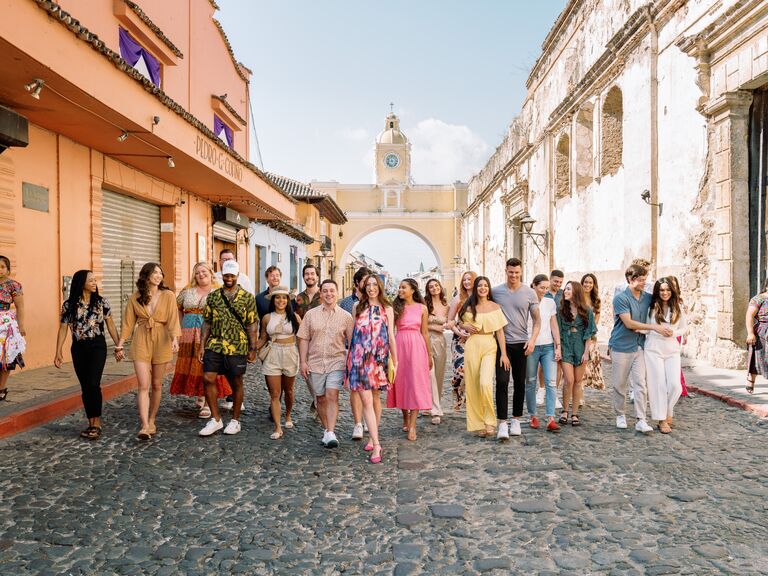 1. Celebrate Local Culture
Whether you're traveling to another country or region entirely, from Mexico to the islands of the Caribbean, or just visiting a new part of the United States, like Hawaii or Colorado, a destination wedding is a chance to absorb and appreciate the culture of the locale you've selected for your special day.
Monihan encourages engaged couples to "celebrate your chosen location in cultural traditions. Food, drinks, design, language, music—you chose this location for a reason, so celebrate it and show your guests why you chose it!" And in order to ensure you successfully, and respectfully, celebrate local culture, Monihan emphasizes the importance of hiring experienced pros for the task. "If you hire a person who does not have the experience or know-how, language capabilities and understanding of the culture you have chosen, it can be detrimental to the outcome of your wedding. Culturally, someone with less experience may insult locals and hinder the teamwork needed to pull off a destination event."
Terrica concurs, adding that "the key is celebration, not appropriation. Become immersive by allowing the culture to be a focal point and not a prop. Highlight traditions, history and artisans throughout the elements and experiences of your wedding."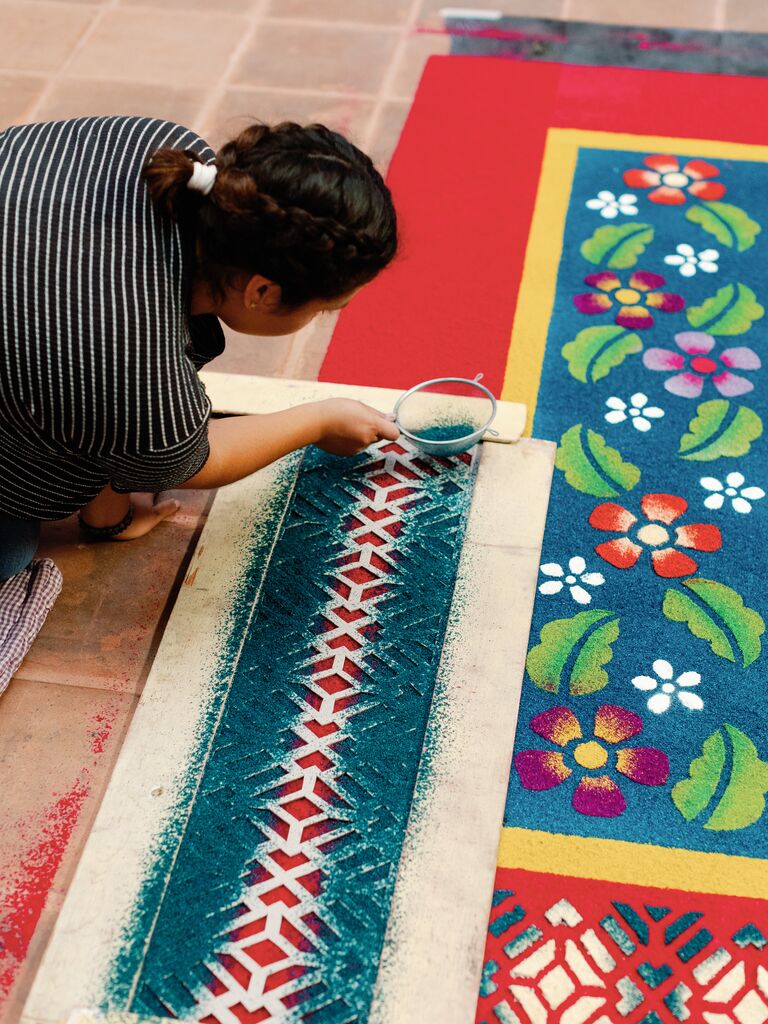 For example, Guatemala is known for its intricate sawdust carpets and impressive folkloric dancers. As a way of connecting to the local culture of this destination wedding location, The Knot included both elements in the agenda during the trip to Antigua. The cultural immersion of the trip didn't stop there, however. Eppolito notes that she especially enjoyed being given the chance to tour some of the area's historic architecture. "Touring the ruins was a once in a lifetime opportunity, as was the trip to Finca La Azotea. These tours showcased local sites and allowed us to interact in ways that we typically would not have the opportunity to at a resort or hotel."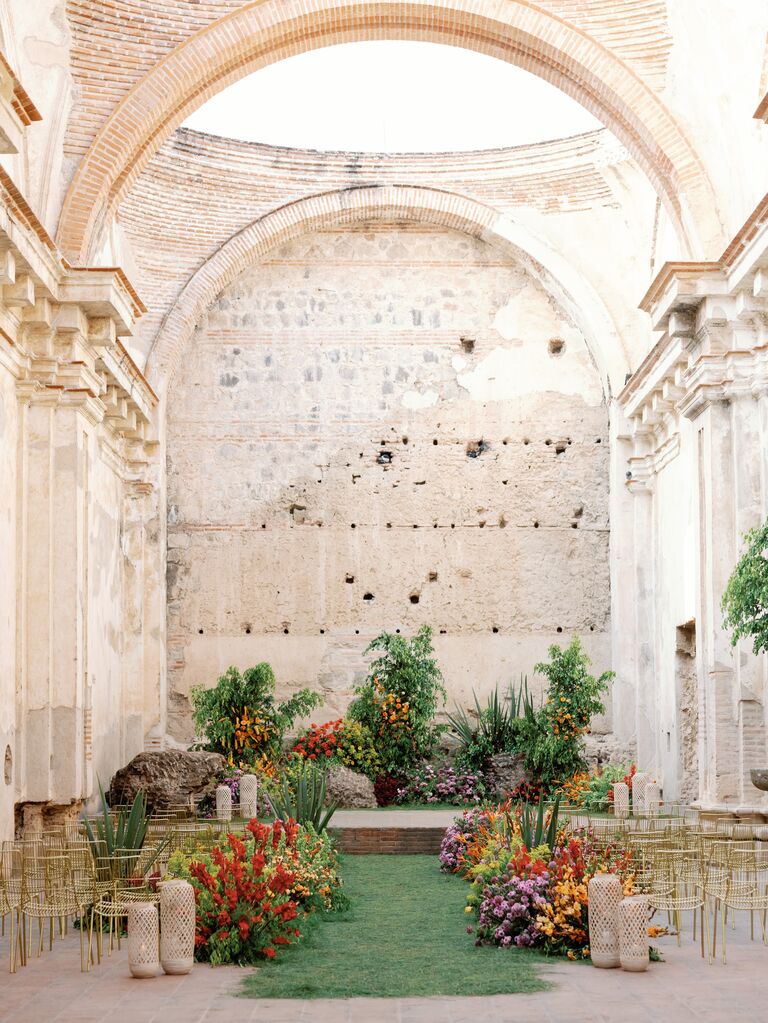 Monihan explains that the inclusion of authentic cultural moments was a very intentional decision for her as she was planning the entire trip. "Even for details like utilizing local textiles and ceramics for decor, we tried to incorporate Guatemala into every event as much as possible." Monihan goes on to explain that entertainment and catering are two areas, in particular, where couples can beautifully highlight local culture.
She encourages to-be-weds to "have local culture present in entertainment from cultural music to folkloric culture with dancers. Additionally, I cannot emphasize enough that celebrating local cuisine must be done. Showcase the food and beverage an area is known for—this should always be part of the plans. It is also the most sustainable, fresh and cost-effective way to go as well."
In addition to finding ways to enjoy and absorb local culture, Eppolito stresses the importance of also giving back to the locale you're visiting. "Always seek to give back to the community that is hosting you. Consider buying thank you gifts from local artisans or volunteering." For the influencer trip to Guatemala, Monihan and her team did just that by creating a mercado set up as a cultural immersion for guests, in lieu of traditional welcome gifts. At the mercado, the content creators got to visit various booths and select their favorite gifts, so they could bring a little bit of Guatemala back home with them.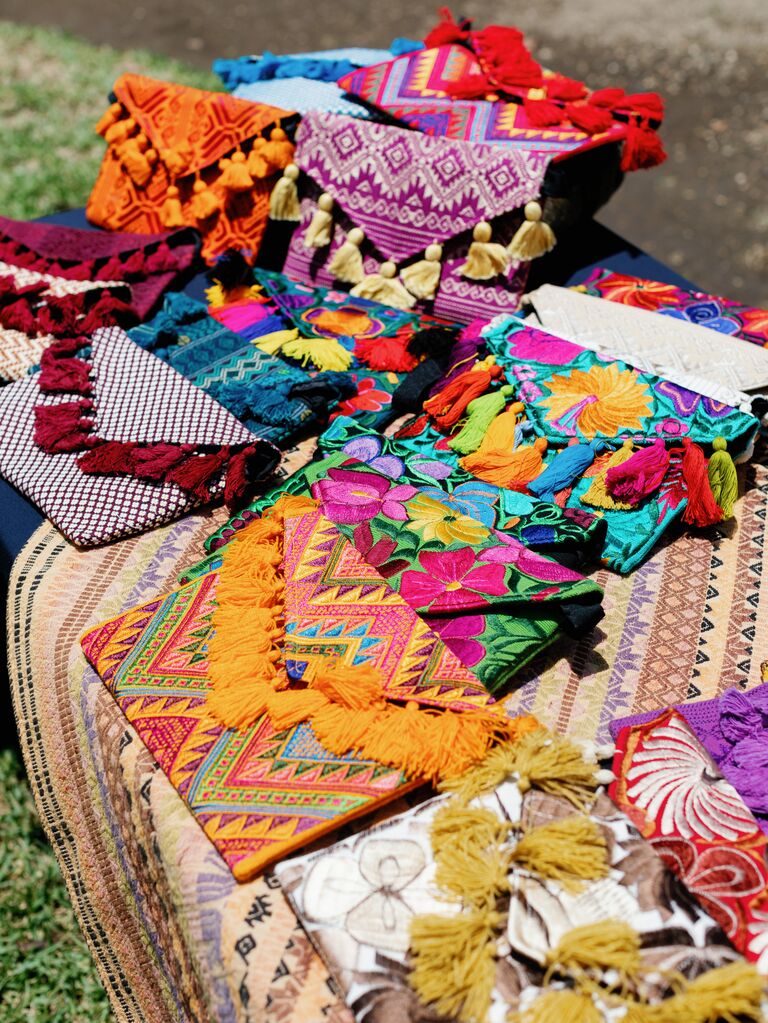 Your guests will notice and appreciate the steps you took to incorporate and honor local culture. Looking back on the trip, Asia Sullivan notes that getting to experience the local culture was a particular highlight for her. "It's hard to pick a favorite part of this incredible trip! Villa Bokeh was stunning and the service was unmatched, the cultural immersion experiences were a blast, and the Guatemalan cuisine was to die for!" Erika Brito shares similar sentiments, noting that "it's so hard to narrow down a favorite moment to just one thing because everything was incredible—but I'd have to say experiencing the culture in Guatemala. Every breakfast, lunch, dinner, and activity had a Guatemala-inspired touch."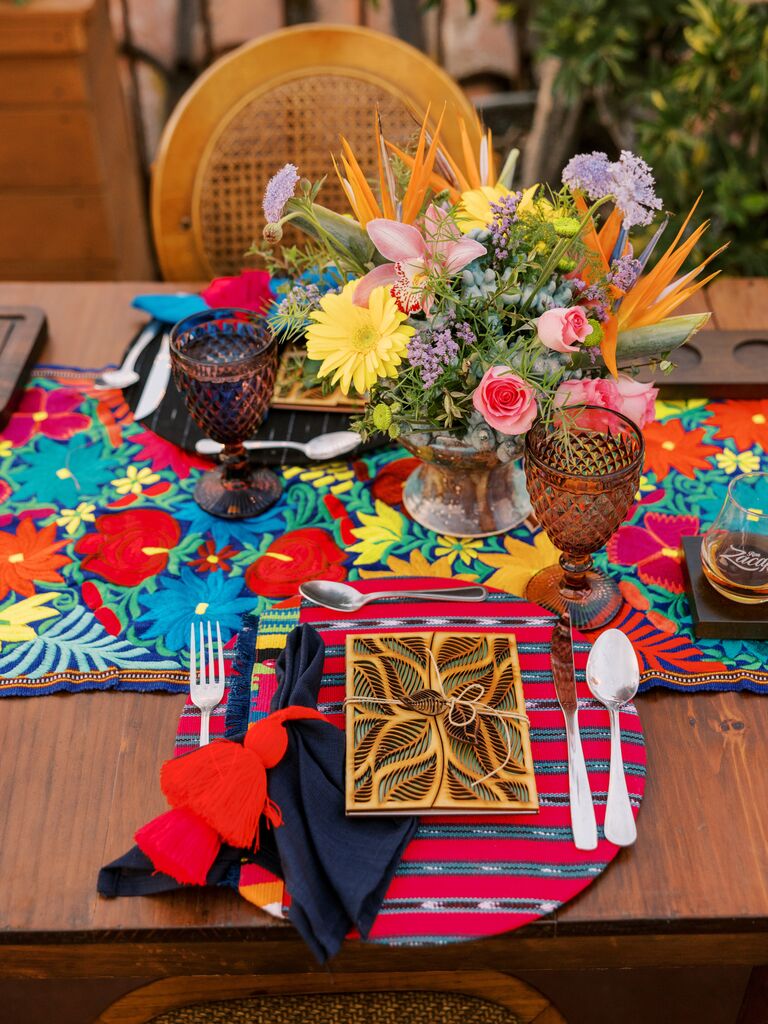 2. Be Thorough With Communications
Communication is key to the success of any wedding, but it is especially paramount when it comes to destination weddings. To-be-weds have two major avenues for communication at their fingertips: wedding stationery and wedding websites.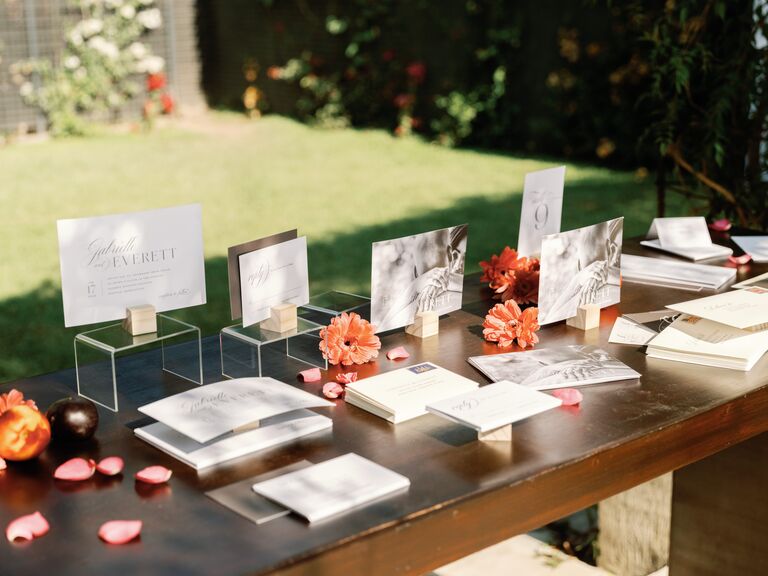 As for what to actually communicate through your stationery and wedding website? While the wedding invitation suite may have more limited information, it's crucial that it directs people to your wedding website where you can have more details laid out.
When it comes to what to include on your wedding website, any and everything that wedding guests will need to know in terms of schedule for the wedding weekend, travel logistics and destination wedding etiquette is a must. Monihan advises that a wedding website should have "all required travel help such as passport requirements, transport info, airport codes, how to book hotel rooms to be included in your room block. Information about the destination and all the events. Creating this will free up your time later from having to help and answer multiple guests later into your planning phase." Additionally, you can also include RSVP information and a link to your wedding registry on your website.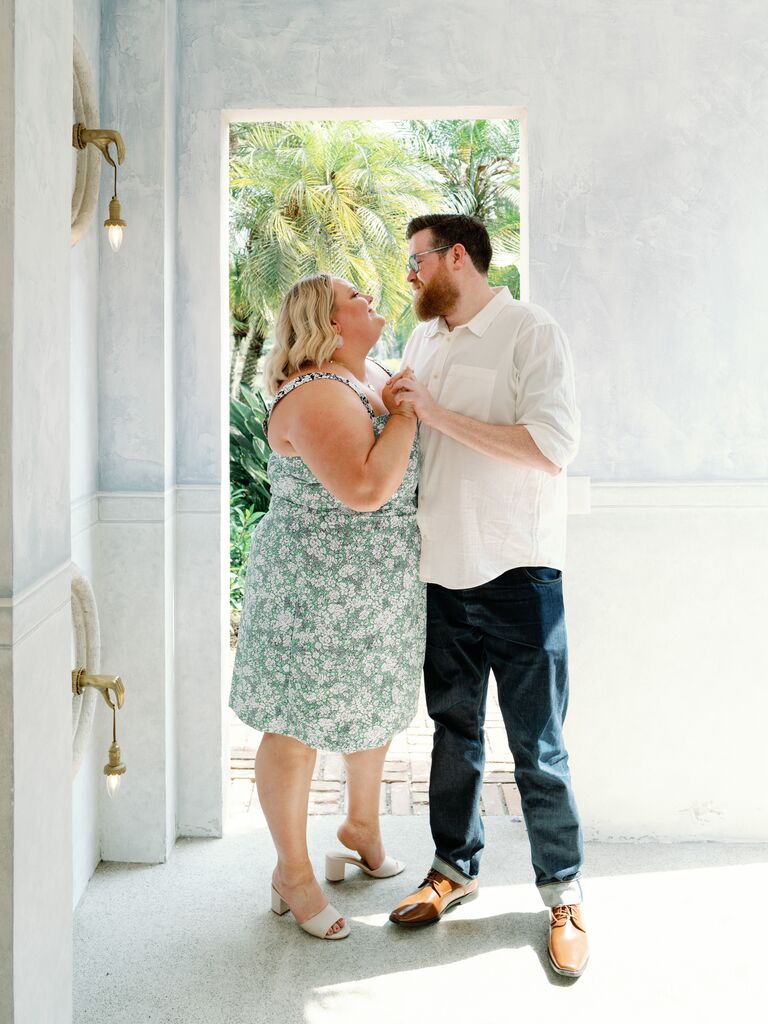 3. Select Wedding Looks You Love
A lot of elements go into curating wedding attire—seasonality, style, price among them. However, ensuring you absolutely adore the looks you've selected supersedes all those decision factors. To do just that, The Knot partnered with Men's Wearhouse to outfit the influencer crew in Guatemala in chic, of-the-moment wedding looks. They provided a variety of styles for attendees to choose from so they could settle on ensembles that fit their personal aesthetic seamlessly.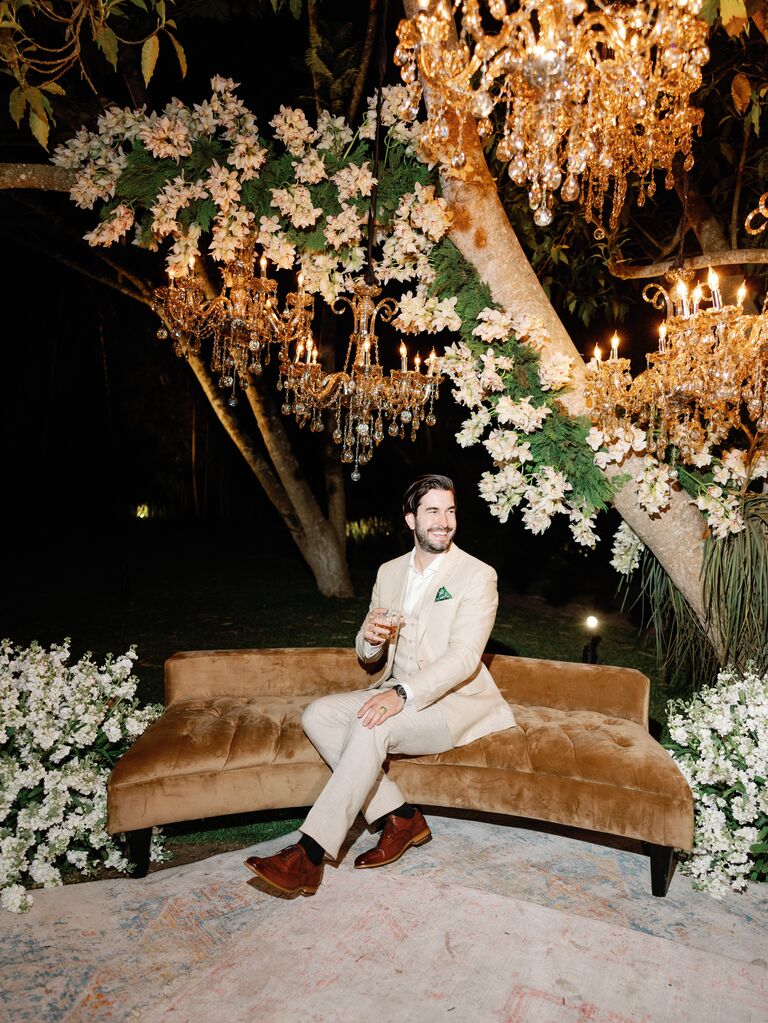 Of course, once you've honed in on styles you love, there are still some key logistics that should be kept in mind. "Take into account temperature and humidity," advises Men's Wearhouse. "If you're in a hot, humid location you'll want natural and breathable fabrics, like linen and cotton. For the groom, don't forget to pack a duplicate dress shirt in case sweat happens before pictures." The team at Men's Wearhouse goes on to encourage to-be-weds to "feel free to experiment with respect to the setting. If you're hosting a casual beach wedding, consider a printed shirt, or perhaps a more playful tie. While a formal tuxedo will work in any environment, a more tropical locale can allow for some ease of tradition."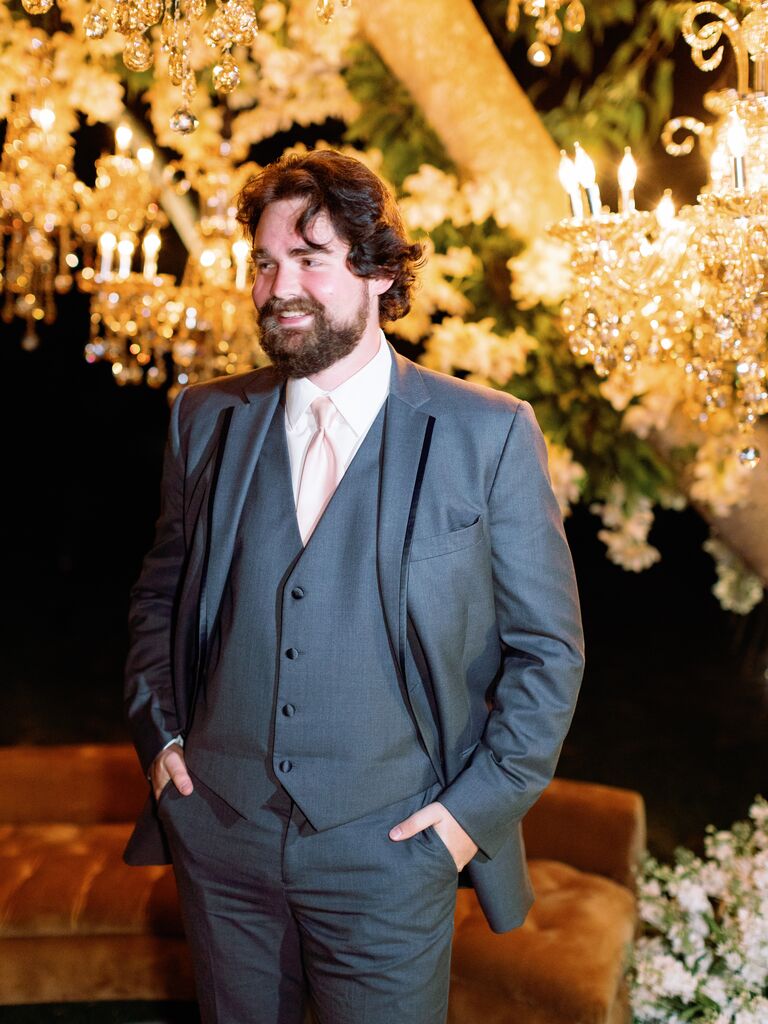 4. Pack Thoughtfully
While selecting what you're going to wear is half the battle, traveling to a destination wedding means you'll also need to consider how to get your attire (like a big ball gown or expensive tux), plus other miscellaneous materials, to the wedding venue you've chosen.
For packing attire such as wedding dresses and tuxedos to bring to your destination wedding, Men's Wearhouse encourages couples to "carry on a garment bag with your ceremony attire. This way you don't risk the airlines losing it, and it arrives with fewer wrinkles! A travel steamer will come in very handy to work out any last-minute wrinkles as well. Additionally, don't fold your suit or tux multiple times as it will lose its structure and, of course, create deep creases."
The brand goes on to advise to-be-weds to "do a little research ahead of time to find a dry cleaner or tailor near to where you are staying and have your ceremony attire steamed or pressed the day before your wedding. Do put your shoes in shoe bags to avoid unnecessary scuffs or dings while traveling. Place cufflinks or keepsake accessories in a small and safe compartment."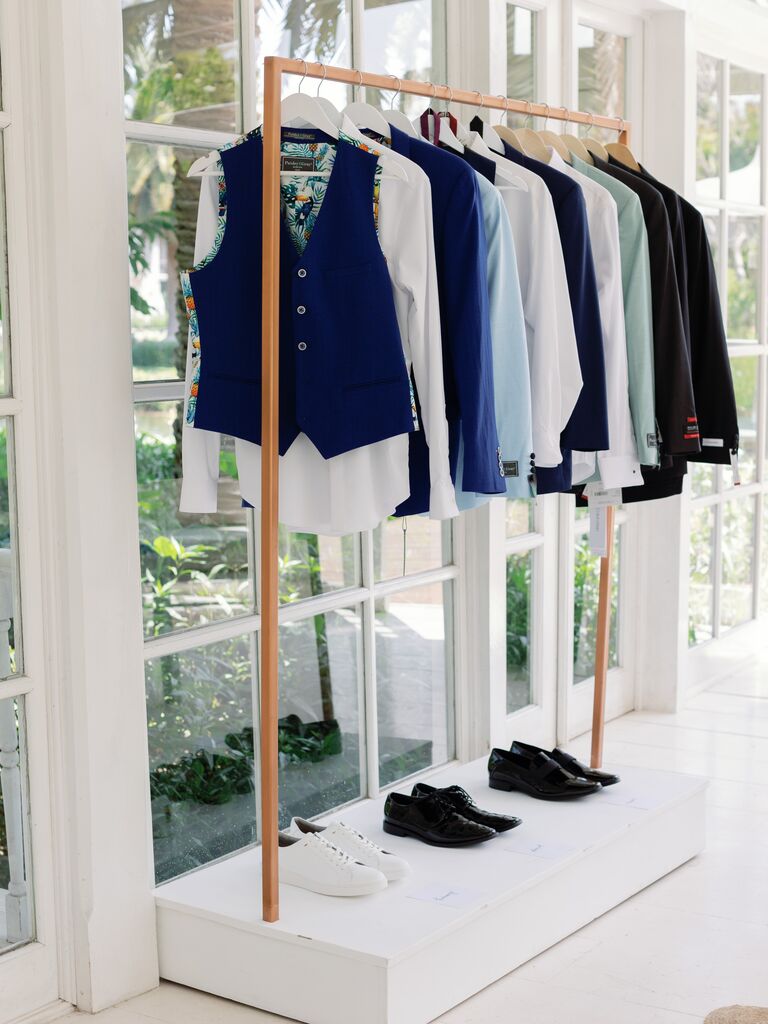 The Knot Expert Tip: Destination wedding expert Aimee Monihan advises to-be-weds to "stay hydrated on the day of the wedding. Also, start your wedding day as you envision your perfect day. Work out, practice yoga, meditate, have a big breakfast. Don't feel forced to revolve around anyone—make the day the way you want it to be."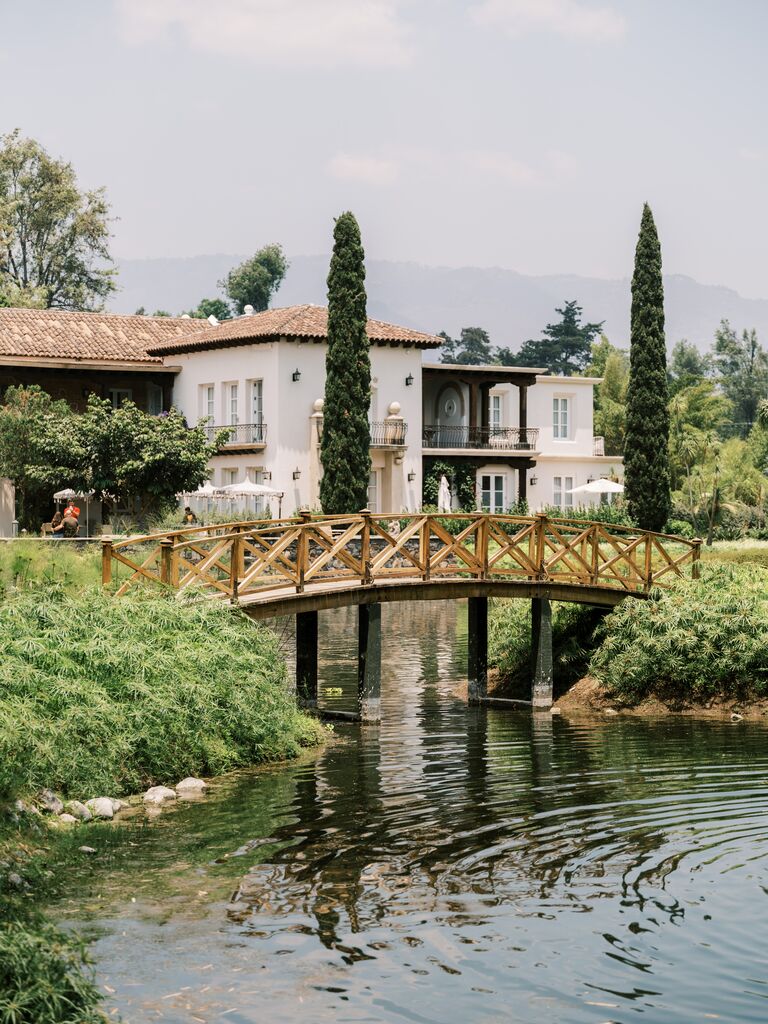 5. Make a Weekend Out of It
Don't limit your dream wedding to just a single wedding day. Instead, invite wedding guests to include multiple events, starting with a welcome party and rehearsal dinner and ending with a day-after brunch. When you expand the celebration beyond the wedding ceremony and wedding reception, you give yourself some breathing room to spend more than five hours of meaningful time with guests so you can create memories that truly last a lifetime.
However, Monihan notes that balance is key as you also don't want to overschedule the weekend and leave guests feeling exhausted. "Don't over plan the days. Remember that this is as well a vacation for your guests. Allow them to relax and be a tourist as much as they are a wedding guest. It will free up relaxing time for you as well." Consider making sure wedding guests have ample downtime in addition to access to rejuvenating activities, such as a spin class or morning yoga.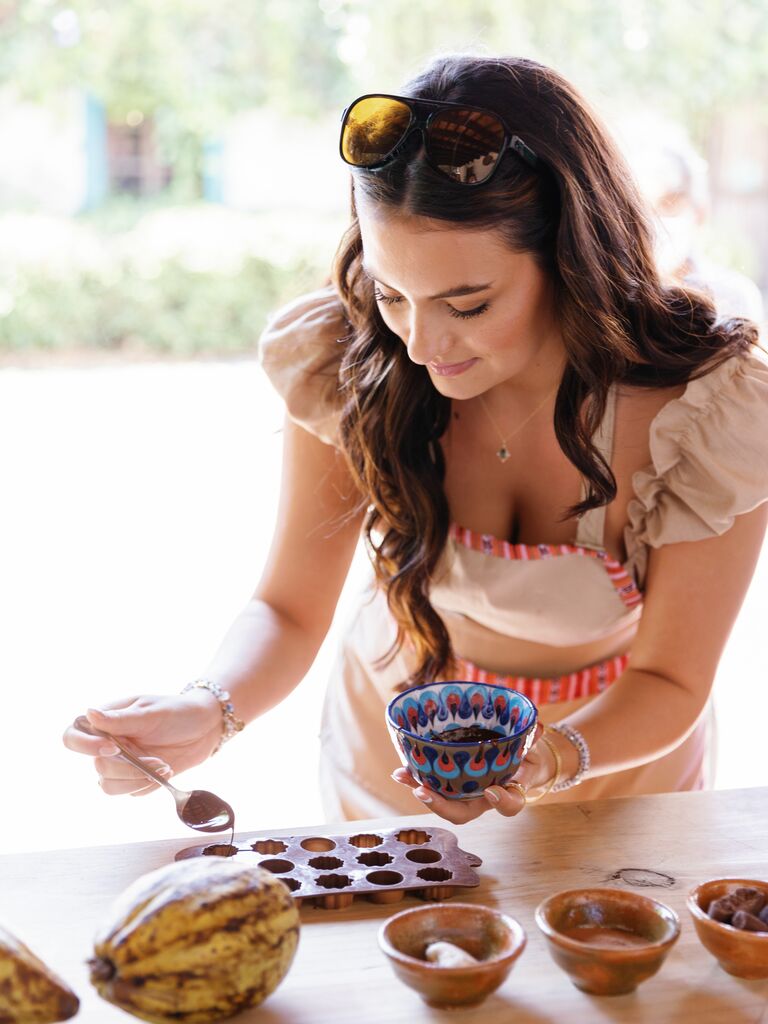 While in Guatemala, the crew of influencers enjoyed a spin class to refresh and rejuvenate. Additionally, they partook in various workshops and activities, like a chocolate workshop, textiles workshop and a coffee tour. If you're struggling to decide what kinds of activities to include in your own wedding weekend, take stock of the hobbies and interests you and your partner share, and build the itinerary from there.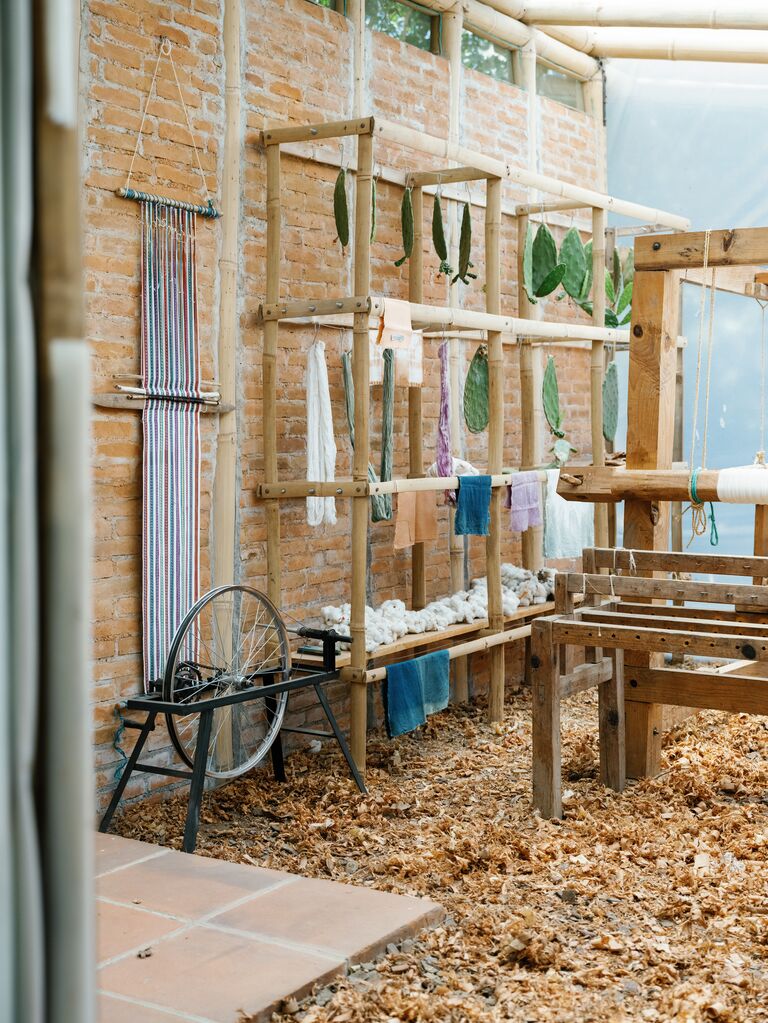 6. Elevate the Guest Experience
This should go for both traditional weddings close to home as well as couples in the throes of planning a destination wedding, but the guest experience should always be top-of-mind. Everyone from your family members to your wedding party and other friends has come to a unique destination to celebrate the love you and your partner share, so give back to them a little by making the entire experience truly memorable.
Work all your vendors, from your wedding venue to your caterer and florist to think through unique ways to surprise and delight wedding guests. Maybe that starts with welcome bags that wedding guests receive upon arrival.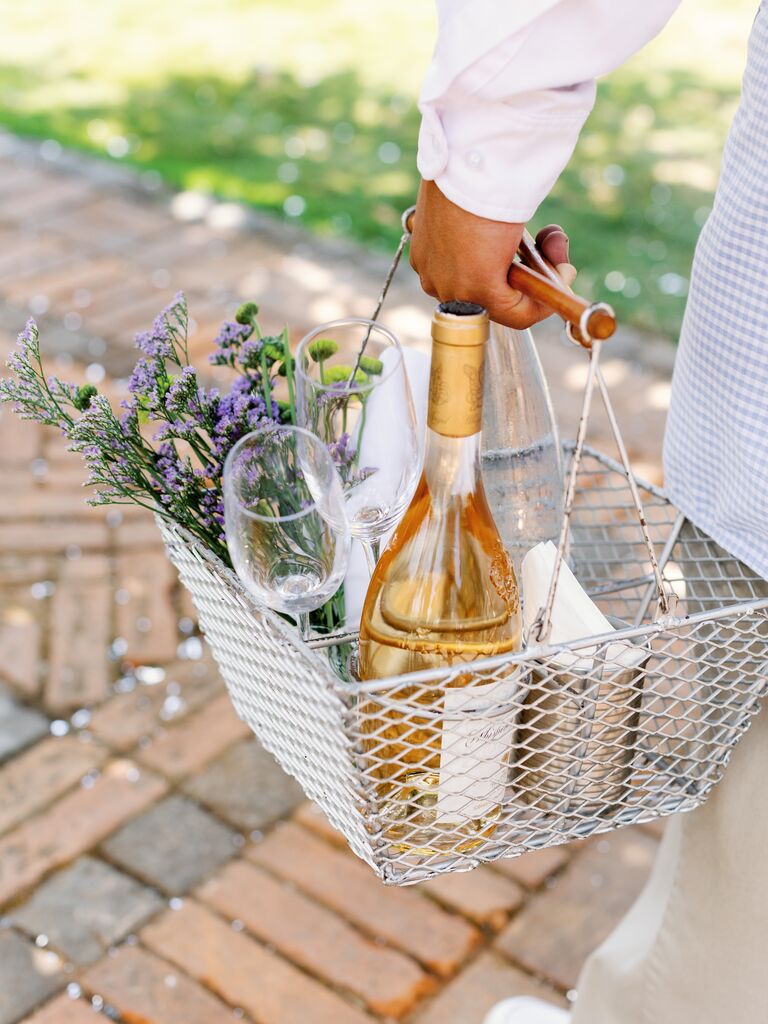 However, part of ensuring guests have a great time is also thinking through possible roadblocks your party could encounter along the way. For example, Monihan emphasizes the importance of researching "noise ordinances. Find out what laws there are around noise and location chosen before booking anything." After all, there would be nothing worse than having to shut down the party early because of a noise ordinance you didn't plan for. The wedding expert goes on to add that you should research "resort rules around groups. For example, do they have a rule where guests not staying on-site won't be allowed in? Do vendors have to work off their preferred vendor list or can you choose whomever" Do they charge outside vendor fees?" Knowing the answers to these questions before committing to anything will allow you to plan the wedding as you see fit in a way that enhances the guest experience from start to finish.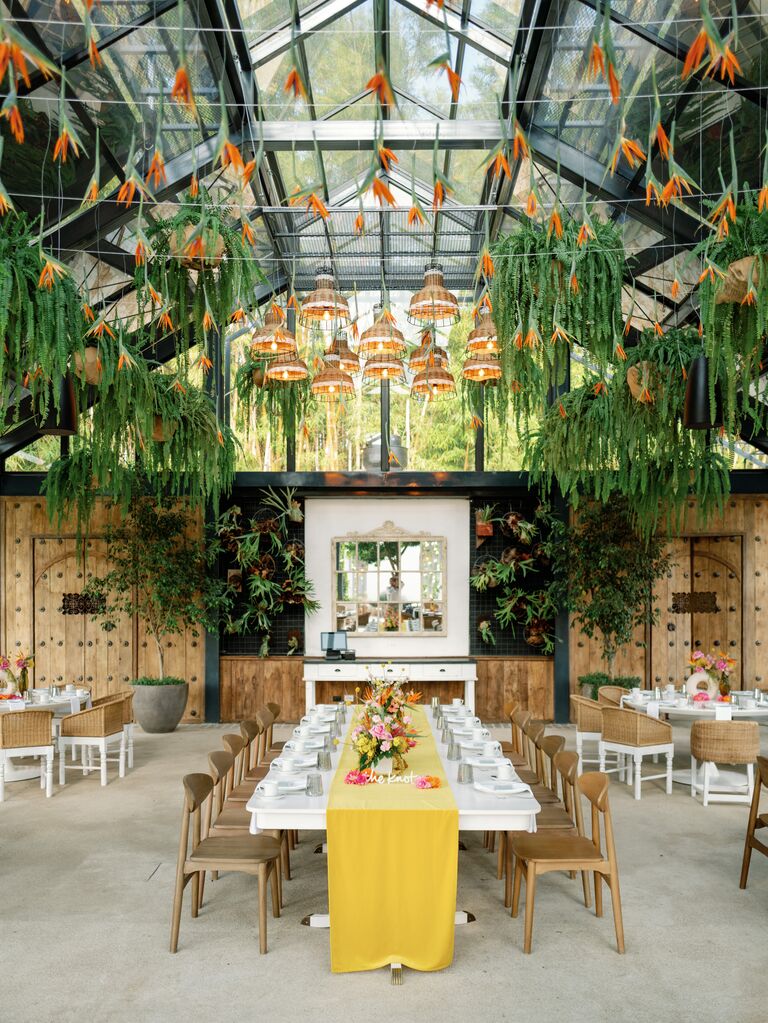 7. Work With Experienced Vendors
Especially when you're working in an area that you're less familiar with, a team of experienced pros is key to a successful event. "Always work with a team of highly skilled wedding professionals that are familiar with local customs and restrictions. Every destination has a unique set of needs and constraints, and it is vital that you work with a team that can manage those," advises Eppolito. Rhee concurs, adding that "it is crucial to find a team that can work with you on every single aspect of the experience from the moment your guests receive the save the date, to travel planning, to arriving in the country, to settling in their accommodations, local markets and food locations."
From your videographer and photographer to your florist and caterer, enlist both local wedding pros and destination vendors who are well versed in working in far-flung places to guide you through the planning process. They'll have valuable insight into how to manage your wedding budget based on local wedding costs, how to navigate a potential language barrier, regional marriage requirements and laws, and other important tasks on your wedding checklist.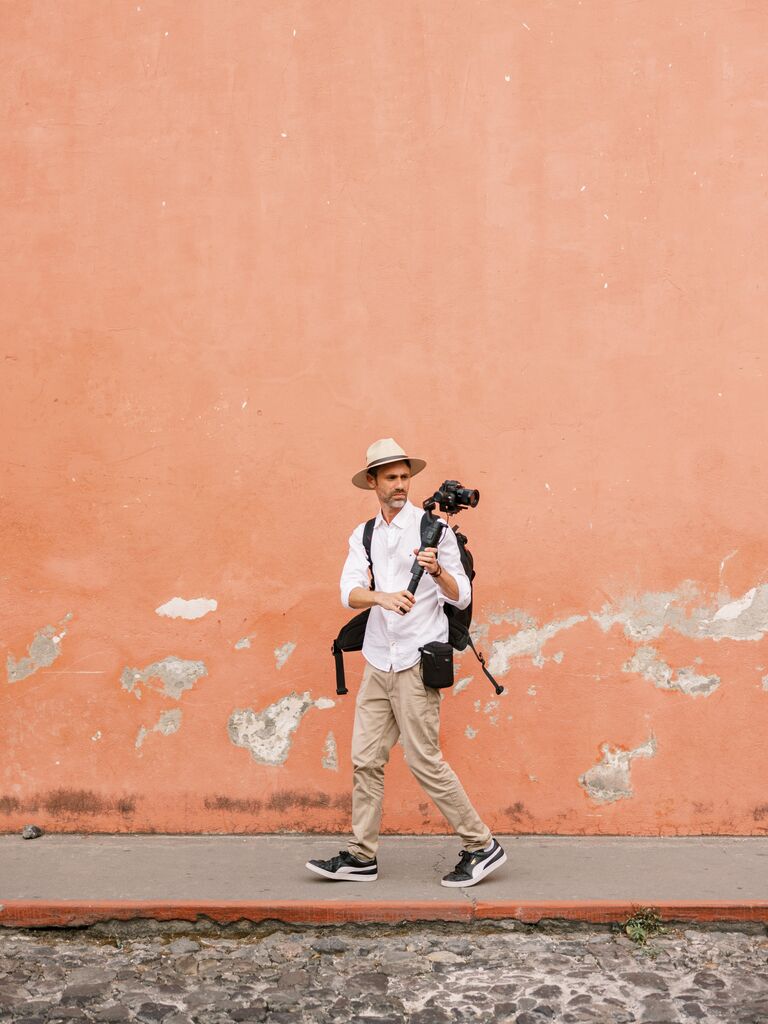 While visiting Guatemala, Dacey Cash was struck by just how important an experienced vendor team, and specifically a great wedding planner is. "Prior to attending the trip, I felt like a wedding planner was an unnecessary expense," says Cash. Once I was on the trip and I met the wedding planners, I realized I want to hire a wedding planner and utilize their expertise." Similarly, Brito shares that during the trip, "we had the pleasure of sitting down with Aimee Monihan, who is an incredible event planner! She shared so many tips with us that are a complete game-changer for destination weddings."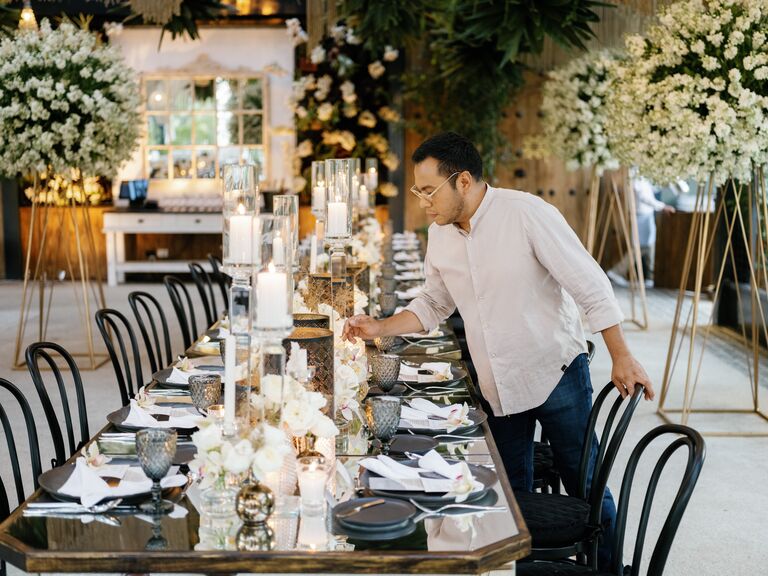 The Knot Expert Tip: Destination wedding professional Aimee Monihan encourages to-be-weds to "request extra housekeeping around the wedding schedule so your room is serviced when needed."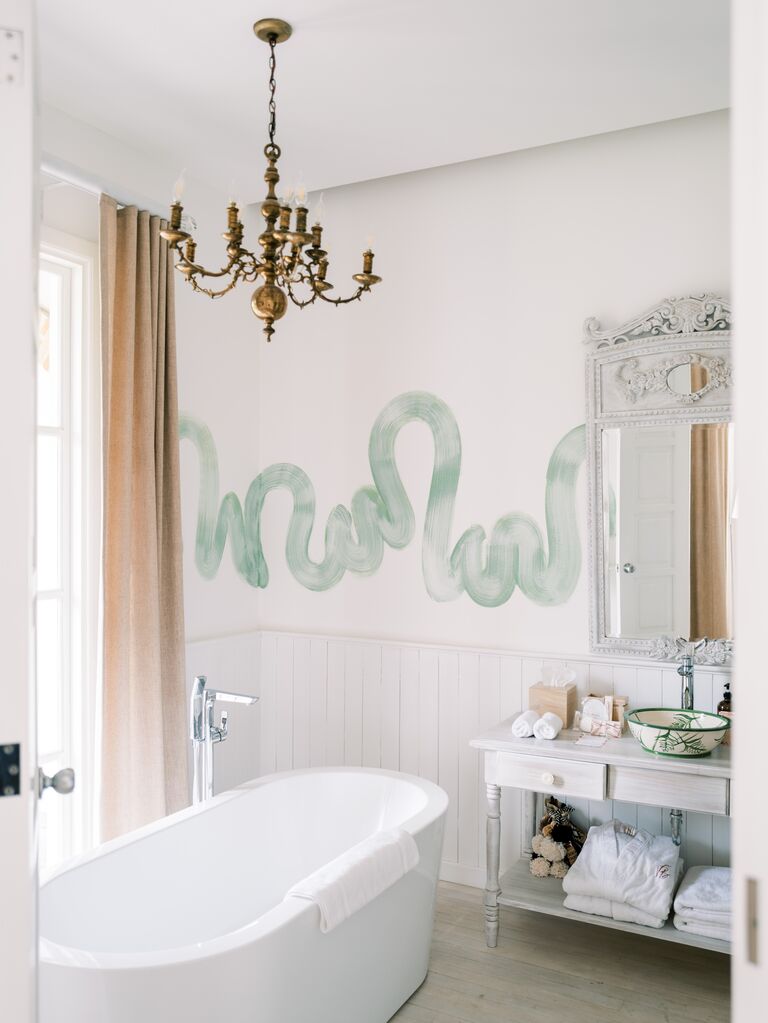 8. Expect the Best, Plan for the Worst
No matter how well you've laid your plans, it's still paramount that you have contingency plans in place should things go awry. Notably, Monihan suggests couples "bring any wedding supplies in your personal luggage." In addition to packing valuable items, like attire and day-of stationery, in your luggage as opposed to mailing items to your wedding venue, it's a good idea to invest in solid travel insurance.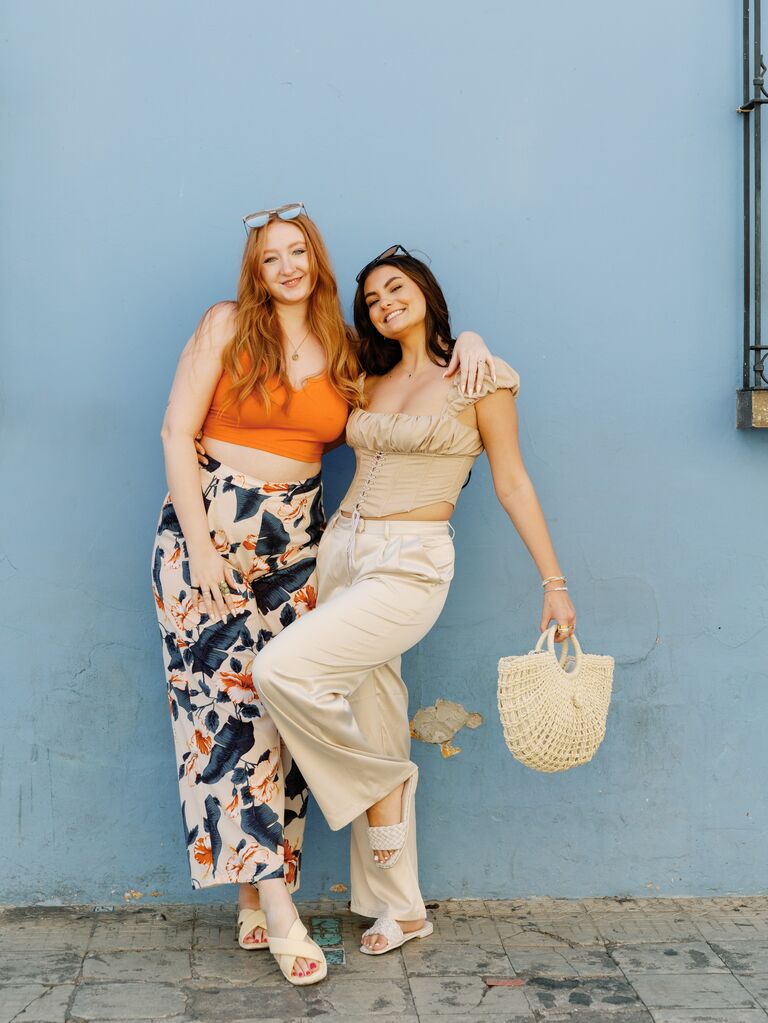 9. Be Conscious of Weather and Seasonality
When you're working with your wedding VIPs to settle on the perfect wedding date, keep in mind that the weather of the destinations you're considering may differ dramatically from that of your hometown. A summer wedding in Aspen, Colorado, for example, will look drastically different, and require a different planning process, than a winter wedding in the same mountain hamlet.
Monihan advises that couples be sure "when choosing a date, especially for a beach ceremony, to check very important details such as sunset times and tide chart (and moon phase as fuller moon creates higher tides) as well as local holidays. Also, find out if the beach is public. When is it most crowded? Also check if anything political is happening during your date, such as elections or demonstrations that could affect your event."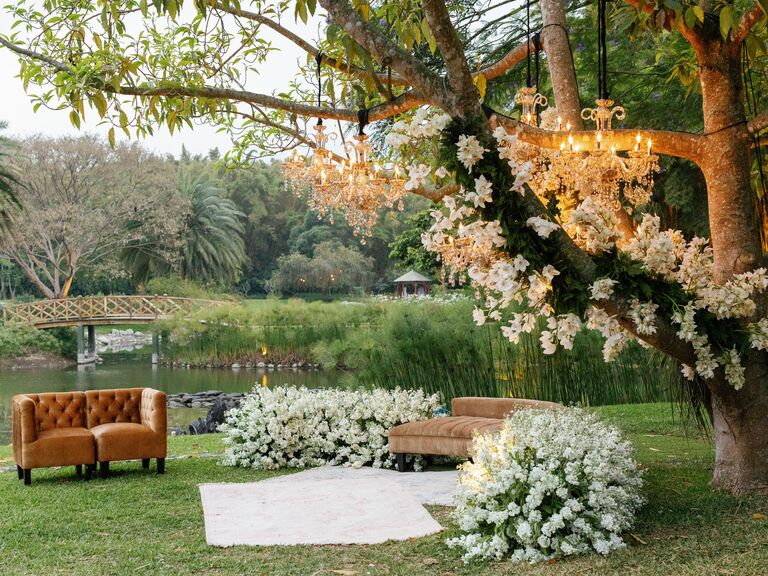 10. Keep Accessibility in Mind
How easy or difficult it is for attendees to get to your chosen destination will impact how many people RSVP "yes" to the event. Terrica emphasizes that couples should "consider the ease of getting to the location. That will play a huge role on your guests' attendance and participation."
Ultimately, you know your guests and their penchant for adventure best—would they be willing to travel more than four hours and possibly take a connecting flight? Or do you need a location that's either driveable to accessible via a convenient direct flight?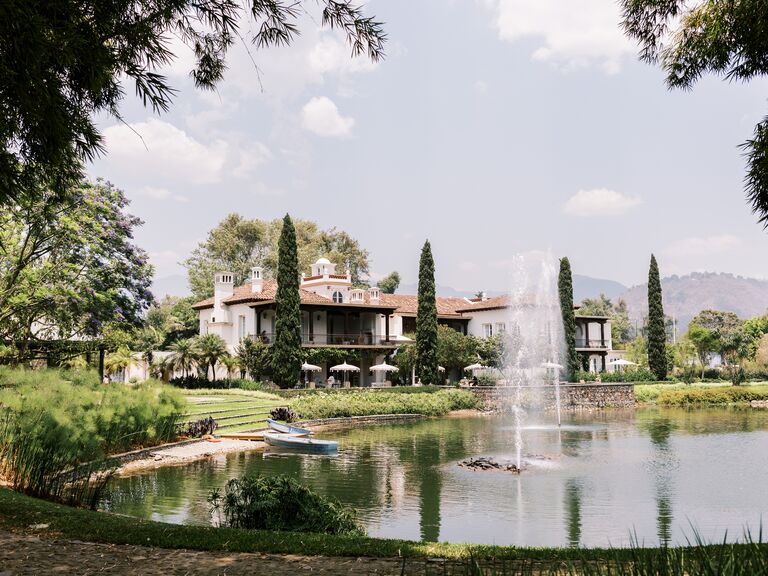 11. Don't Forget to Savor the Moment
Amid the hustle and bustle of wedding planning, it can be easy to lose sight of why you're pulling together a destination wedding. Justina Sharp shares that "there should be two priorities when it comes to planning your wedding: you and your partner! Couples are often asked to compromise their budgets and boundaries in pursuit of a wedding day for their families, guests, and social media. In the end, this is about you marrying the love of your life, and it will be perfect no matter what. Work with vendors who have your back, and put yourselves first—it's what you deserve." Sean Taylor opened up and said that the wedding planning process, and the things she learned in Guatemala, made her want to "continue to approach our planning with gratitude and a little light-heartedness."
Brito shares a similar sentiment: "The biggest thing I learned about wedding planning and destination weddings while in Guatemala is to just enjoy the day. The months leading up to the big day will be filled with stress but the reality is that some things will go wrong and that's okay—chances are I will be the only person who notices. I want to make sure I enjoy every second of the day because it will fly by!"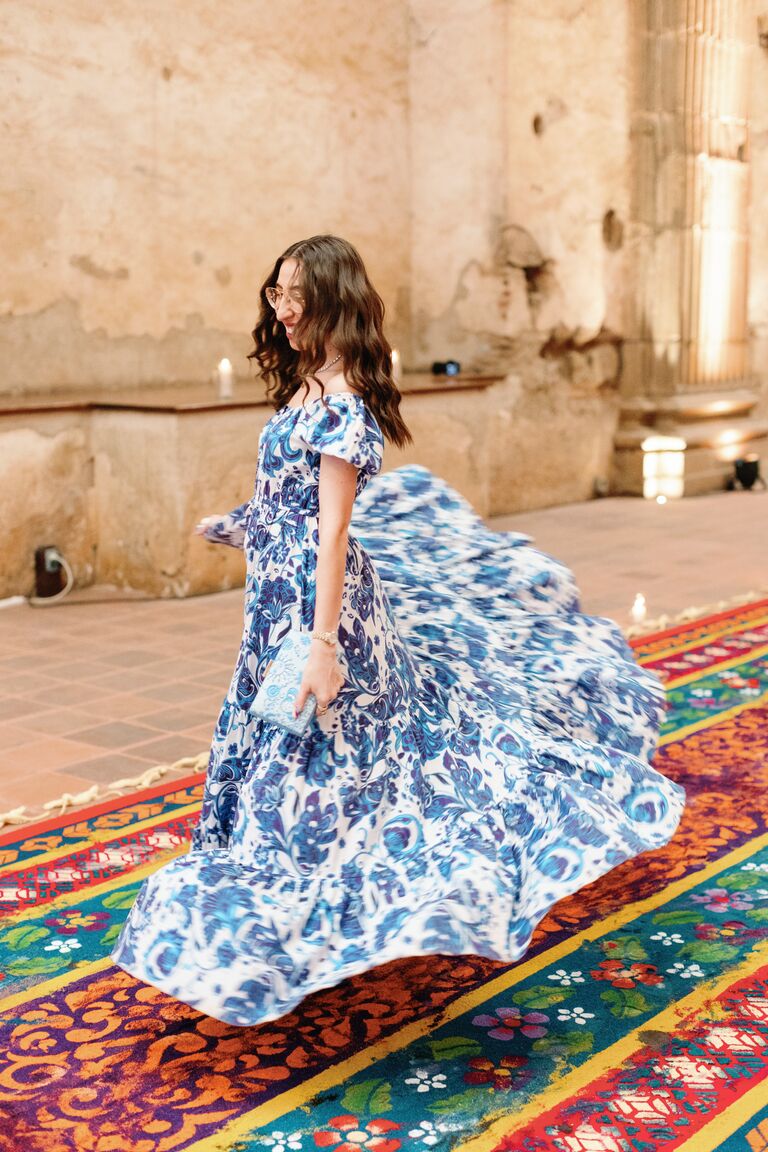 Host: The Knot | Event Planning and Production: Aimee Monihan | Host Property: Villa Bokeh | Photography: Allan Zepeda Photography | Videography: Elysium Productions; Rodrigo Zadro Films | Stationery: The Knot | Beauty: LeJeune Artistry | Attire: Men's Wearhouse | Floral Design: Addy Florales; Paolo Ramirez; Nestor Gamez | WeddingPro Educators: Andrea Eppolito Events; Cocktails + Details; Rheefined Company | Rentals and Decor: House of Hough; D'LUX;DEO; Alfombras Lopez | Catering: Villa Bokeh; Casa Troccoli; Pitaya | Mixology: ULEW Cocktail Bar | Cake: Sofia Cobian |Music: ETNO Fusion; Adolfo Mendes; Ramiro Jimenez; Gloria Caceres | Entertainment: Baile de Gigantes de Santa Ana; Zoel Valdes Folklore; Eventos Circus | Off-Site Activities: Ruins Rental; Finca La Azotea; La Trufa Chapina; Luna Zorro; Casa Troccoli | Transportation: Premier Transport Service GT | Local Tourism Support: Wed in Guatemala | Accommodations: The Travel Siblings; Kuxtal Residences | COVID Testing: Vitalmed | Gifting: Dagne Dover; Slip | Attendees: Erika Brito; Michael Mendieta; Justina Sharp; Candice Craig; Sean Taylor; Dacey Cash; Caroline Vazzana; Steph Frosch; Mari Pepin; Mireya Rios; Mary Skinner; Asia Sullivan
Posted with permission by theknot.com. Original article posted here.